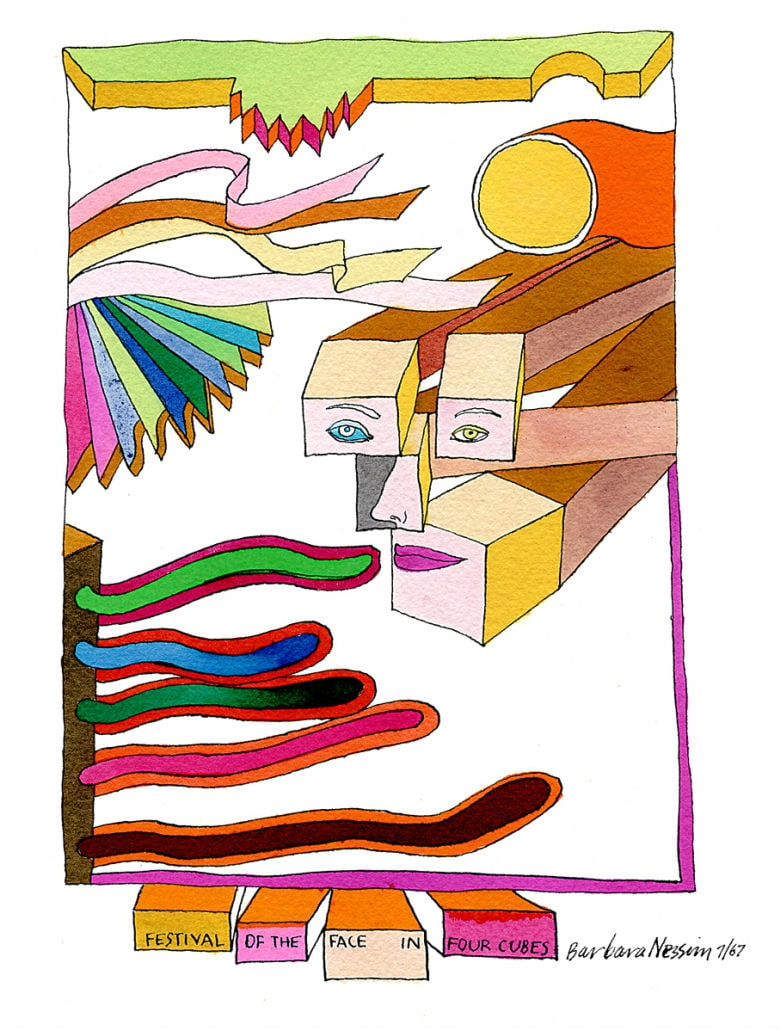 January 7, 2015
Barbara Nessim Exhibition Highlights Themes of Gender, Identity
An ongoing retrospective at the Bard Graduate Center examines the artist's work in proto-digital and digital domains.
Barbara Nessim at the School of Visual Arts, 1986
Courtesy Seiji Kakizaki
In 1982, few artists had access to computer graphic programs or the training to use them. Had her career ended then, Barbara Nessim would still have earned a small place in history. At the time, the illustrator had been made an artist in residence at Time Video Services, working late nights and early mornings to learn graphics software that she used to produce early digital art. But, as an ongoing exhibition at the Bard Graduate Center (BGC) in New York City argues, that feat is just one of the many facets of Nessim's life and 50+ years of work.
Running until January 11th, Barbara Nessim: An Artful Life was curated by Douglas Dodds, senior curator at the Victoria and Albert Museum, where the show originated. The expanded exhibition stretches across three floors of the BGC's stately galleries. Nessim's style is instantly recognizable for its playful, colorful, and sometimes surreal forms. If they remind you of the work of that other New York great, Milton Glaser, it may not be a coincidence: Nessim is a longtime friend of Glaser and his wife Shirley. In fact, the works on display exude a sense of New York-ness—figures such as Gloria Steinem and Ali Macgraw make appearances. But above all, they pay tribute to Nessim's unique background and adventurous attitude.
Barbara Nessim. Festival of the Face in Four Cubes, 1967. Pen and ink, watercolor.
Courtesy the artist
A Pratt-educated life-long New Yorker, Nessim's mother was a successful blouse designer in an age when few women had careers, especially as commercial designers. Nessim consciously pursued work that similarly intersected art and commerce, always avoiding the role of "fine artist" as she "didn't want to starve and suffer." As a freelancer, she remained unaware of her rarity as a woman illustrator. She sent samples to every publisher she could find and soon earned commissions—first at "girlie" Playboy-esque magazines in the late 60s, then at Ms. Magazine, whose debut issue bore a Nessum illustration. Ultimately, she would produce iconic illustrations for the likes of Time, Esquire, and Rolling Stone. However familiar these iconic works are—the cover of Time's July 12, 1982 issue is particularly memorable—the exhibition succeeds in casting them in an entirely new light.
Barbara Nessim. Carnival Heat, from the series Chronicles of Beauty, 2010. Digital print on aluminum.
Courtesy the artist
Nessim's digital graphic work is well represented here, as are her forays down diverse avenues of design, from fashion to interactive installations. An Artful Life offers a portrait of an artist through her work, namely, through the sheer density and diversity of it all. Not only do themes such as gender, self-perception, and identity key markers throughout the show, but visitors can see how Nessim's personal work frequently informed her commissioned art. In one hall, the exhibition shows how a series of colorful portraits of lithe nude women called WomanGrils led to an illustration in a 1973 New York Times article on pornography and censorship.
Such insight, while surprisingly direct and stimulating, is a rarity in any exhibition. The shear breadth of Nessim's practice, across countless mediums and decades, makes An Artful Life all the more special.