November 6, 2018
How Architecture Can Help Address America's Mental-Health-Care Crisis
Metropolis profiles CannonDesign's behavioral-health studio—a multidisciplinary pool of in-house experts that helm projects in their highly specialized field.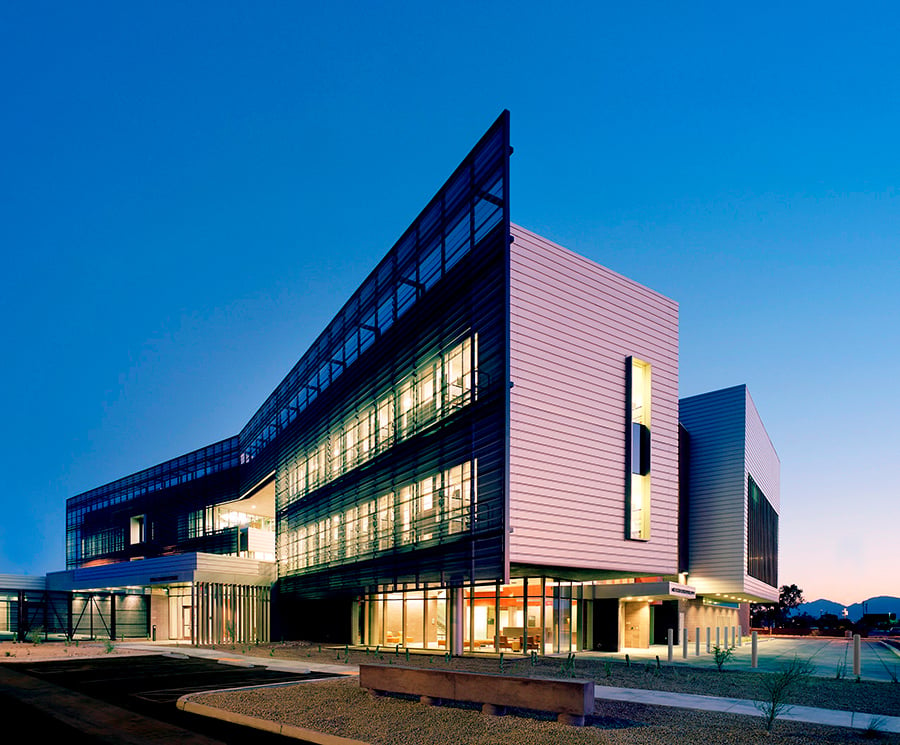 ---
The threshold holds special fascination for architects. A doorway, hall, or garden is a spatial manifestation of transition between two phases and can make all the difference in the experience of both. In the design of mental-health-care spaces, where a patient may literally enter in one state and exit in another, the threshold is particularly important.
"We look at the sequencing as you move from the outside through the inside," says Stephanie Vito, a lead architect in the behavioral-health studio at CannonDesign. "We really spend a lot of time looking at the nuances."
With 27 people—architects, planners, designers, engineers, programmers, and advisers—spread over six of the firm's offices in the United States and Canada, the studio operates as a pool of experts tapped to helm projects in the highly specialized field of behavioral-healthcare design, in which everything from drywall to faucets requires consideration different from that in other health-care environments. CannonDesign has been creating behavioral-health-care spaces for three decades, so it has had ample opportunity to track the field's evolution. When the firm's first behavioral-healthcare facility, Canada's Ontario Shores (then Whitby Psychiatric Hospital), opened in 1996, it was considered a watershed project. "The facility was based on wellness—helping patients get well," says Tim Rommel, a behavioral-health architect who directs the studio. "Previous to that, most were more like long-term-care facilities. Patient lengths of stay were measured in years versus months or days."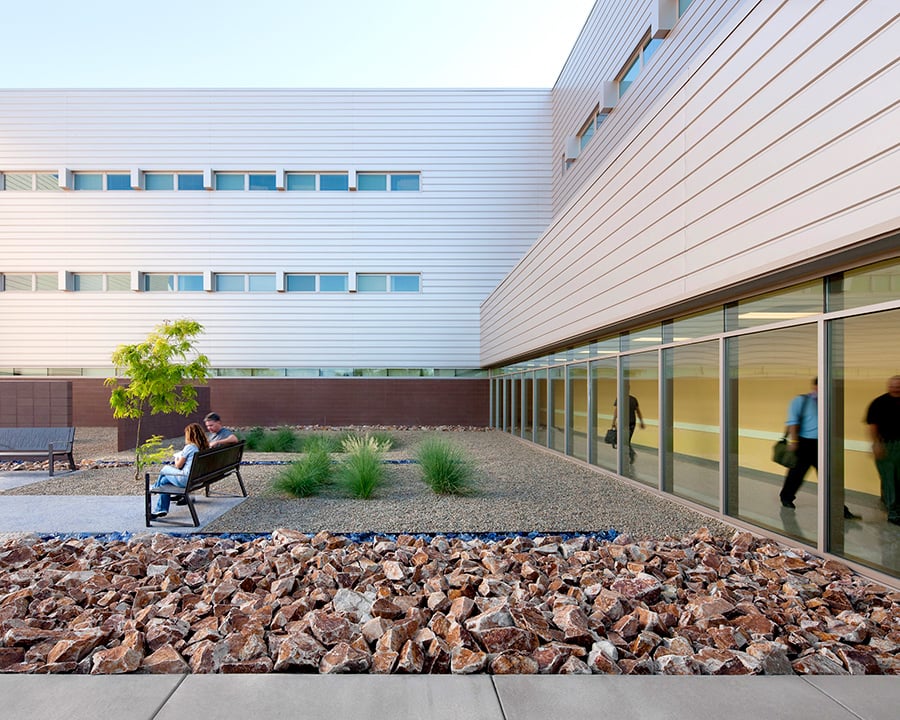 ---
In the United States, mental-health care is under-delivered and faces challenges on multiple fronts, from social stigma to scarcity of beds to inadequate insurance coverage. One in five Americans experiences some form of mental disorder, but less than half of affected people receive treatment. The picture is especially dire for children. Diane Osan, the leader of CannonDesign's pediatric practice, calls it a "crisis," describing children's hospitals as "being inundated in ways that they've never been before around behavioral health." She points to a range of public-health traumas that affect children: academic stress, bullying, intolerance of gender nonconformity or sexual preference, separation of families, and school shootings, as well as violence in communities and the opioid epidemic.
More than ever, behavioral-health architects must consider how to design physical and programmatic thresholds that facilitate productive exchange—between patient and caregiver, patient and researcher, patient and community or family. These thresholds not only support the therapeutic functions of care environments but also battle stigma and remove barriers to treatment. "There is a broader recognition that behavioral-health care is a vital part of overall health," says Rommel. "Mental-health issues cost this country more in terms of GDP than the first five leading physical ailments combined, and that includes cardiovascular diseases and cancer. I think our society is starting to realize that and take steps."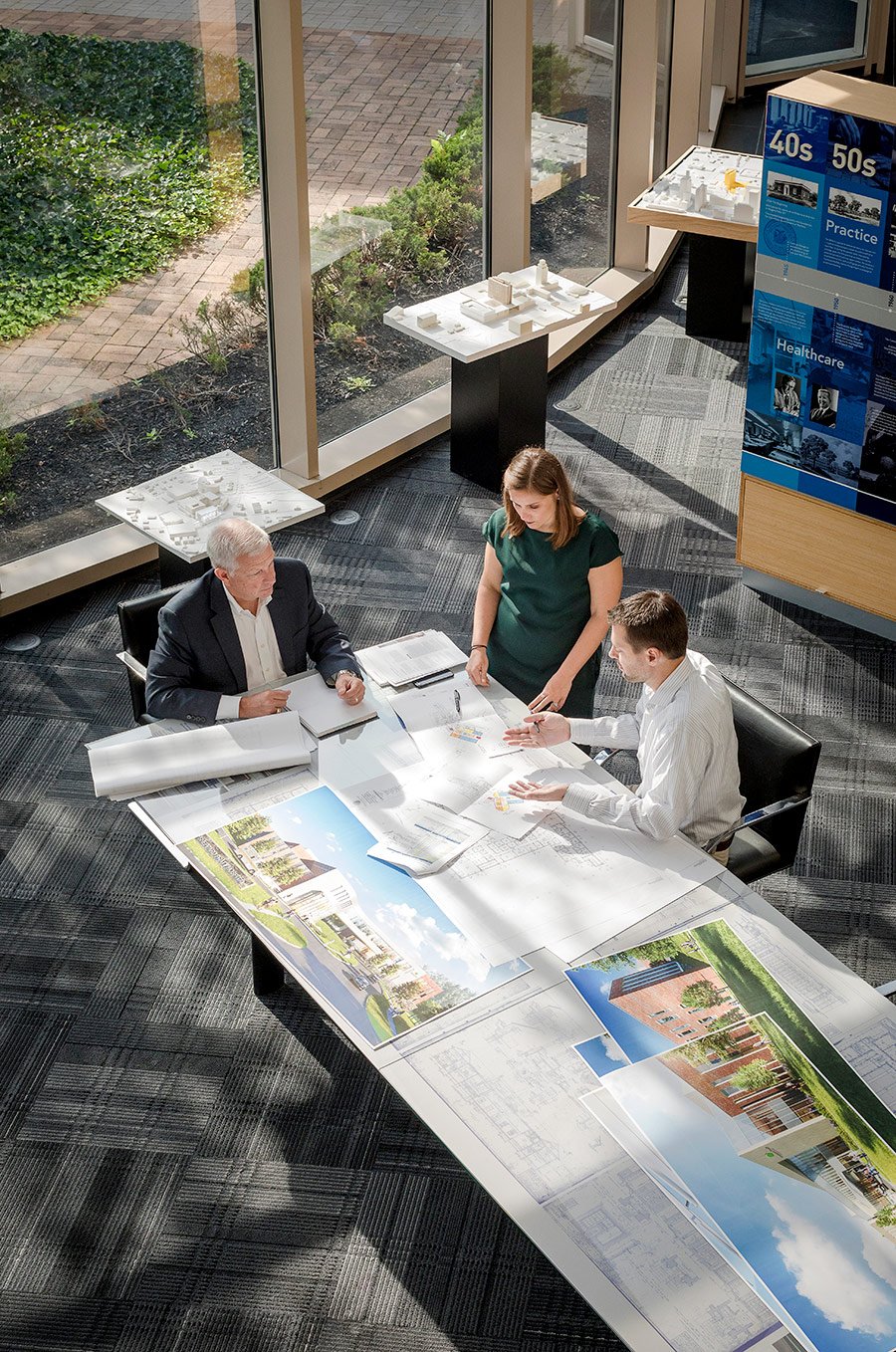 ---
For many, the first threshold of treatment is not a designated behavioral-healthcare space at all, but the emergency department, or ED. To provide a calmer setting and avoid hospitalization for those who may not need it, firms like CannonDesign are increasingly asked to design hybrid areas where patients exhibiting both mental and physical distress can be assessed for treatment. Known as crisis-center intervention units, such integrated-care areas are becoming more common in children's hospitals, which recognize that good design can alleviate the strain on staff and young patients, says Osan.
Outside the ED, CannonDesign uses the term "therapeutic platform" to describe the combination of environments that supports healing. Rather than being thought of as bonuses, these environments of daily life, CannonDesign believes, should actually be integral to treatment protocols. The therapeutic platform comprises units—which, depending on the patient group, can include clinical settings, activity spaces, and outdoor areas in addition to bedrooms—and areas outside the units, such as shared and semipublic areas for recreation and other uses.
Key to a therapeutic platform's success is patient choice. Private rooms, which help preserve patient dignity and a sense of normalcy, are now favored over dormitory-style rooms with multiple beds, and have the added advantage of designing out gender specificity—critical for transgender and nonbinary patients. That said, CannonDesign prefers that the bedrooms' design intentionally hews to the basics to encourage patients to leave them. Providing variety elsewhere—larger spaces for active groups, smaller ones for quiet—allows patients to step away when they need to without retreating completely.
---
As the field seeks alternatives to physical and chemical restraints for calming patients, clients are turning to design-driven ways to de-escalate high-risk situations or avoid them entirely. CannonDesign's Margaret and Charles Juravinski Centre for Integrated Healthcare at St. Joseph's Healthcare Hamilton in Hamilton, Ontario (2014), includes a range of spaces for just that purpose. The facility, which treats patients with acute mental illnesses and also offers medical outpatient services (another effort to battle stigma), has a "therapeutic mall" with fitness spaces, a bookstore, billiards and table tennis, a laundry, and a salon. When the firm's University of Kansas Health System project opens in 2019, it will include a basketball court and cookout area in its central courtyard. Other facilities have had swimming pools, yoga studios, and in one instance a bowling alley, says David Sass, a lead architect in the behavioral-health studio. Though not everyone is permitted to visit all spaces at all times, the goal, he says, is to open thresholds and provide more and more freedom; not to replace life outside the center but to help patients return to it.
Designing for general well-being can have particular benefits in behavioral-health-care spaces, since facilities that foster calm can reduce the need for overt restraint and surveillance. A number of studies support the intuitive wisdom that natural light and access to nature are beneficial to patients, as well as the idea that physical activity and mental health are intimately connected. With this in mind, CannonDesign makes a point to provide access to exercise and the outdoors in all its facilities. At the Virginia Treatment Center for Children at VCU Medical Center in Richmond, this meant including indoor and outdoor activity areas for patients, and utilizing glazed window walls to bring in natural light and views. At Juravinski, which required tighter security, CannonDesign provided a "gradient" of outdoor spaces ranging from secure to fully public and situated inpatient areas toward the back of the building, where there are private views of the property.
---
Creating spaces with nature in mind has also yielded thoughtful threshold treatments, bringing the outdoors in through courtyards and atria that aid in circulation. Slated to open in 2020 in Baltimore, Sheppard Pratt Health System's new psychiatric hospital is organized around a courtyard. Besides drawing people in through an open and welcoming entrance, it is, Sass says, a "physical unifier," traversed by a central corridor at all levels of the building. The nature-forward approach has also guided how the firm treated the site, resulting in a light touch that will preserve the existing slope and trees for a landscape that patients, visitors, and staff can all enjoy. "The premier concept for the entire hospital is this idea of healing in nature," says Sass. "It's all part of the idea that nature and healing are one."
As current thinking about health and wellness becomes more holistic, behavioral-health-care facilities—which, by definition, must treat mind and body together—are a reminder of how design for the "whole person" can dramatically improve our overall health and happiness. The architects at CannonDesign's behavioral-health studio are united in their conviction that design decisions directly affect users' lives—something they evaluate regularly through postoccupancy studies. "To me and to the CannonDesign team, it's a pretty big responsibility," says Rommel, "but it's something that really makes you want to get up in the morning."
You may also enjoy "This New Clinic in New York Leverages the Tools of Hospitality Design to 'Feel Human.'"