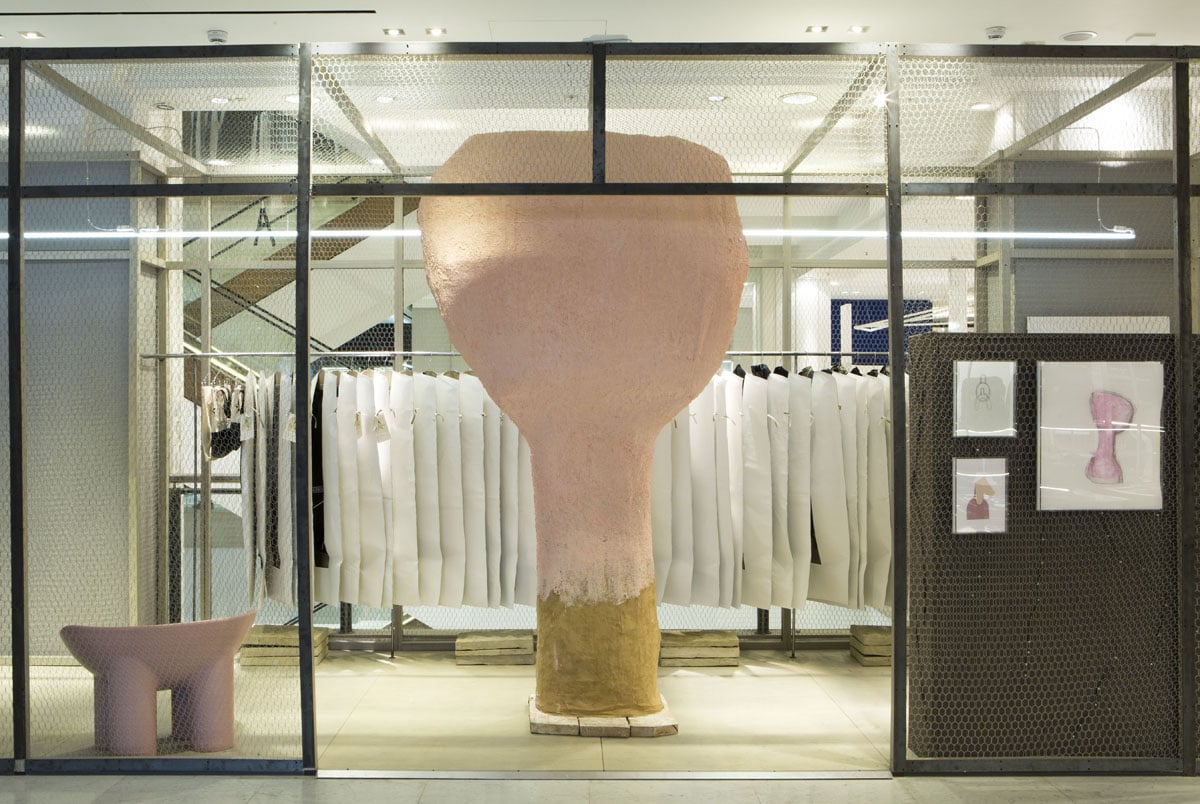 March 1, 2016
Beyond the Binary: Design Moves Past Gender Lines
Royce Epstein, director of the design segment at Mohawk Group, tracks the blurring of gender boundaries.
Spread out over 1,000 square feet at Selfridges in London last March, the Agender concept space designed by Faye Toogood took a primal approach to binaries.
Courtesy Matt Writtle
---
A cultural shift is happening today, and it's a big one. We are moving away from society's defined norms of gender and age to a more open, blended, and fluid culture. This is happening alongside the blurred boundaries of geography, ethnicity, and history, as our now ever-streaming lifestyles have no borders. We are personalizing our experiences and tailoring our lives to be exactly what we want them to be as we discard outdated societal constructs. And nowhere is this more evident than in design, fashion, and retail.
We are seeing everything from timid gestures to bold, groundbreaking ways of catering to a new genderless market. Selfridges in London is calling it Agender. Last year, it established an in-store retail experience by that name, designed by Faye Toogood, as well as an ongoing online merchandising campaign for gender-neutral fashion and beauty products. It is using genderless mannequins and has dedicated three floors to a unisex department that appeals to a more gender-flexible customer. In London and New York, Dover Street Market showcases men's and women's clothing together by brand rather than by gender, allowing for a more intuitive shopping experience. And in Brooklyn, bespoke tailors Bindle & Keep—whose maestro conductor, Daniel Friedman, trained as an architect—makes and markets handmade suits for individuals beyond the binary.
More mainstream retailers have responded to consumer demand for gender-neutral clothing. GapKids, for example, is collaborating with Ellen DeGeneres on a new line. And of course we all remember when Target set the Internet ablaze with news of its intent to adjust signage and merchandising to be more sensitive to gender-neutral taste.
So are we headed toward the mainstreaming of genderlessness? It might just be a matter of time before we see other retailers following the example of these big-box brands, but it takes more than that to move the cultural dial. As is often the case with societal change, artists and designers like Toogood are forging the way, shining a spotlight on this issue and trying to create some room for other definitions beyond the two sexes. It's no longer a question of whether this will happen, just when.
A pair of genderless fashions designed by Faye Toogood
​Courtesy Selfridges
At last year's New York Fashion Week, Ace Hotel ran a contest called Beyond Measure to outfit three activists and public personalities with bespoke suits made by Brooklyn-based tailors Bindle & Keep.
Courtesy Alex Troesch/Bindle & Keep
The tailors dress patrons with a wide variety of gender expressions and have collaborated with other local businesses, like Acme Studios and Café Moto.
Courtesy Alex Troesch/Bindle & Keep