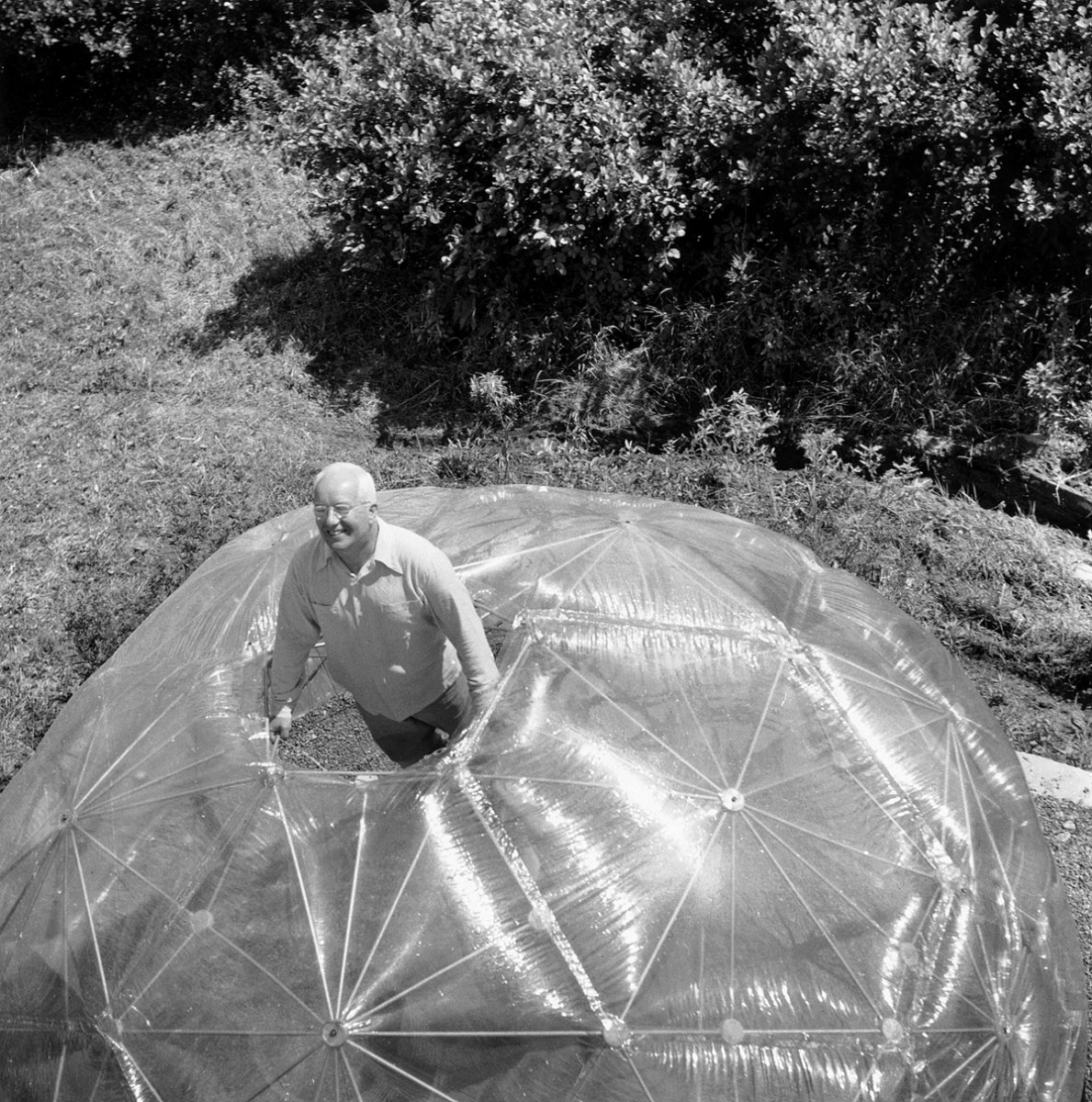 October 20, 2015
Black Mountain College, America's Own Bauhaus
An eye-opening exhibition at the Institute for Contemporary Art/Boston explores the life and times of Black Mountain College.
On the evening that Buckminster Fuller arrived at Black Mountain College to teach a summer session in 1948, he delivered an impromptu three-hour lecture. He also erected his first geodesic dome at the college.
Courtesy Estate of Hazel Larsen Archer and Black Mountain College Museum + Arts Center
---
"This is the most ambitious curatorial project ever undertaken by the ICA," writes Jill Medvedow, the director of the Institute for Contemporary Art/Boston, in her foreword to the catalog for Leap Before You Look: Black Mountain College 1933–1957. So many monumental figures in art, architecture, design, and performance passed through this small, experimental school in North Carolina during its brief existence that untangling the various threads of its influence is a tremendous task.
The exhibition—which runs at the ICA from October 10 to January 24 before traveling to Los Angeles and Columbus, Ohio—features 261 objects by more than a hundred artists and designers, including Josef and Anni Albers, Ruth Asawa, Merce Cunningham, Elaine and Willem de Kooning, Buckminster Fuller, and Cy Twombly, all of whom studied or taught at the school.
Black Mountain College was founded in 1933 by John Rice, who placed the arts at the center of a liberal arts education. The first art faculty at the school were the Alberses, who were hired from the Bauhaus during the Nazi era (upon the recommendation of Philip Johnson), and whose seminal work at the college is tackled in a separate section of the exhibition. The rest of the show is arranged in roughly chronological order to address different themes, such as the pedagogical method of learning by doing, or the school's influence on The New American Poetry and the studio pottery movement. The catalog, published in collaboration with Yale University Press, does not shy away from providing a political backdrop—the section on how the college was desegregated in the face of the South's racial conflicts is especially illuminating.
By the fall of 1953, the number of students at Black Mountain College had dwindled to 15, and the institution became a sort of artist colony: "a community of subsistence dwellers," in the words of drama teacher Wesley Huss. But the ideas it generated would live on into the next millennium.
Founder John Rice conceived of Black Mountain College as a learning environment that "dissolved distinctions between curricular and extracurricular activities, that conceived of education and life as deeply intertwined," writes Ruth Erickson in an essay in the exhibition catalog.
Joseph Fiore, Black Mountain, Lake Eden, 1954
Courtesy Asheville Art Museum/Black Mountain College Collection
Josef Albers, Leaf Study IX
The renowned Bauhaus educator created this Leaf Study circa 1940, after he and his wife, Anni, became the first art faculty at Black Mountain.
Courtesy the Josef and Anni Albers Foundation
Anni Albers, Monte Alban, 1936
Courtesy Tim Nighswander/Imaging 4 Art
Anni Albers and Alexander Reed, Neck Piece, ca.1940 (1988 reconstruction)
Courtesy Tim Nighswander/Imaging 4 Art