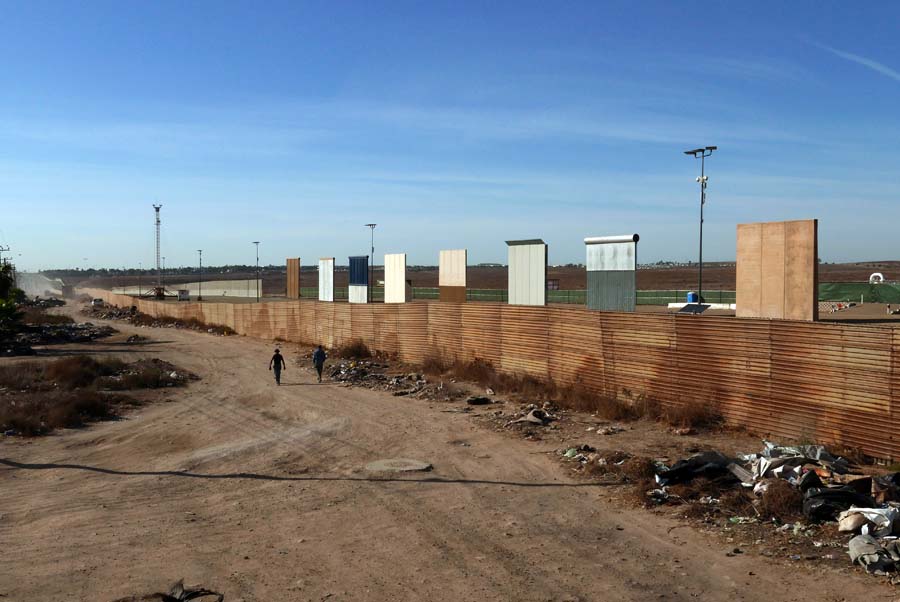 January 5, 2018
Conceptual Artist Wants to Treat Border Wall Prototypes as Land Art
A new exhibition called PROTOTYPES includes tours of the eight U.S.-Mexico border wall mock-ups and seeks to designate them as a National Monument.
In the midst of ceaseless political kerfuffles, it's easy to forget that President Donald Trump built his presidency on the promise of building a border wall along the U.S.-Mexico border. "Nobody builds walls better than me, believe me," he declared when announcing his candidacy in the summer of 2015.
Trump lost no time in making good on that promise. Just five days after being sworn into office, he issued an executive order to set the wall's construction. In March, the U.S. Customs and Border Protection issued RFPs for border wall proposals—both concrete and non-concrete, with "anti-climb features." Six months later, eight different 30-foot prototypes were erected in the desert near San Diego.
Now, a purpose-built arts organization hopes to preserve these surreal architectural fragments as ready-made conceptual artworks. The project, called PROTOTYPES and launched by the organization MAGA (short for the Trumpian rallying cry "Make America Great Again"), includes a petition to designate the mockups as a National Monument. In addition, the group is providing a guided "exhibition" tour of the border wall designs. "The eight border wall prototypes have significant cultural value and are historical land art," MAGA said in a press release issued yesterday.
For $20, visitors will be transported from the Museum of Contemporary Art San Diego to Tijuana, Mexico. From Tijuana, visitors will be driven to the prototypes. Price of admission includes transportation, "professional guidance in English and Spanish," and "refreshments." Tickets for the next viewing, set for January 13th, are already sold out.  
The project is the brainchild of Christoph Büchel, a Swiss-Icelandic artist. Büchel is perhaps best-known for the brouhaha he caused at the 2015 Venice Biennale, where he built a functioning mosque inside a deconsecrated Catholic church (Venetian police eventually shut it down, citing its potential to instigate violence).    
As a stand-alone artwork, PROTOTYPES stands on turf well-trodden by artists such as Marcel Duchamp, Richard Serra, and Donald Judd. Büchel told the New York Times, "I am an artist, but not the artist of this…This is a collective sculpture; people elected this artist."
Ironically, measures to classify the prototypes as a National Monument would require approval from Trump himself.