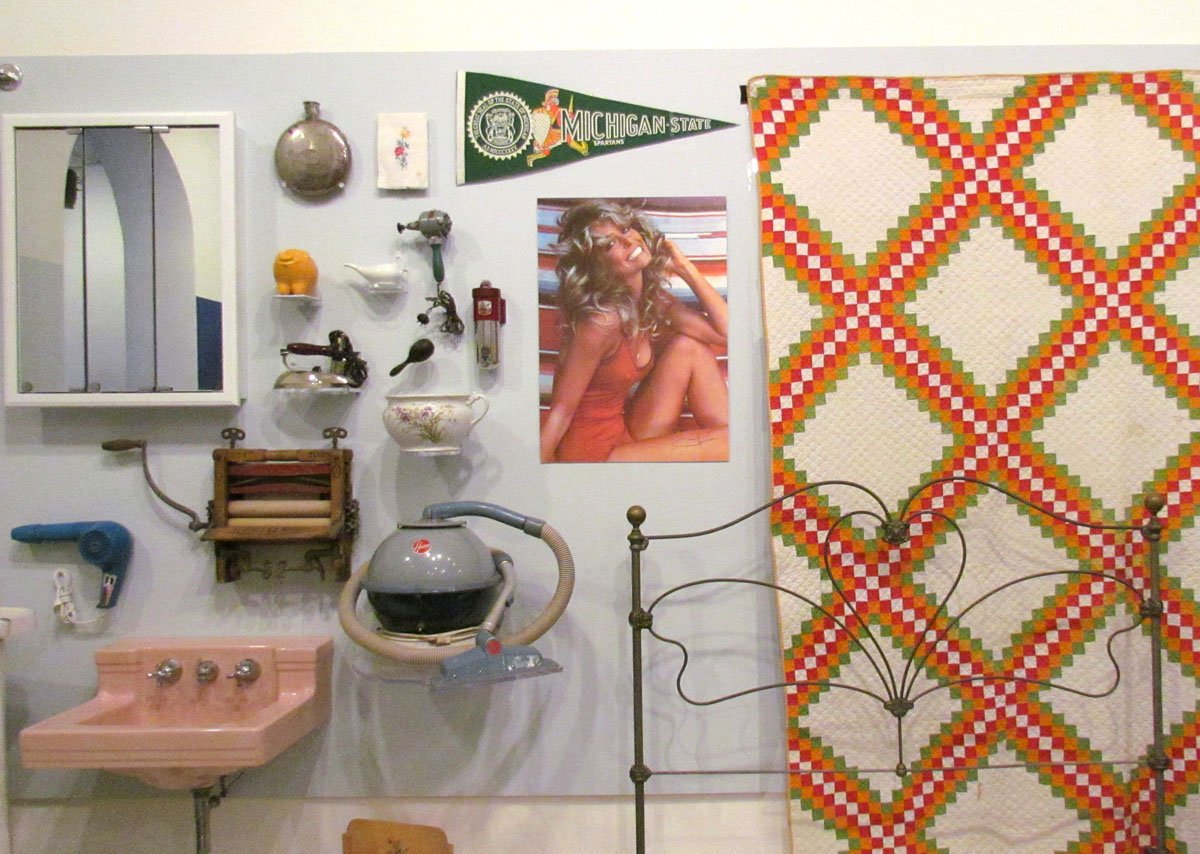 August 26, 2014
Both House and Home: Architecture Is More Than Just "Elements"
Two installations at the National Building Museum offer an interesting counterpoint to Rem Koolhaas's "Elements" ethos.
A recent visit to the National Building Museum (NBM), in Washington D.C., made for an interesting counterpoint to what I had seen at Rem Koolhaas Elements-themed Venice Architecture Biennale. There, two exhibits—House and Home and the more blog-friendly BIG Maze—seem to question the reductive conclusions drawn by the Elements curatorial selection seen in Venice, where Rem and his team put forth a meticulous and  encyclopedic sampling of what they deemed  architecture's basic items.
Curated by Sarah Leavitt, Donald Albrecht, and Thomas Mellins, House & Home aims to challenge "our ideas about what it means to be at home in America." In doing so, the show not only delineates the physical identity and structure of a house from the human bonds that make up a home, it also sends a message about what defines "Architecture" from mere buildings. The long-running exhibit, which was designed by Ralph Appelbaum Associates and originally opened in Spring 2012, makes its point by elaborating on different models of the American dwelling, past and present.
Commissioned maquettes of 14 iconic American homes, from Frank Lloyd Wright's Falling Water to Jefferson's Monticello, speak to quintessential American architectural precepts of construction. Next to these—in a set-up similar to Rem's Elements—are full-scale, "please touch" mock-ups of materials and structural systems used to build houses, from glass curtain walls to balloon-frames. Just opposite the room, in a section called "Living at Home," the exhibit makes its most poignant statement. Here, the curators display hundreds of household items and objects—one could even say "elements"—that help personalize our living spaces. The collection proves that walls, windows, and doors are not enough to define a home. It's more than just shelter.
In the atrium space, the Danish architect Bjarke Ingels and his team took inspiration from ancient labyrinths, Old World European garden mazes, and even modern American corn mazes, to create their own contemporary version. Made of Baltic birch plywood, the maze's highest point is 18 feet, with a total area of 61 feet by 61 feet. The sheer size of the installation effectively transforms the airy main hall into one giant exhibition space.
"Not since the late 1980s has the immense atrium space of Gen. Montgomery Meig's 1883 Pension Building [that current the National Building Museum] has been utilized as an exhibition space" Kai-Uwe Bergmann, BIG's partner in charge of this project, says. "We wanted the maze to celebrate the atrium's scale and materiality, highlighting the interplay between its users and space." And that's exactly what BIG Maze manages to do: it allows the people using it (both kids and adults) to really experience and appreciate "space," the most fundamental element of architecture. The walls of the maze shift in height, from a few feet high at the core to the towering perimeter partitions. The effect allows for a 360-degree view of the installation, clearly indicating how visitors can move in, through, and out of the three-dimensional puzzle. As Ingels himself has said, "We inverted the typical maze—this one brings clarity and understanding upon reaching its heart".
It's not that all those "Elements" (ceilings, floors, stairs, balconies, etc.) and the broader architectural self-investigation proposed by the biennale are not important. But should any important discussion of the basics of architecture leave behind its emotional, intangible qualities? The essential experience of space, animated by light—is that not as elemental to architecture as, say, the prosaic evolution of stairs? Isn't what and how we are moved as important as what is around us? Isn't that what truly  makes  architecture, versus just construction?