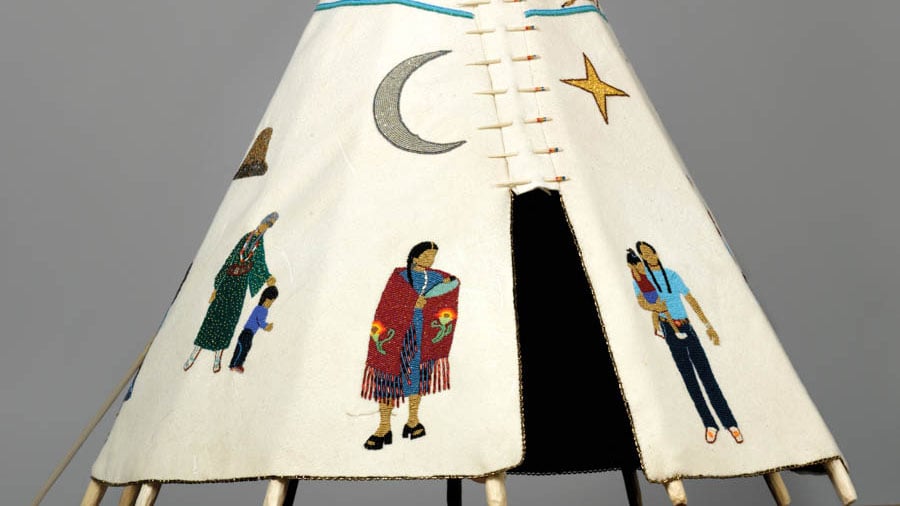 March 20, 2020
Brooklyn Museum Presents a "Hemispheric" Survey of Indigenous Responses to Climate Change
Climate in Crisis: Environmental Change in the Indigenous Americas explores how global warming has affected the visual culture of indigenous communities.
---
The succinct phrases "climate change" and "global warming" somewhat euphemistically obscure much, especially the context-contingent and historical nature of their effects: Inhabitants of the mountains of Peru face challenges different from those seen in the American Great Plains, and more importantly, climate change has occurred for millennia before its contemporary coinage as an amorphous, hackneyed buzzword. An upcoming show at the Brooklyn Museum foregrounds this multifaceted view of climate—considering its temporal, geographical, and social particularities—through a visual survey of 62 objects reflecting indigenous responses to a dynamic environment (often dramatically so). Drawing on the museum's extensive Arts of the Americas collection, Climate in Crisis: Environmental Change in the Indigenous Americas, which runs through January 2021, is organized around eight natural regions in North and South America—a "hemispheric presentation," as curator Nancy Rosoff calls it. "Global warming affects the world," she reasons, "but it was important to show how it affects indigenous communities."
The display highlights the primacy of local conditions in navigating global climatic changes: Artifacts from the Spiro Mounds of modern-day Oklahoma respond to life during the Little Ice Age; marine ivory among the Inuit and cedar among Northwest tribes illustrate the use of locally available materials; the maize acquires symbolic dominance in warmer-climate populations. The message is not one of doom or victimhood, but rather the ingenuity and ability to respond to a changing environment that lie at the heart of civilization. "This is something that has always been going on in North America," notes Rosoff.
Of course, the threat of European conquest looms, and a handful of contemporary works—notably Gail E. Tremblay's 16mm film–woven basket When Ice Stretched on for Miles and Gina Adams's Broken Treaty Quilts—address colonialism's ongoing dispossession of indigenous peoples quite directly. In that vein, a more action-oriented closing section underlines current conflicts over land, from Standing Rock Sioux demonstrations against the Dakota Access Pipeline to Tembé opposition to illegal logging in the Brazilian Amazon. Indeed, the museum worked with indigenous organizations like the American Indian Community House to produce a "Take Action" wall, which offers opportunities for involvement in the process of decolonization to visitors of all ages. "It can be a pretty depressing topic," says Rosoff, "but we want people to feel hopeful, and we want them to be engaged."
Due to increasing health concerns in connection with COVID-19, the Brooklyn Museum is closed to the public until further notice.
You may also enjoy "New Exhibitions Dive Deep Into Previously Unexplored Isamu Noguchi Projects"
Would you like to comment on this article? Send your thoughts to: [email protected]