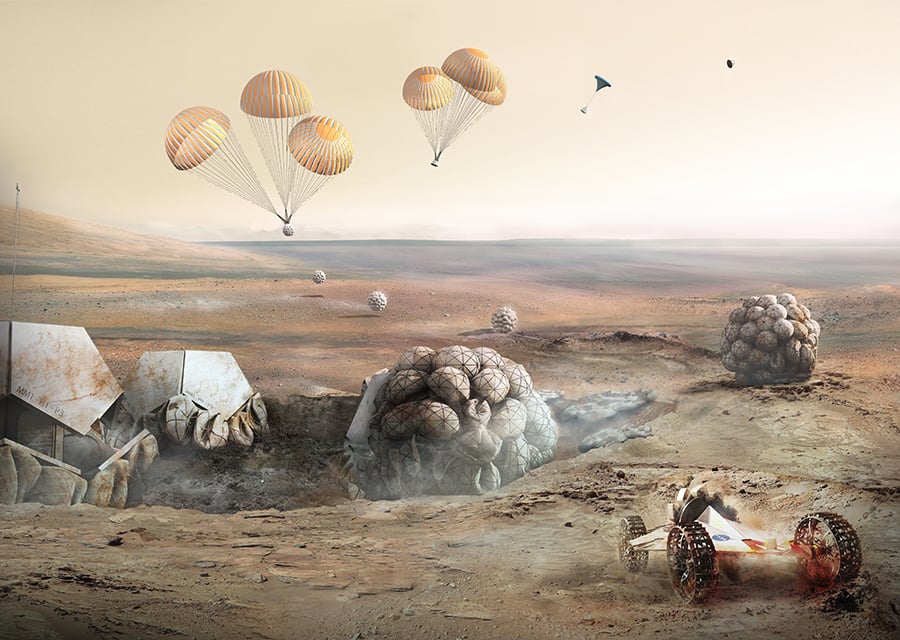 April 25, 2017
The Bubble is Back: Exhibit Highlights Inflatable Structures' Resurgence
From hot air balloon travel to futuristic housing pods, inflatables have captured our imagination for the past three centuries.
Space, the exhibition The New Inflatable Moment will highlight the use of inflatable structures throughout history and their applications in art, science, and architecture. Curators Katarzyna Balug and Mary E. Hale showcase a collection of photographs, videos, and 3D interactive models that trace the evolution of this unique medium and how it parallels sociopolitical change—from psychedelic designs to technologically advanced forms used for space exploration.
Balug and Hale each make their own inflatable works and came up with the idea for the show two years ago. They conducted extensive research, but didn't rely solely on reference books. As Balug notes, "We were able to talk to practitioners in a variety of fields and ask them about their influences. We were looking at what was interesting to us, so our selection process was very organic."
Visitors can see a number of renderings and pneumatic projects with a focus on mind expansion, planetary exploration, and conserving natural resources—ideas that still resonate today. "The objects in the exhibit are presented through the lens of utopia," Balug continues. "In the late sixties and early seventies, architects had a new way of thinking about building. There was an interest in collaboration, the democratic ideal."
The duo notes that interest in inflatables tends to be cyclical. Now that people are once again embracing group work and play, there is a renewed interest in these fluid pieces, which shows no signs of slowing. They are used for everything from clothing to museum installations and even large-scale structures like stadiums. "Since 2005, there has been a resurgence in inflatables, especially for events," says Balug. "Designers are exploring ways to make them permanent."
The flexibility that inflatables offer is ideal, particularly in a mobile and open-source society. As Hale says, "Digital technology lends itself to bubbles, and I have a hunch that inflatables are back."
The New Inflatable Moment will be on display in Boston at the BSA Space from May 3rd to September 3rd.