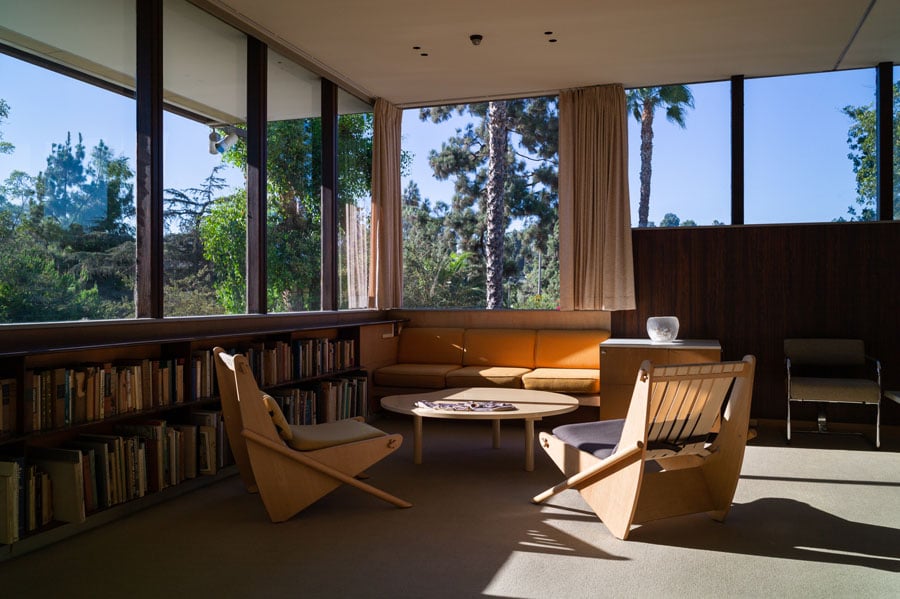 September 21, 2021
A New Group Show at Neutra's VDL House Remembers Those Who Lived There
Built In pulls back an imaginary veil and projects multiple narratives to activate all the spaces in the residence, which functioned as the house and a satellite office (Neutra's primary studio was nearby on Glendale Boulevard) following a 1963 fire that destroyed the first VDL House. His wife, Dione, remained in the home until she passed away in 1990, and bequeathed it to the College of Environmental Design at Cal Poly Pomona. Built In is the first on-site exhibition open since the beginning of the pandemic, and also coincides with the property reopening to regularly scheduled public tours hosted by Cal Poly Pomona.
Among the participating artists and creatives, all of whom are based in L.A., some were "responding to the architecture and its materiality and structure, but a lot of other people were responding to the past inhabitants," Critton notes. A backyard bench by TOLO Architecture is emotionally striking; its rear edge where it meets the exterior wall follows the pattern of the stone and memorializes Frank Neutra, the eldest son who has been rendered nearly invisible because of his autism. (His ashes are located nearby, along with plaques commemorating other Neutra family members.) "It's really built in," Critton says about the piece, which is one of the few on view that are not for sale.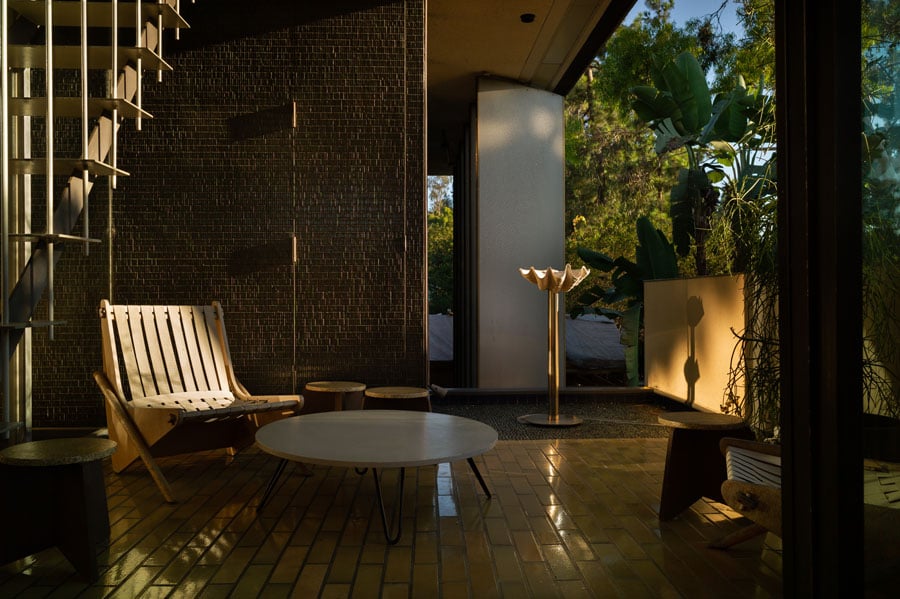 "We love that there's work that's very present along with work that's subdued, quiet, and sensitive to the narrative," Critton says. Ceramic artist duo PapiBoyBabyBoy make the first statement visitors see with Flipped Flipper Numbers, a literal replacement of the house numbers that's a cheeky commentary on Neutra's unintentional ironic impact on newly gentrifying neighborhoods.
Some items check multiple boxes of the brief, such as the Japanese-inspired tokonoma composition that architects Frank Escher and Ravi GuneWardena, who is also an ikebana practitioner, placed on the ground level underneath the cantilevered staircase. Ikebana artist Kyoko Oshiro will continually refresh arrangements throughout the house using found existing containers for the duration of the installation, which will remain on view through November 7.
Early conversations were "loosely couched as an exploration of domesticity and all of its various rhythms," hence the range of creative disciplines and mediums involved. Chefs/restaurateurs Kwang Uh and Mina Park have distributed sacred salt bowls in strategic positions throughout as per Buddhist tradition and put their fermentation experiments on the kitchen shelves. Emily Endo created a trio of scents, one for each level of the structure, that are placed in bowls of her own making filled with small, filled vials for guests to take as souvenirs. Tactile stone scent diffusers by BC and the Institute for Art and Olfaction are inserted into that most highly specific of built-in feature: the concealed stainless steel toothbrush holder by mass manufacturer Hall-Mack. (The blender affixed to the kitchen counter is a strong contender in this category, too.)
Additional senses are holistically taken into consideration with Dione and Her Own Space, Jeremiah Chiu's soundscape played on loop that integrates a cello performance recording by Dione Neutra along with ambient sounds from the home and other archival audio related to the VDL II. Song of Saint James II, a water feature composed of a shell mounted on a stainless-steel cylinder and placed in a basin at the second floor patio by architecture and interior design firm Charlap Hyman & Herrero, provides white noise to partially drown out the near constant soundtrack traffic below.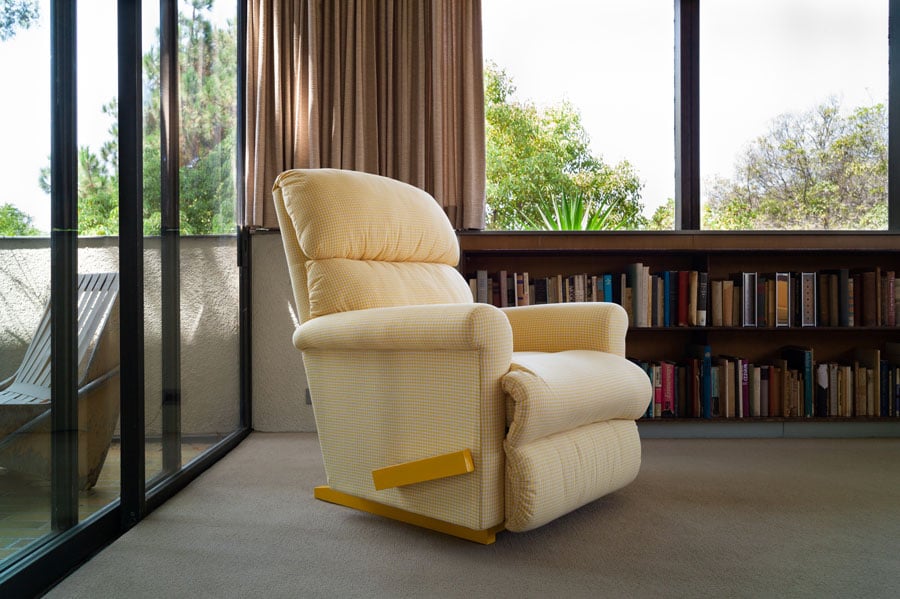 A playful spirit of experimentation paying homage to Neutra's approach to materials is palpable throughout, such as the lamp by Three Sheep Studio and artist/builder Bob Dornberger that incorporates agave fiberglass and horsehair, and Stock-a-Studio's stucco-covered faux finished metallic ladder. The curatorial team also made a lasting contribution to the Neutra archival project, tapping Jeff Khonsary of publisher New Documents to catalogue and publish the contents of the built-in bookcases on the second-floor sitting room in a new book that also contains all the personalized inscriptions to Richard and Dione.
The many gestures seen, felt, smelled, and heard at Built In honor the rigor of craft and discipline, imbued with empathy and humanity. It's part of "remembering all the people that lived here," Critton observes, and their experiences that encompassed "the good, the bad, and the ugly."
Would you like to comment on this article? Send your thoughts to: [email protected]