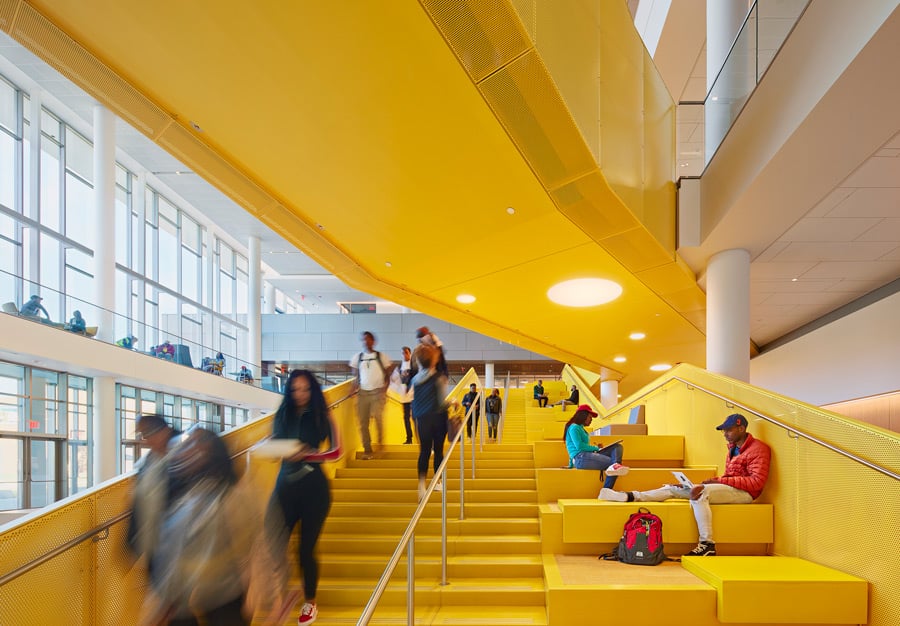 March 31, 2021
CannonDesign Takes a Holistic Approach to Contemporary Challenges
With Living-Centered, CannonDesign aims for a holistic practice that goes beyond spatial needs to make an impact on planet, people, and place.
Sponsored by:
It's time we see the big challenges of our present moment: Public health, climate change, education, and even racial justice as design challenges. That is the driving idea behind Living-Centered Design, CannonDesign's framework for thinking holistically about their work and impact.
Developed from the conviction that architects and designers working today need to think at the intersection of multiple disciplines and real-world concerns to truly address our modern complex challenges, Living-Centered Design asks architects to consider not only how their projects will perform for clients, but how their impacts will ripple outwards.
"In the past, design has almost always been about a specific spatial need. We're saying it's necessary to essentially look at the impact we're making at every scale, from the intimate human scale of experience all the way to: How is it affecting the community? How is it making societal change? How is it actually impacting the planet?" explains David Polzin, the firm's executive director of design.
It is a way to codify or give name to the 104-year-old firm's rapidly evolving approach to design. As the challenges we face grow in complexity, traditional architectural design, operating as a single channel of solution-making, is no longer enough. Designers need to ask themselves what else they can bring to the table. Living-Centered Design and similar initiatives springing up across the design field show the world of design is expanding in terms of project scope as well as the people involved. For projects to have wide ranging and positive impacts, design teams need a diversity of perspectives and expertise. Often, inclusion means reaching outside of the architect–client relationship and getting input from end users and people with an on-the-ground view.
"For me it's really about bringing as many voices to the table as you can, as early on as you can," says Monica Pascatore, associate vice president at CannonDesign. "Anyone can solve a problem, she continues. "But if you dig deeper and ask more, ask the why and the why nots, you'll get to another level, discovering the root of things and how to really make an impact at a much broader and sustainable scale."
"We believe this is the direction the design world must go," reflects Polzin, adding that Living-Centered Design is an open-source concept, one he hopes the next generation of architects and designers across the industry at large will continue to build on.