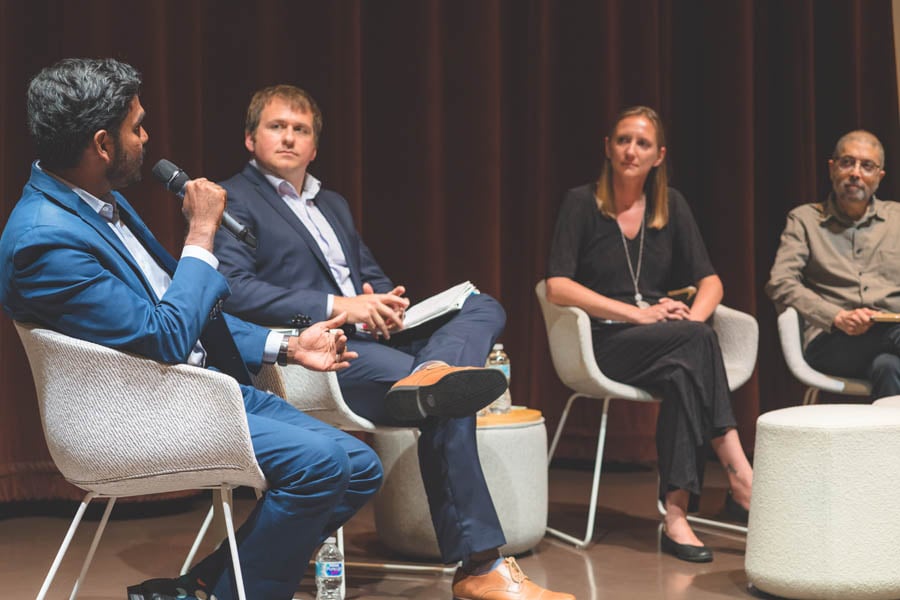 September 18, 2019
Breaking Down Embodied and Operational Carbon
A panel at the Metropolis Perspective: Sustainability symposium in Seattle unpacked carbon and its impact on the design of buildings.
In the early 2000s, the Seattle architecture firm Mithun was developing an urban design plan for the 35-square-block Lloyd Crossing neighborhood in Portland, Oregon. Lloyd Crossing was a designated EcoDistrict, and so was held to a higher ecological standard—its eight million square feet of new construction would request levels of carbon akin to a pristine Northwest forest. That ambition created design challenges for Mithun at a time—2007—when carbon-zero architecture had yet to become a hot-button topic in the industry.  
The far-reaching environmental goals also prompted new lines of inquiry for the architects. How much carbon is emitted for each cubic yard of soil moved? Could the site subsist on just the water that falls from the sky in a typical wet Portland year? Mithun ended up developing a rough calculator that accounts for the potential of the landscape to release and sequester carbon, in addition to the carbon impact of construction and building performance.
These kinds of analytical tools are essential to meeting the ever-more strenuous standards that the architecture and design professions are facing with regards to carbon emissions. What was once a nebulous if laudable objective—designing a building with a small environmental impact—has become more concrete with hard-and-fast deadlines in the U.S. The Architecture 2030 initiative, for example, sets the goal a decade from now, at which point all new buildings should be net-zero; by 2050, it hopes that all extant buildings will have been retrofitted to that standard. 
"The goals have crystallized since the Paris Agreement on climate change was adopted in 2015," Andy Lee, International Living Future Institute director of zero energy told an audience of architects, designers, engineers, and contractors at the Seattle Public Library during Metropolis Perspective: Sustainability, a symposium in Seattle. As Myer Harrell, principal and director of sustainability at Weber Thompson pointed out, the AIA's 2018 Code of Ethics incorporates designing for climate change as a professional obligation for architects, and a resolution adopted at the last AIA national convention called for action to "exponentially accelerate the 'decarbonization' of buildings, the building sector, and the built environment."
Much of the work to be done comes down to the distinction between embodied and operational carbon. Sean Cryan, associate principal at Mithun, explained that the firm's project in Portland, for example, was an early foray into thinking about embodied carbon, i.e., how modifying a site and constructing a building are generative of a given carbon footprint. In turn, the way a building consumes energy over time is its operational carbon.
Globally, the construction expected to take place from now until 2050 will divide its carbon footprint roughly in half between embodied and operational. In a place like Seattle, which has a low-carbon electricity grid and a relatively high-performance building code, roughly 84 percent of a building's carbon footprint over its 50-year life cycle is on the embodied side—the less understood of the two.
"We are way farther ahead on operational than we are on embodied and we need to catch up," said Stacy Smedley, director of sustainability for Skanska USA.
The industry is slowly catching up, with recent changes to the AIA Code of Ethics obligating professionals to address environmental concerns with their clients. Cities like Seattle are also pioneers in creating an enabling code and a permissive environment for so-called "living buildings," which produce more energy than they consume. Indeed, to meet the 2050 goals, buildings will ultimately have to sequester carbon, just like forests do today—a vision not unlike that of the Lloyd District 15 years ago.
As Lee put it, "We have to go way past zero."
Metropolis Perspective: Sustainability was held at the Seattle Public Library on September 13. Armstrong Ceilings, LightArt, Lutron, and Mohawk were platinum sponsors of the event. RSVP for our next Sustainability symposium in Los Angeles here.
You may also enjoy "For Sustainable Building Products and Materials, It Can't be Business as Usual."
Would you like to comment on this article? Send your thoughts to: [email protected]