April 28, 2020
At the Planned Danish Olympic Pavilion, Chairs Form the Architecture
Sustainable construction specialists Lendager Group have created a modular, demountable structure for the Tokyo games.
The fate of the 2020 Summer Olympics currently hangs in the balance. But, if they do go ahead as planned, officials claim that the Tokyo Olympics will be truly sustainable, with even the gold medals made from recycled metals stripped out of old mobile phones. This is no small feat—the Olympics are known for a legacy of waste: out-of-control budgets, big, empty stadia, and neglected venues that struggle to find purpose after the pomp of the closing ceremony. And it's not just the games venues.
Over the past few decades, the number of countries building elaborate, temporary hospitality pavilions around the host cities has mushroomed. Among these is Denmark: Already a champion of the circular economy, this year the country is putting its money where its mouth is and building zero-waste pavilion with a twist—it's made of chairs.
"We were thinking, what's common between Denmark and Japan," says Christian Dahl, head of design at operations at Lendager Group, the sustainable construction specialists that won a competition to create the pavilion last September after working on the idea for just two weeks.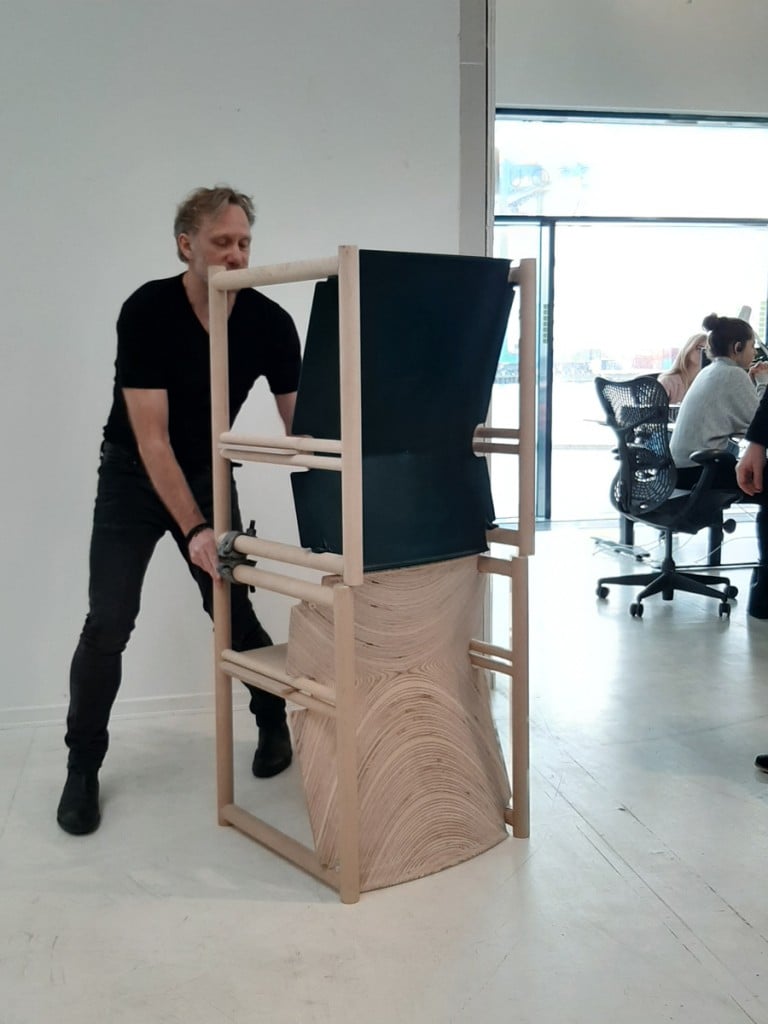 "Design and craftsmanship is something we have in common, and particularly the design of chairs. Danish chair design is really famous in Japan. We thought, here is a link and a narrative we've got to tap into," says Dahl.
Wrapping around the iconic fountain in Tokyo's Hibiya Park, near the Imperial Palace, the pavilion features a facade made from 2,500 chairs. Measuring approximately 28 inches high by 24 inches wide by 24 inches deep, each chair acts as a module in the construction, with the backs facing outwards to create a unified front and the seats inside providing shelves for exhibitions.
"There's quite a few things this chair had to be able to do," explains Dahl. "It needed to be earthquake-proof, tornado-proof, fireproof, you needed to be able to sit in it. But it's also got two functions—it's a dining chair but when you turn it around it's a lounge chair. And it has to be comfortable."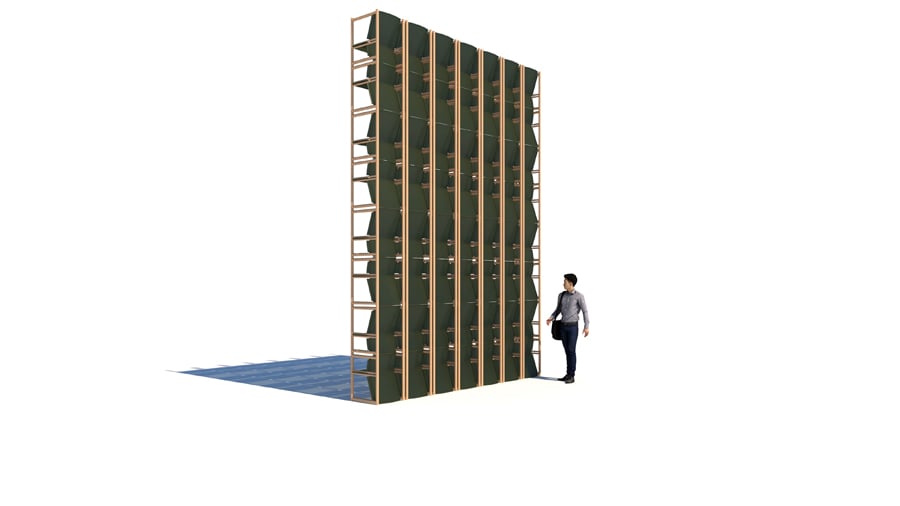 The backs of the chairs are made from recycled, post-industrial PET plastic, while the timber frames are made from furniture industry offcuts. Banks of chairs are held together with rented scaffolding clamps, which will be returned after use, and attached to a substructure made using timber from earthquake-hit areas of Japan like Fukushima. In theory, this modular system could be replicated to make a single-story structure of almost any size.
At the end of the Olympics, all of the components will be returned to the contractors and reused for future structures, while the chairs will be given away to sponsors and investors as souvenirs. Five hundred of the chairs will also be given to a university.
"The whole pavilion will disappear," ends Dahl gleefully. "Recycle, upcycle, reuse and afterlife. That's the idea."
You may also enjoy "Sustainability is a Nonnegotiable at Sharon Davis's Bayalpata Regional Hospital."
Would you like to comment on this article? Send your thoughts to: [email protected]