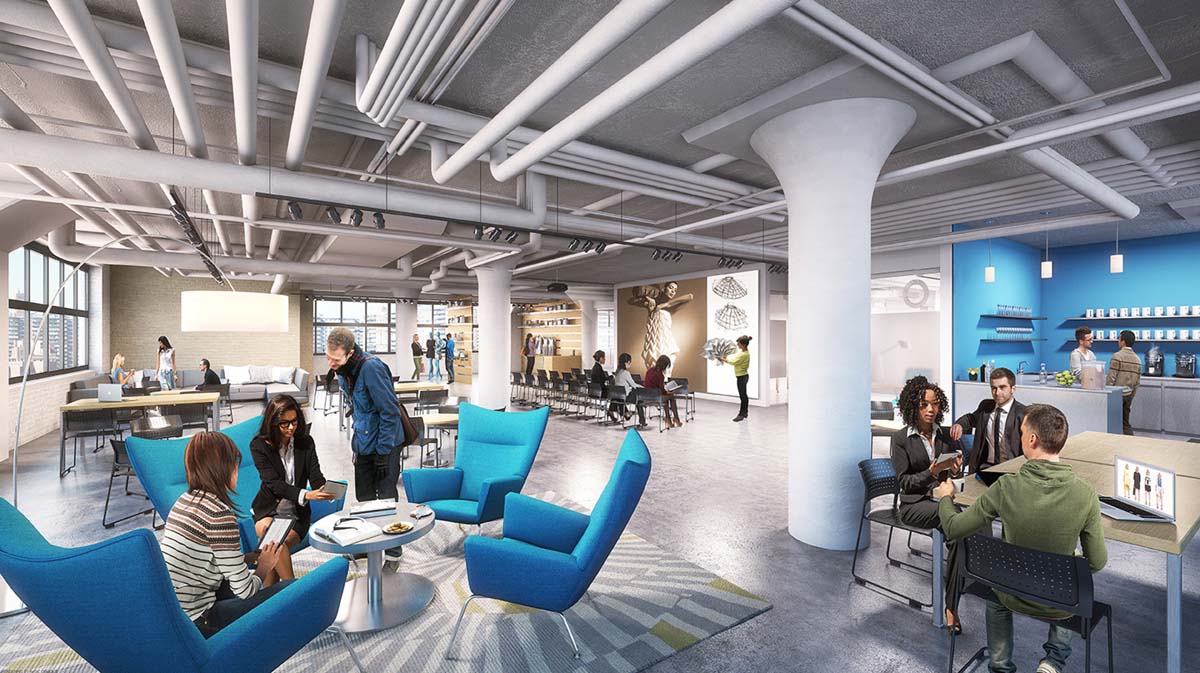 October 13, 2014
Opinion: Design Need to Train Designers as Entrepreneurs
Debera Johnson discusses why it's important for design schools to help students become viable entrepreneurs.
A rendering demonstrates Venture Fellows in the Brooklyn Fashion and Design Accelerator working to turn their ideas into viable, profitable businesses.
Renderings courtesy Brooklyn Fashion and Design Accelerator, 2014
Design education leaves designers lacking in business skills—it's hard enough to learn to be a designer, but there needs to be a next step for the business side that caters to the entrepreneur. Who wants to spend two years getting an MBA if you've got a hot idea? We need a place where smart, talented designers can get an on-demand education about how to start a business, which includes everything from financial planning and costing to how to stay out of trouble, and negotiation. Those are the real, hard skills that design entrepreneurs didn't learn in school but will need in order to be successful. This is the core of what I do as an educator: provide a pathway to success for talented people with great ideas.
The number of students who are interested in launching their own businesses has increased dramatically since we founded the Pratt Design Incubator for Sustainable Innovation in 2002. The incubator, which has recently moved back onto campus, is for very early stage start-ups. As chair of Pratt's industrial design department, I was frustrated to see great ideas turn into portfolio pieces and then just evaporate. So now we're focused on taking good ideas and determining whether they have the potential to become viable businesses.
Having launched last year, the Brooklyn Fashion and Design Accelerator (BF+DA), is about to move into its new home in the old Pfizer building on Flushing Avenue. The BF+DA is open to New York City–based designers who've been in business for a year or two, have sales—but not enough sales—and know how hard it is to be an entrepreneur, but are still super excited about their products and are ready to grow. For example, someone might have a product line that's making $10,000 a year in sales. You can't live on that. In order to be viable, we figure they need to be making a quarter of a million dollars in sales, which would net a salary of about $80,000, and then they could start thinking about hiring somebody full time. That's our goal—to propel that growth. We also work closely with our ventures to create a road map for sustainability and mentor the companies to really think about the decision-making process that influences the impact of the products they're creating. That, for us, is a real differentiator—I don't think there's anyone out there doing that.
It's pretty easy for a designer to imagine a product, but to actually get something manufactured is incredibly difficult.
Ideally, the BF+DA is looking for designers who want to help us redefine the fashion industry. And we go way beyond apparel: I consider a mobile device or a sofa an accessory. We're very interested in designers looking at the intersection of fashion and technology—taking wearables from vanity to humanity and reconsidering manufacturing and materiality in the age of 3-D printing. They need to have a market and a value set that leads to ethical and environmentally sound decisions about growing a responsible business. We are creating a community that's smart and ambitious, with voracious learners who have a natural inclination to teach. Most importantly, their enthusiasm remains undiminished by failure, uphill battles, and a lot of hard work. These are people you want to be around, and who want to be around each other.
Design entrepreneurs have a wonderful energy and their nature is to learn constantly—they have an idea and are excited to figure out how to get from here to there. They have to get answers to questions from the complex to the banal. The reverse of that is they want to share what they've learned—and we'll be tapping that energy through our workshops and K–12 and workforce programs in 2015.
The BF+DA is a community of people surrounded by the resources they need to be successful. This is a heady combination for innovation and change. We have a short-run production lab for apparel that includes cut and sew, two amazing computerized knitting machines, 3-D printers, and laser cutters. This will help our companies bridge the gap to scale. Our nonresident members will have access to these resources as well. When you have people around you who are trying to do the same thing—start a business, run a business, be successful, be ethical—and the means to produce within those communities, you can inspire each other to move things forward and go from just an idea to the realization of that idea.
Design institutions need to provide a space for their graduates to start up.
It's pretty easy for a designer to imagine a product, but to actually get something manufactured is incredibly difficult, and it's why a lot of Kickstarter campaigns aren't successful. You can make a convincing rendering, but the process of making something that really works can be elusive. One of our companies that has used Kickstarter very effectively is Wool&Prince, which manufactures wool shirts and shorts and has generated presales upwards of $500,000. All of our companies have e-commerce sites and are also working to get into retail shops. We're trying to create a BF+DA brand, a sort of umbrella that will increase our ventures' access to markets. You can do a lot over the Internet, but it's still incredibly important to build relationships with your buyers, whether they are retail shops or individual customers. It's all about building markets.
I believe that design institutions need to provide a space for their graduates to start up. We teach our students to be innovators and creators, but not entrepreneurs. We need to build their wherewithal to get out there and grab it. The tools are there, the barriers to access are low—they just need a place and a community that supports their ambition. That's what inspired me to start the incubator—I felt strongly that Pratt takes care of the people it's putting out into the world. It's become an educational mandate for me that schools take this next step.
Pratt was the first art and design school to do anything like this back in 2002, and now I'm on the phone with art and design schools interested in how we've done it. The hardest part, not surprisingly, is finding the resources. We built the incubator on a shoestring—we had to be very entrepreneurial because I wanted it to be financially self-sufficient. This represents success from my perspective, that schools are making incubators part of their programs. What's exciting now is that our accelerator is waking people up to the importance of designers as part of a healthy local economy. We've gotten funding from New York State, New York City, and from Pratt, but it's taken a long time for people to catch up.
We get to the numbers as soon as possible to see if there's a business and a market for an idea.
Here's how to do it: Find 500 to 5,000 square feet of space, put some desks and chairs in it, find interesting people to go sit in there, and somebody who can lead conversation and mentor—it could be an alumnus, a faculty member—somebody who's got enough of a network that they can help connect people in the incubator to the resources they need. The entrepreneurs bring 90 percent of the energy, so you just need somebody there to orchestrate the conversation.
For students, the most important thing is that they hold on to their ambitions and not be daunted by how difficult things seem—and that they come in with a stiff backbone for the process. We get to the numbers as soon as possible to see if there's a business and a market for their idea. And if it's not viable, we look at what will make it viable.
The accelerator is about our Venture Fellows, and they represent its vision: to redefine design and fashion around sustainable principles and be a hub for ethical design. I like to think of us as an accelerator with attitude, and that's what attracts people to the BF+DA—we want to change the world.