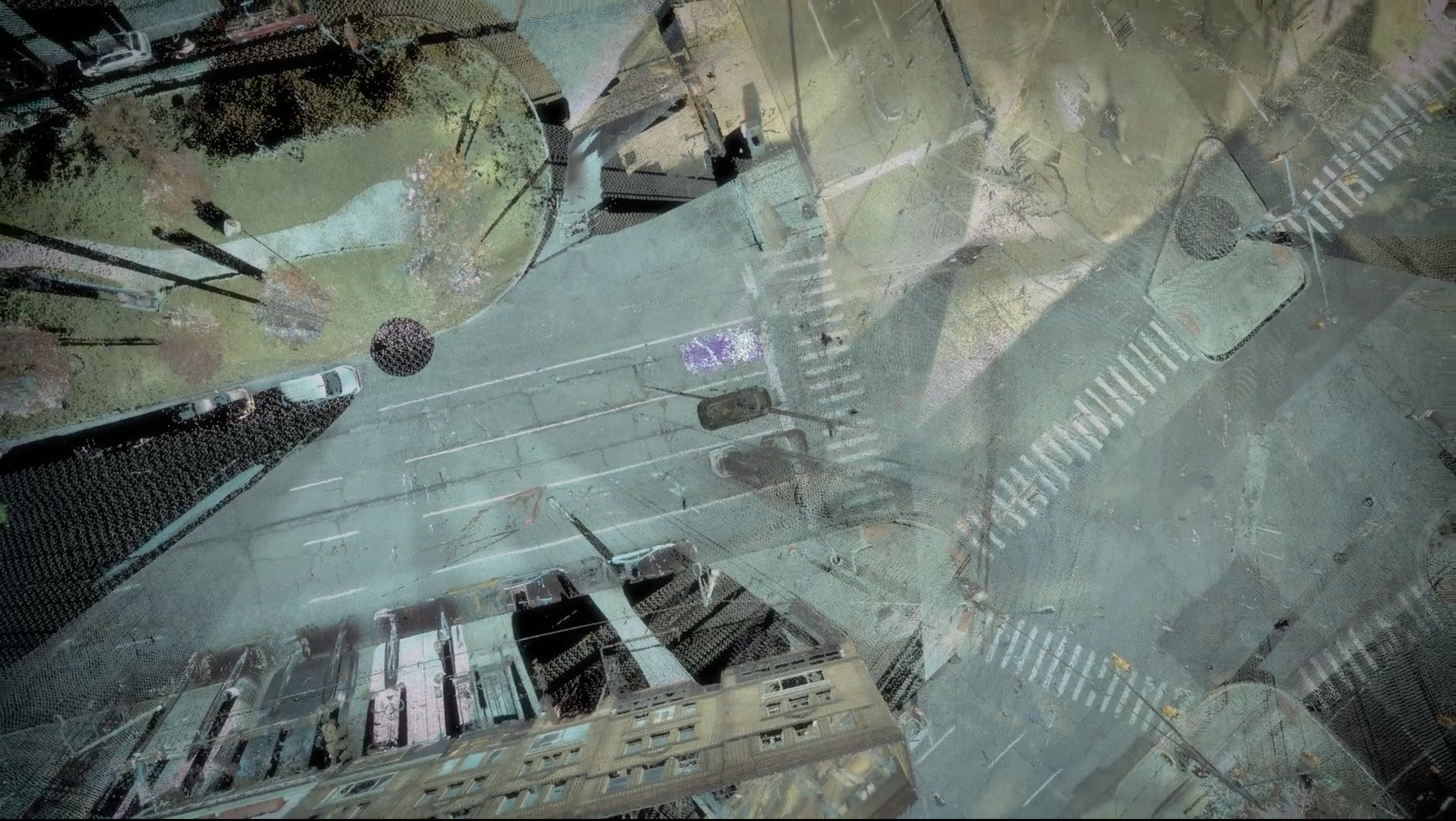 July 29, 2021
Shot on LiDAR, a Short Film Examines the Contradictions of Urban Surveillance
Where the City Can't See, directed by Liam Young and written by Tim Maughan is a poignant rendering of our dystopic present.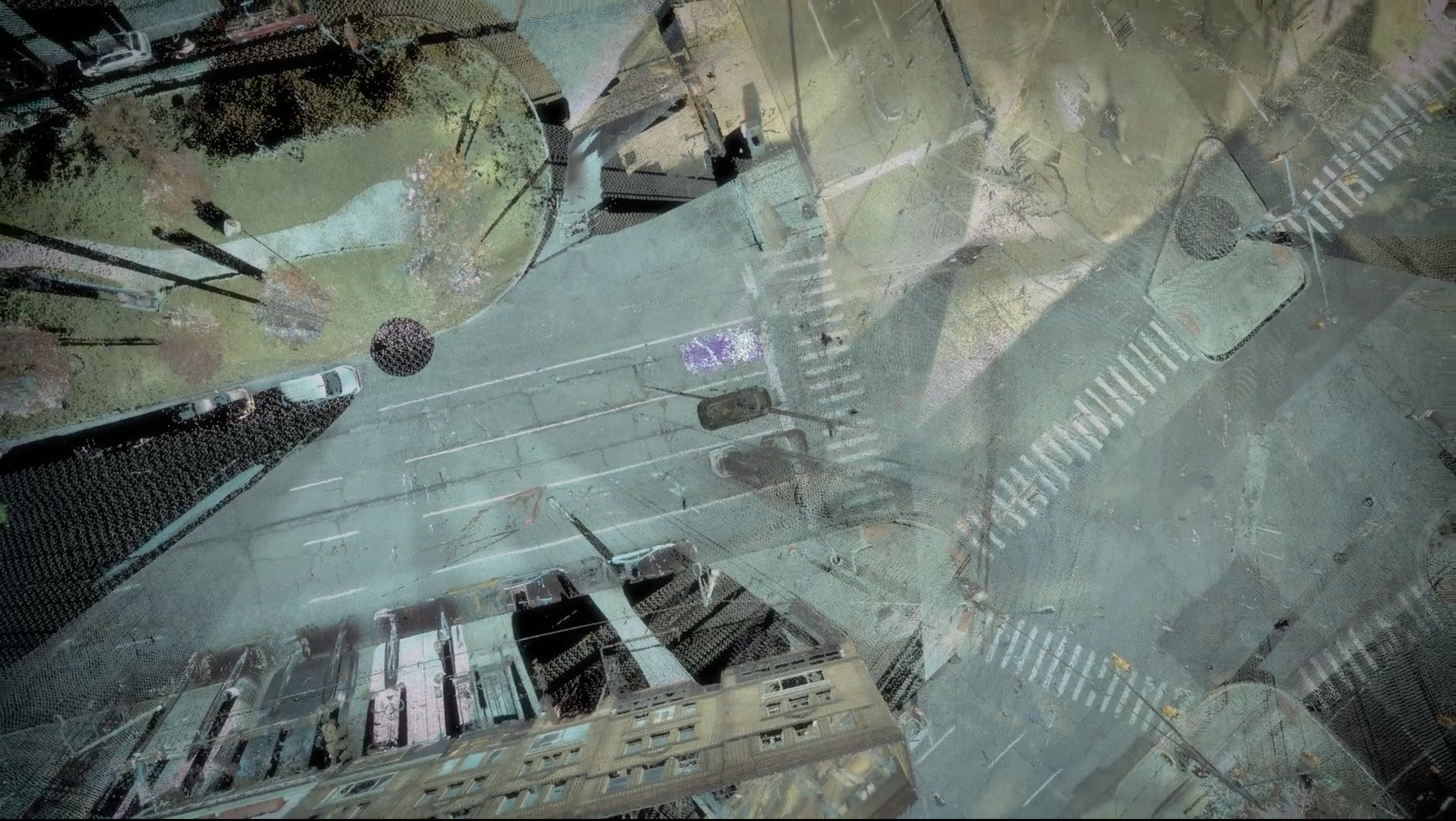 Where the City Can't See is a reminder, and a warning: we're being watched. In their previous collaboration, In the Robot Skies, director Liam Young and writer Tim Maughan shot the first film made entirely with drones, just as people started to recognize their growing surveillant power. With Where the City Can't See, which was finished in 2016, the duo used another emergent technology, a LiDAR (light detection and ranging) camera, to further re-envision how we might witness our urban surroundings through mechanical eyes.
The LIDAR scanner used to shoot the film, an unwieldy $100,000 piece of equipment, has in the five years since been shrunk down to the size of an iPhone camera, now embedded in the phone's latest generation of devices. It's exactly the kind of uncanny, near-future imagination that Maughan has nailed in his writing, most notably in his debut novel Infinite Detail, anticipating a future that seems to catch up with the present ever more quickly.
"If you say 'near future' to traditional science fiction writer, they think 30 to 50 years," Maughan says. "I set myself a ridiculous task when I started my work, which is that I wanted to treat the near future as the next five years."
For a limited time, Where the City Can't See is available to watch on Metropolismag.com courtesy of director Liam Young and writer Tim Maughan. 
---
Set in Detroit, the film documents overlapping trends reshaping the city today. Special economic zones promise employment from foreign firms, paralleling deals like Wisconsin's ill-fated Foxconn partnership; LiDAR cameras suggest a new frontier for the automobile industry in America's quintessential car city; retreat from growing economic polarization and surveillance seems far from possible, but is nevertheless carried out through workplace organizing, pattern-resistant face paint, dance, and music, provided by longtime Detroiter DJ Stingray. In just ten minutes, Where the City Can't See conveys these issues with dizzying focus, unsettled by the LiDAR's gaze. Familiar spatial forms, from the interiors of factories and rideshares to downtown Detroit, are rendered alien, spectral, still comprehensible to the human eye but requiring a computerized logic.
Even if the film suggests the many difficulties people face in mounting organized resistance to encroaching monitoring, Where the City Can't See is a reminder that not everywhere can be watched all at once. For Maughan, Detroit is a perfect case study: while billionaire Dan Gilbert owns more than 100 buildings and over 500 privately-controlled surveillance cameras monitoring downtown, the city's disinvestment also creates space for people to build opposition, to conceal themselves, to build something different.
"In a sense, a lot of spaces in Detroit are hidden by the fact that they've been abandoned," Maughan says. "I'm obsessed with how you remain hidden in those spaces, and what it means, particularly in cities, for these kinds of public and private spaces to be blurred."
You may also enjoy "Game Changers 2020: Itai Palti and Liam Young on the Role of Tech in Creating Responsive Cities"
Would you like to comment on this article? Send your thoughts to: [email protected]
---
Register here for Metropolis's Think Tank Thursdays and hear what leading firms across North America are thinking and working on today.