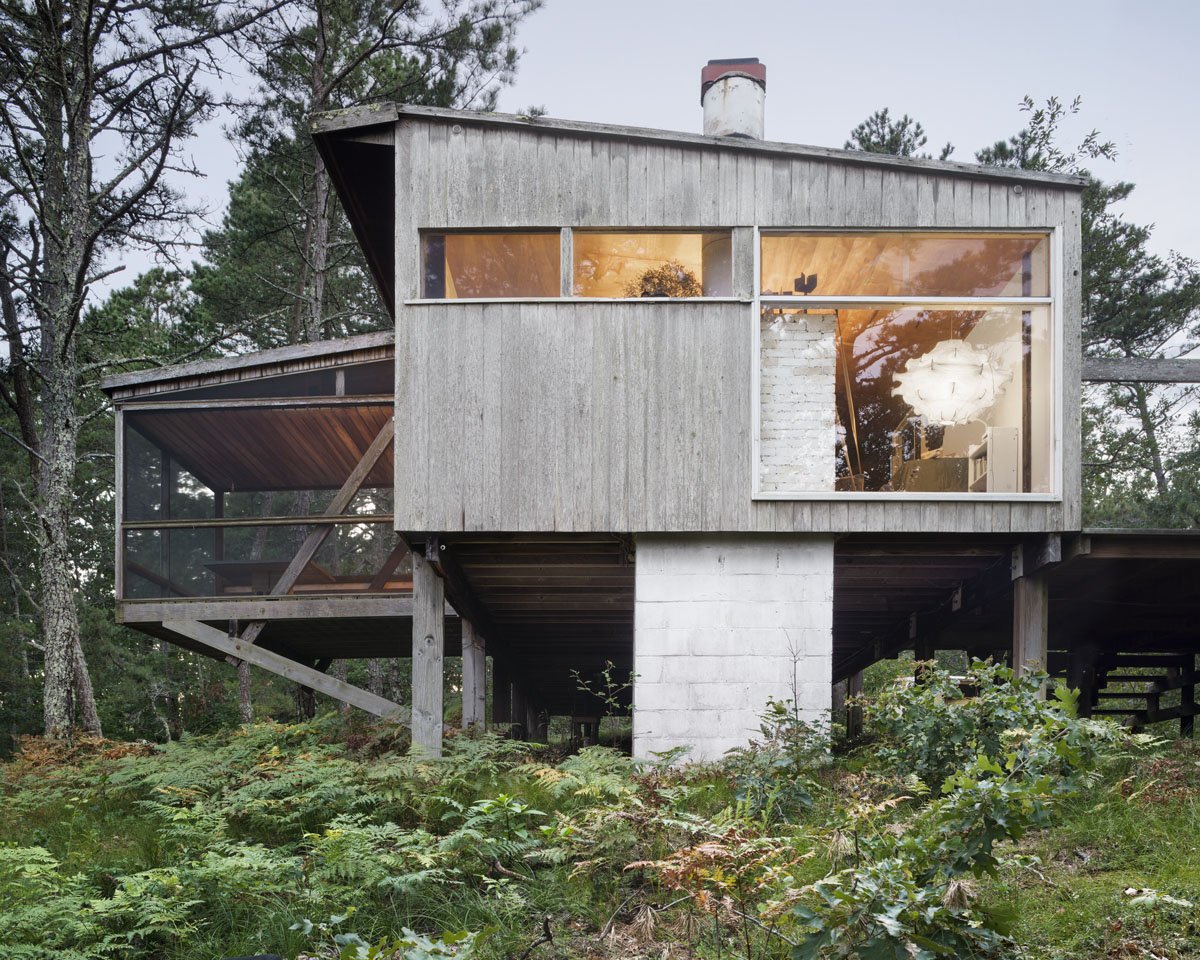 July 28, 2014
Discovering Cape Cod's Modernist Legacy
The Outer Cape in the summer: plush beaches, fried clams, mini-golf, and…modern architecture?
All photos courtesy Raimund Koch/Metropolis Books
It may not be what most people associate with this part of the world, but hidden in the woods and on remote bluffs through Wellfleet and Truro, are streamlined, cantilevered, horizontal-windowed summer cottages, built by some of the leading modernists of the twentieth century.
The Bauhaus invasion was led by Walter Gropius and Marcel Breuer, and also included Eero Saarinen, all looking for a simple, affordable, stylish summer getaway. And aren't we all? This particular migration, however, quickly became a kind of Hamptons with intellectual heft, as the denizens of Harvard and MIT retreated to the Outer Cape for contemplation, spirited conversation, and some serious partying. Leading leftists such as Noam Chomsky, Edmund Wilson, and Mary McCarthy joined in, for a cross between summer camp and Paris in the '20s.
Marcel Breuer's Wellfleet House cleverly employs vernacular building materials and forms. Breuer first visited the Cape at the behest of his mentor and fellow emigre Walter Gropius.
It was what today we might call a network, and the inhabitants were housed in sleek and simple structures sprinkled around winding one-lane dirt roads and walking paths. These elegant shoeboxes on stilts, the first of which were designed by Boston Brahmins such as Jack Phillips and Nathaniel Saltonstall, were fundamentally green, embracing the Cape practice of using salvaged materials, such as shipwreck scrap, to build fishing shacks. Outdoor decks, natural ventilation, fireplaces for cool nights, and–above–all abundant windows and views: these were fabulous places to unwind.
Incredibly, they were almost erased from the landscape, and therein lies a heartwarming story. Many were on land that became part of the National Seashore, the 68-square-mile tract created by President Kennedy in 1961. The National Park Service was ambivalent at best, preferring generally to buy out property, demolish, and return things to their natural state. The modernist cottages became a collection in peril, with some safely stewarded by families who retained ownership, but many others abandoned and deteriorating.
In stepped Wellfleet resident and architect Peter McMahon, who established the Cape Cod Modern House Trust. He campaigned for designation of the buildings as historically significant, started the painstaking process of restoring the most important houses, and came up with the idea of renting them out to help pay all the bills. There is also a program for artists and writers to inhabit the buildings at other times, so as to continue the tradition of the avant-garde.
The living room of the Hatch House was designed as separate from the home's bedrooms.
I caught up with McMahon around Fourth of July, as he checked in on a property undergoing the final touches of restoration. Here, the Hungarian engineer Paul Weidlinger, who had once apprenticed under Le Corbusier, conjured a veranda-wrapped, elevated structure overlooking a pond not far from Marcel Breuer's house. Windows, outside panels, and sliding doors needed replacing, all done under the watchful eyes of the Massachusetts Historic Commission and funded, in part, through a successful Kickstarter campaign launched last fall. My guide then took me to the Hatch House, up on a grassy hillside moor overlooking Cape Cod Bay; the home was designed by local architect Jack Hall for Robert Hatch, editor at The Nation, and his wife Ruth, a landscape painter. The indoor-outdoor interplay is most evident here, with separated living and bedroom areas accessed across tasteful decking.
The linear decking that connects the house's different programmatic blocks
The super-efficient beachhouse has become a standard for shelter magazine covers these days, as the "right-sized," low-impact, micro-housing approach gains traction. Many are buying do-it-yourself kits and pre-fabricated structures for tiny plots of land. As such, the idea of saving the modernist cottages had resonance, McMahon says. There was, however, some skepticism. "We did hear the comment that 'I'm older than these buildings are,'" so how could they qualify for historic preservation, he says.
The Weidlinger House, pictured here amid restoration work
But time is passing, and indeed Modernism is well into that phase of eligibility. I've always thought there's a certain irony at play in all this—that the very modernist buildings which had, in the age of urban renewal, laid waste to landscapes worthy of historic preservation, are now themselves deemed worthy of the distinction. There's something delicious that a house by Marcel Breuer is among these Cape gems now being saved from further ruin; Breuer was part of a proposed redevelopment scheme over Grand Central Terminal that ultimately sparked a preservation campaign drawing in Jacqueline Kennedy Onassis, for whom the Park Avenue entrance was recently named.
Modernism won't have an easy time of it, to be sure. The new mayor of Boston promised during his campaign to tear down the Brutalist Boston City Hall. Similarly, there are many in Washington D.C., who can't wait for the wrecking ball to crash into the FBI's Hoover Building.
Saving summer houses deep in the woods might seem easy by comparison. The story of these structures, including a terrific natural and cultural history of the Cape, is lovingly detailed in the book Cape Cod Modern: Midcentury Architecture and Community on the Outer Cape (Metropolis Books, 2014), by McMahon and Christine Cipriani. The Cape Cod Modern House Trust annual public tour is August 17.
---
Anthony Flint is a fellow at the Lincoln Institute of Land Policy, and author of the forthcoming Modern Man: The Life of Le Corbusier, Architect of Tomorrow. On Twitter: @anthonyflint