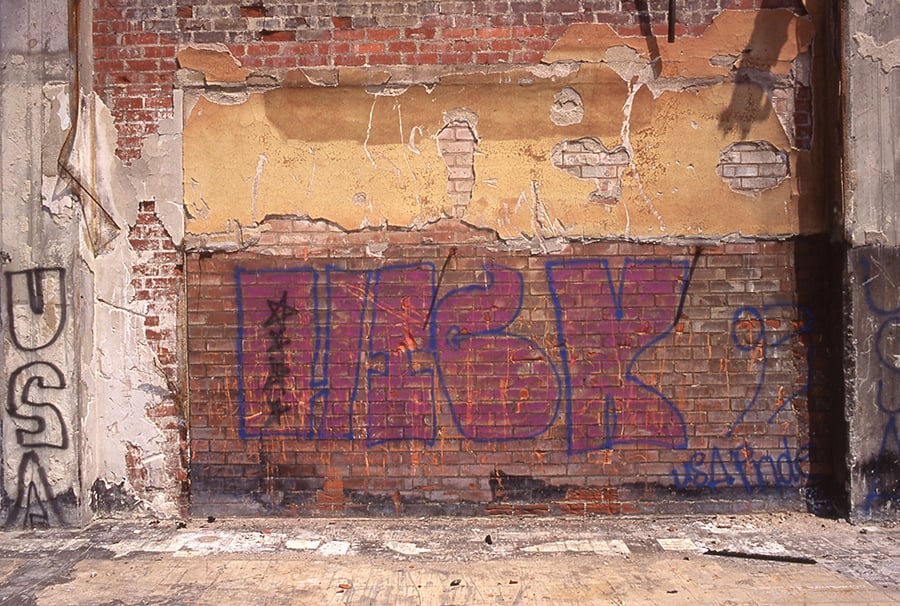 January 3, 2018
Industrial Designer Don Chadwick Finds Beauty in America's Bleak Urban Corners
Chadwick's photography, which capture the vivid textures of L.A., will be the subject of a January 16 conversation at the LACMA.
Throughout his career, industrial designer Don Chadwick has taken photographs in Los Angeles—of structures in rail yards, the destruction caused by the 1961 Bel Air Fire and the 1992 Rodney King riots, storefronts, markets in parking lots—and used the camera to refine his eye and shape his approach to design. Chadwick's photos capture the vivid textures of a city that has built its identity on the rubble of its own hasty and sometimes painful growth. George Nelson's photographs of junkyards and Charles Eames's snapshots of the circus (Chadwick is a fan of both) are similar bodies of research, but Chadwick's America is a darker place, characterized by the Vietnam and Gulf Wars, increased racial tensions, cheaper building materials, and a widening income gap. From behind the camera, Chadwick has studied the dichotomy in things that are at once beautiful but disturbing, and the resulting contradictions and tensions. As a designer he has conjured this tension by allowing technical elements—informed by racing bikes, engine components, and industrial tools—to remain raw and visible on his carefully proportioned chairs. Like his photos, Chadwick's furniture keeps our attention taut between the beautiful and the disturbing and expands our notions of both.
Jonathan Olivares leads a Los Angeles–based office specializing in industrial, spatial, and communication design. On January 16, he will lead a conversation with Don Chadwick at the Los Angeles County Museum of Art (LACMA) for members of the Decorative Arts and Design Council, a LACMA patron group. Select objects by Chadwick and Olivares from the museum's collection will be on view. For information about membership, please email [email protected] or call (323) 857-6558.
You may also enjoy "Step Inside John Pawson's Colorful Photographic Universe."