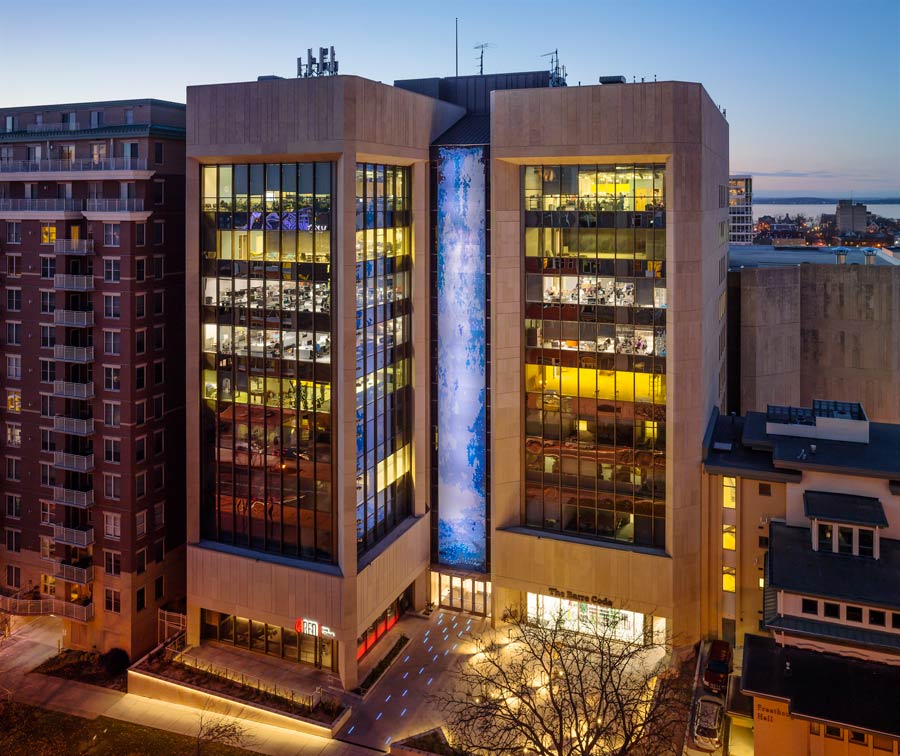 September 21, 2017
LED-Powered "Waterfall" Transforms Brutalist Tower in Madison
Hundreds of LED nodes were used to power Electric Waterfall, a lighting installation that activated the drab facade of a local eyesore.
Developer and banker Eric Hovde wasn't exactly sure how to spark interest in a "nondescript" 10-story commercial building he had recently acquired in downtown Madison, Wisconsin. The Brutalist high-rise, formerly an AT&T switching station, "looked like a bunker," according to Hovde, and needed a face-lift to attract tenants and revitalize the surrounding public space. "When I bought the building, I wanted to ignite it, to make it a more enjoyable place. It needed one last piece to the puzzle," he explains.
Enter CODAworx, a local organization that bills itself as "the international authority on commissioning art." Through its request for proposal (RFP) marketplace, CODAworx connects artists with those looking for art, especially property owners in search of branding or messaging elements for new projects. Hovde decided to commission a mural for the building's facade through CODAworx's RFP system and, after combing through submissions from around the world, chose Jonathan Brown of Modern Mosaics, a Houston-based practice specializing in glass mosaics and installations.
The installation, called Technology in Motion and completed last year, consists of 62 panels painted with acrylic and micro-glass beads to reflect light, plus hundreds of LED nodes that change color seasonally. When also reflecting the light from 15 spotlights on the building's exterior, the mural mimics the activity of a waterfall, with electric "water" cascading down the central part of the facade, over the awning above the main entrance, and spilling out onto the front pathway, where 25 LED strips link the building and the sidewalk. "People started pouring out of their homes," Brown recalls. "It became a real hot spot."
While previously unnoticeable at best and an eyesore at worst, "the building is now one of the most well-known in the entire city," Hovde says. "It's accomplished everything that we'd asked for." The mural spatially and visually integrates the building into the adjacent urban space and, given the buzz and intrigue surrounding its completion, is also acquiring a communal significance. For Brown, the opportunity marked a "big deal" in his career, and a significant departure from his traditional playbook of hospital mural commissions. And he was so drawn to Madison's local culture that he wants to buy a home there. "I really fell in love with the place," he says. "For real."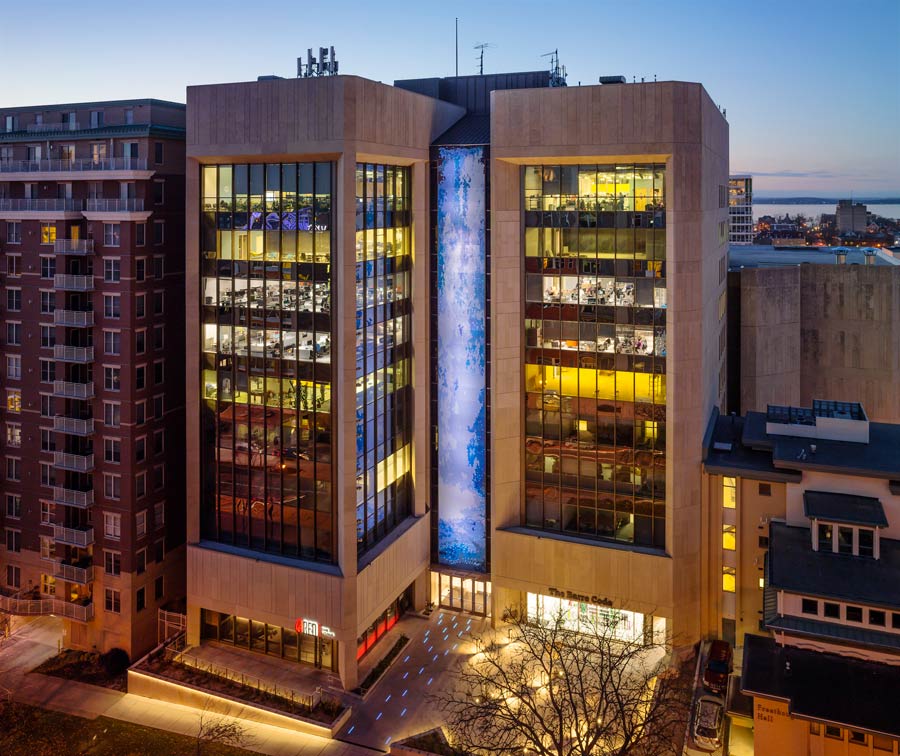 You may also enjoy our profile on video architect and 2016 New Talent Refik Anadol.