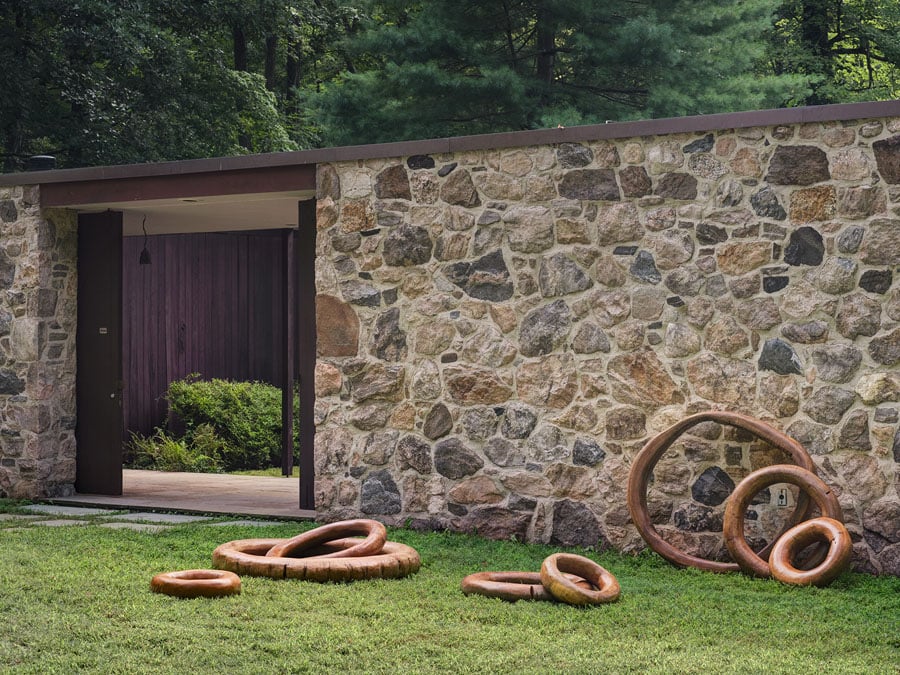 October 30, 2020
A Slew of Contemporary Work Reinvigorates Eliot Noyes's "Frightening Architecture"
A triumph of the Harvard Five, Eliot Noyes's home now serves as an exhibition space.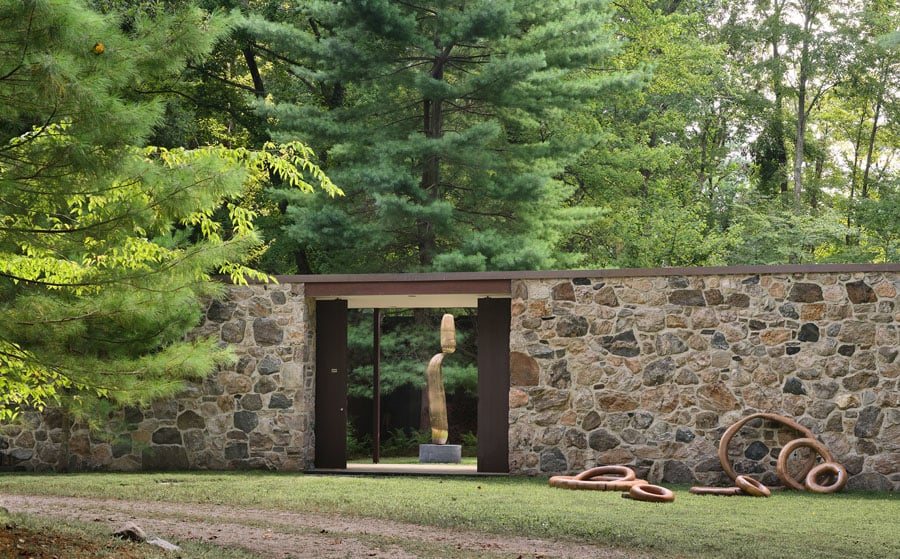 In 1955, architect and industrial designer Eliot Noyes completed a residence for himself and his family in New Canaan, Connecticut. The single-story structure, along with nearby houses by fellow members of the so-called Harvard Five such as Philip Johnson and his Glass House, was a staging ground for American Modernism. In lieu of concrete, Noyes built long stone facades of the New England vernacular; glazed enclosures for public and private areas connected (or, depending upon your view, separated) a courtyard referencing Asian and Greek traditions. It was an argument and abode. It was also a gallery for the family's extensive art collection, including pieces by Matisse and Picasso. Alexander Calder's famed Black Beast II steel stabile lived in the courtyard for many years before resettling at MoMA.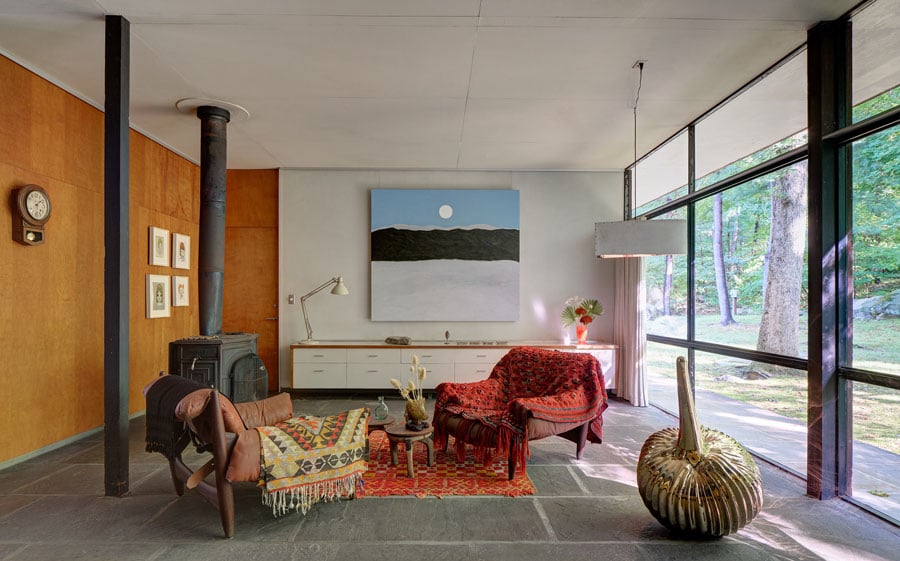 Never before open to the public, the Noyes House has become the closest thing to an art fair the East Coast will see this fall, in an intimate but potent collaboration between New York City galleries Blum & Poe and Mendes Wood DM and design fair innovator Object & Thing, known for previous events that swapped out booths for in situ arrangements of wares. "We have all been stuck at home thinking about art and design in a domestic instead of public space," says Object & Thing founder and creative director Abby Bangser, who lives nearby, "so we wanted to give an example of doing that in a special way." New classics take the place of Calder's stabile, including the 8-foot-high pleated bronze Not Yet Titled by Mexico City–based Alma Allen, who uses a robot of his own devising to fabricate his work; nearby, NYC's Green River Project shows a set of pine deck chairs and coffee table inspired by the house, near large-scale pots by Chiba-based ceramicist Kazunori Hamana.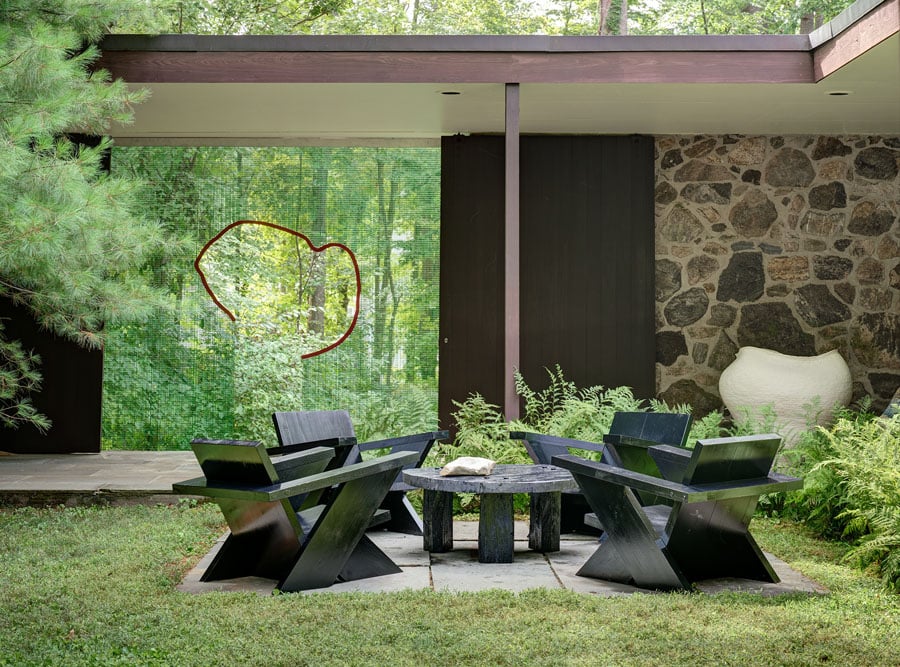 Artistic director Rafael de Cárdenas, fresh off a relaunch of his now-eponymous architecture and design firm, worked with Bangser and the galleries to create provocative installations within the house. The dining area boasts a biomorphic stunner by Brazilian fabric sculpture Sonia Gomes, hanging from the same hook that once supported a Calder mobile; fresh flower arrangements activate vases by Gaetano Pesce. But the astonishing face jugs by African American sculpture Jim McDowell should remind us the racial injustice poising America when Noyes first built the house threaten us still. In the master bedroom—a fraught term realtors are trying to rebrand as "primary"—a boro bedspread by Jewish-Japanese multidisciplinary artist Megumi Arai cloaks a mattress; above hovers a painting by Brasília's Antonio Obá, an image of George Floyd that seems at once deadly and baptismal. These days, homes aren't always sanctuaries.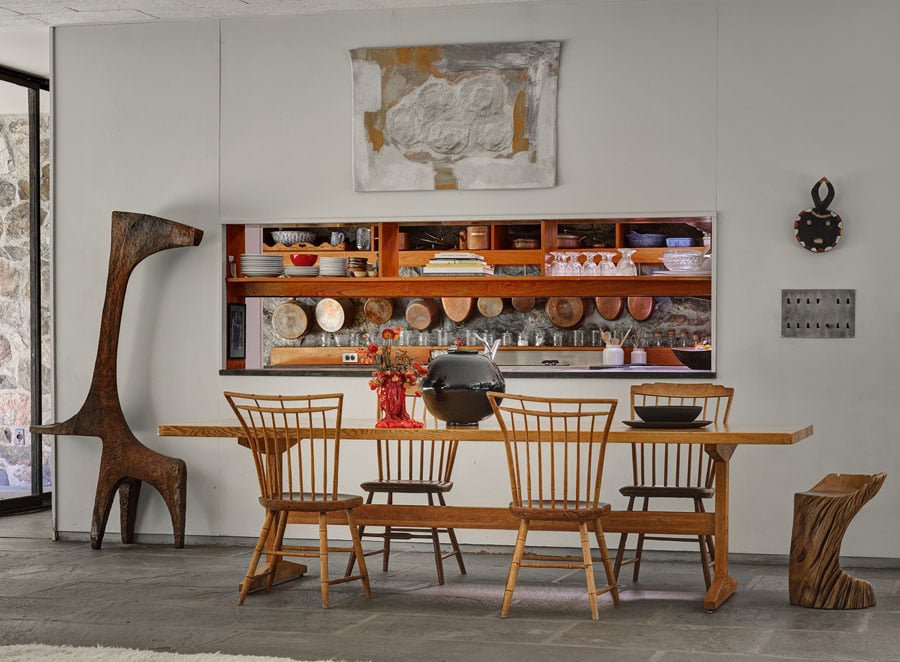 Sometimes, they're film sets. So those who can't score a timed ticket to the exhibition can view Michael Biondo's elegantly sentimental documentary on the project. And if the pandemic has put a strain on your relationship with your own neighbors, a small comfort might be found in the discovery that locals didn't much cotton to the new arrivals in New Canaan. As Glenn Adamson, senior scholar at the Yale Center for British Art, notes in his exhibition essay, "A poem that ran in the local paper took aim at Noyes and his allies," he writes, "expressing the wish that they be confined in padded cells—'windowless, doorless, charmless, and escapeproof'—rather than unleash their frightening architecture on the innocent town." Build a wall, in other words, to keep the Modernists quarantined. At the Noyes House proves they couldn't be stopped; on the other hand, their homes had to become showplaces to survive.
You may also enjoy "In Rotterdam, MVRDV Recasts the Archive as Museum"
Would you like to comment on this article? Send your thoughts to: [email protected]
---
Register here for Metropolis's Think Tank Thursdays 
and hear what leading firms across North America are thinking and working on today