September 11, 2017
Exhibit Columbus Brings a New Perspective to Modern Icons
Now on view, the inaugural festival reconsiders the famed Indiana city with architectural installations by emerging designers.
Columbus, Indiana is by no means large, yet this city of 46,000 is famous for its high concentration of midcentury Modern and Postmodern buildings by masters such as Eliel and Eero Saarinen, Harry Weese, Kevin Roche, and Gunnar Birkerts, among others. It is arguably the most important center of architectural patronage in the United States. This impressive built heritage was on display with the opening of Exhibit Columbus, a three-month-long event complete with a high-profile design competition, art commissions, and educational programming—all to promote public interest in the city's history.
Exhibit Columbus was born out of Landmark Columbus, an organization dedicated to preserving and celebrating the local design legacy. When its director Richard McCoy unveiled the concept for the festival last year, he suggested it would be a way of reinvigorating the kind of community stewardship that led to the building of Eliel Saarinen's seminal First Christian Church in 1942, a process spearheaded by local industrialist and philanthropist J. Irwin Miller and his wife, Xenia. The building—praised for its pleasing proportions and abstract, rectangular forms—is acknowledged as one of the first Modern churches in the country, and the first Modernist building in Columbus. In commissioning the structure, the Millers did more than bring the Saarinens and others to Indiana: They created a participatory and harmonious design infrastructure that resulted in the involvement of landscape architects Dan Kiley and, later, Michael van Valkenburgh, as well as artists like the textile designer and graphic artist Alexander Girard, and the sculptor Henry Moore.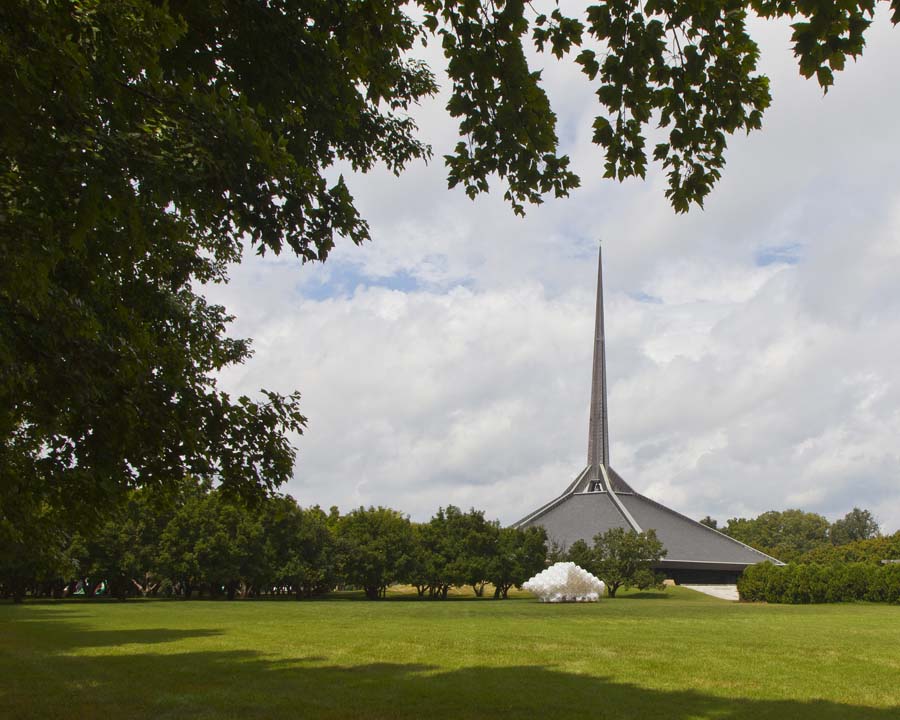 This collaborative spirit is at the heart of Exhibit Columbus—which runs through November 26—and is evidenced by festival's multidisciplinary scope. The program's signature event, the J. Irwin and Xenia Miller Prize, gave architects and artists a chance to design and build site-responsive architectural installations next to some of the most important buildings in the city. The winning entries all interpreted the site-responsiveness in unique ways. Milwaukee-based studio:indigenous, for instance, took a wide-angled historical approach with their pavilion, Wiikiaami, a sweeping exposed metal frame clad in copper scales that was erected alongside First Christian Church. As explained by principal Chris Cornelius, a member of the Oneida Indian Nation and associate professor at the University of Wisconsin-Milwaukee's architecture school, the modestly scaled installation used the latest fabrication techniques to evoke American Indian building traditions.
Across the street at I.M. Pei's Bartholomew County Public Library, Boston-based IKD's Conversation Plinth takes inspiration from the roundabout circling Henry Moore's Large Arch sculpture. Consisting of stepped timber discs that visitors can climb, the installation is notable not just for the way in which it creates new vantage points of the city, but also for its use of locally produced cross-laminated timber (CLT). Similarly, Another Circle by Aranda\Lasch uses 2,800 pieces of limestone reclaimed from local quarries, dispersed in a rough circular pattern to recall the moon pool at the center of van Valkenburgh's Mill Race Park.
The programming also includes several satellite exhibitions. Washington Street, known for its urban design and color schemes developed by Girard in 1961, features installations selected by a group of international gallerists. Curator Jonathan Nesci worked with galleries such as Brussels' Maniera Gallery and Chicago's Volume Gallery, which solicited work by designers like the Los Angeles- and Mexico City-based collective PRODUCTORA and New York's Snarkitecture. The latter inserted a whimsical house-shaped structure between two buildings that progressively narrows as visitors pass through it.
A generous portion of student work rounds out the festival. A small group of installations built and designed by students at regional architecture schools are on display in the space between Birkerts's Lincoln Elementary School (1967) and Ralph Johnson's Central High School (2007). Indiana University's interior design program built a crystalline pavilion of laser-cut corrugated plastic near Eero Saarinen's North Christian Church (1964). Local high-school students also contributed to the event, building a small, colorful installation of maze-like screens in front of the old Columbus Post Office on Washington Street.
For Nesci, this melange of disciplines, histories, and ideas evokes what many call "The Columbus Way." "Exhibit Columbus is all about community," he says. "It brings people together, not just the people of Columbus, but also the international design community. J. Irwin Miller put the architecture program in place to make Columbus a better place to live."