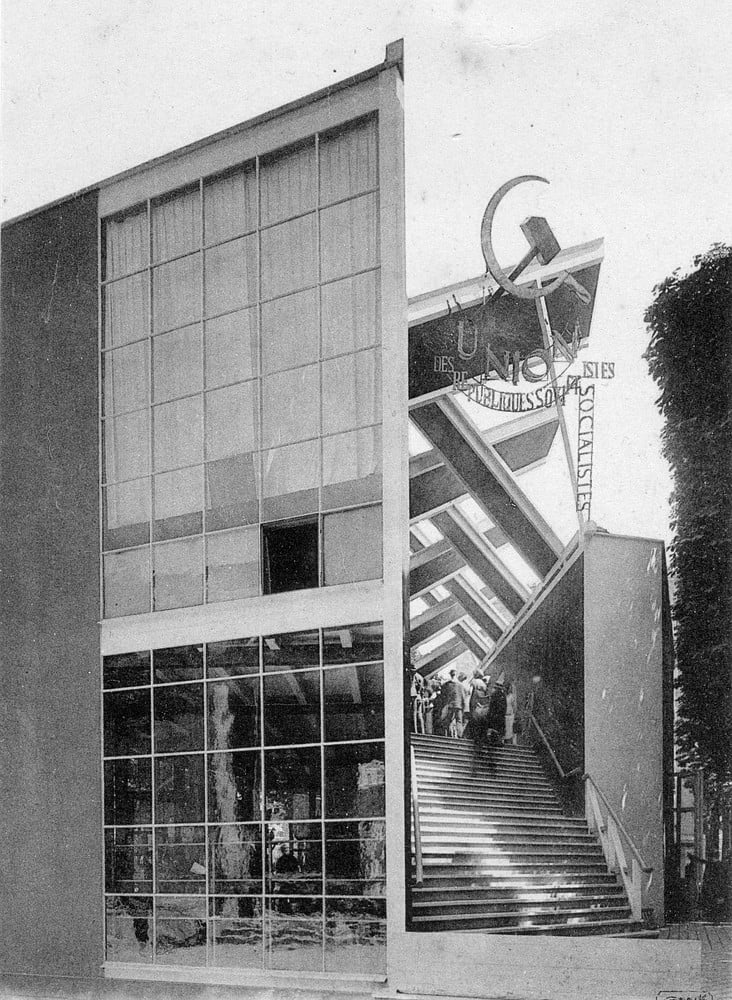 August 24, 2016
The Exhibition That Started An International Style: Art Deco
The Exposition Internationale des Arts Décoratifs et Industriels Modernes gave rise to a new international style and, ultimately, provided its name: Art Deco.
Horta's Belgian Pavilion was a radical departure from his typically curvilinear Art Nouveau style.
Courtesy of Wikimedia user François GOGLINS (Public Domain)
---
This article was originally published on ArchDaily.
The end of the First World War did not mark the end of struggle in Europe. France, as the primary location of the conflict's Western Front, suffered heavy losses in both manpower and industrial productivity; the resulting economic instability would plague the country well into the 1920s.[1] It was in the midst of these uncertain times that the French would signal their intention to look not to their recent troubled past, but to a brighter and more optimistic future. This signal came in the form of the Exposition Internationale des Arts Décoratifs et Industriels Modernes (International Exposition of Decorative Arts and Modern Industries) of 1925 – a landmark exhibition which both gave rise to a new international style and, ultimately, provided its name: Art Deco.
World's Fairs were not necessarily new in Europe. Since 1851's seminal Great Exhibition in London's Crystal Palace, a multitude of similar fairs drew millions of visitors. This tradition was abruptly cut short by the outbreak of World War One, an interruption that would last until the British Empire Exhibition of 1924.[2] Planning for the International Exposition actually began in 1911, but debate over exhibitor criteria and, eventually, the war would delay the opening until April of 1925.[3]
The Exposition occupied 57 acres in central Paris, stretching from the Esplanade des Invalides across the Pont Alexandre III to the entrances of the Grand Palais and the Petit Palais.[4] Two-thirds of the allotted land was set aside for various French pavilions; the rest was made available to the other participating nations, most of which were European. Germany was notably unrepresented, as lingering tensions from the war meant they were not invited to join the Exposition until it was too late to organize a national pavilion. The United States was also absent, due to a lack of designers whose work met the requirements laid out for display submissions.[5]
It was these requirements that would set the 1925 Exposition apart from its forebears. The stipulation that ultimately disqualified American participation was that no design could be based on historical styles – everything was required to be exclusively modern. Though it was hoped that the Exposition would reflect the life of the common person, most products displayed were designer goods aimed at the wealthy elite.[6]
As a result of these same requirements, a variety of contemporary architectural styles were utilized in the Exposition's many pavilions. The pavilion for the nascent Soviet Union, designed by Konstantin Melnikov, was an angular red and white monument to Russian Constructivism realized in wood and glass. The Dutch pavilion, designed by J.F. Staal, was an Expressionist building composed of red brick. Victor Horta's design for the Belgian pavilion, meanwhile, eschewed the florid Art Nouveau style for which he was known in favor of a stepped, rectilinear structure more in line with the majority of the French pavilions.[7]
Angular geometry characterized Melnikov's U.S.S.R. Pavilion.
Courtesy of Wikimedia user François GOGLINS (Public Domain)
---
Despite the presence of these alternative styles, and even a few historicist entries that defied the fair's guidelines, it was French art moderne that would feature most prominently at the Exposition. Though it was already popular in France by 1925, the Exposition was the first time that this style would be introduced to an international audience. The global influence of the fair was unmistakable in the following decades; in 1966, another Parisian exhibition would rename the style Art Deco in honor of the Exposition that had popularized it.[8]
Art Deco, despite its innate glorification of—and preoccupation with—modernity, was not Modernist in the strict definition of the term. It was not founded upon principles of rationalist engineering or scientific efficiency, instead using motifs and symbols of modernity as a decorative statement. This differentiated it not only from foreign schools like Constructivism and the Bauhaus, but even from the International Style supported by France's own Le Corbusier.[9] This difference was readily apparent in Le Corbusier's L'Esprit Nouveau Pavilion, a model apartment that demonstrated his ruthlessly efficient 'machine à habiter' without the stylization which defined Art Deco.[10]
Due to its ornamental nature, it is perhaps unsurprising that the most prominent Art Deco structures at the Exposition were not those of architects or countries, but of French businesses and decorative artists. Several notable Parisian department stores—including the Galeries Lafayette, Le Bon Marché, and Le Printemps—set up elaborate pavilions intended to lure attendees in to admire rooms furnished and decorated with consumer products. The exterior façades of these pavilions utilized several common Art Deco motifs, including stylized floral elements, stepped forms, sunbursts, and zigzags. Representatives from various applied and decorative arts employed similar tactics, from book publishers to famed glassmaker René Lalique; the latter had also designed a massive tiered, obelisk Fontaine Lumineuse (Luminous Fountain) with molded-glass caryatids that stood at the center of a neighboring square.[11]
The sunburst crowning the entrance to the Galeries Lafayette pavilion is a typical element of Art Deco decoration.
Courtesy of Wikimedia user François GOGLINS (Public Domain)
---
The most acclaimed pavilion at the Exposition was the showcase for an individual artist, furniture designer Jacques-Emile Ruhlmann. Designed by Pierre Patout, the Hôtel d'un Collectionneur (House for an Art Collector) consisted of a suite of elegantly-decorated rooms laid out around an ovular Grand Salon at the center. These opulent interiors were contained in a stepped, largely rectilinear building decorated with classical bas-reliefs depicting dancers. Critics admired the elegant modernization of traditional forms which, when paired with the luxurious interiors, ultimately earned the hôtel a reputation as one of the greatest achievements of French Art Deco.[12,13]
During its six month run, the Exposition Internationale des Arts Décoratifs attracted roughly sixteen million visitors, creating massive international demand for the style to which it ultimately lent its name. In accordance with the organizer's aims, the Exposition also established France as the arbiter of taste and fashion in the interwar era; Paris itself was put on display as the world's most fashionable city.[14] But the ramifications of the Exposition Internationale would spread far beyond Paris. Though several similar world's fairs would follow in subsequent years (including two more in Paris in 1931 and 1937), none would have such a resounding impact as the one which took place in 1925. Time would eventually move past the frenzy of Art Deco that followed the 1925 Exposition, giving way to Modernism in the wake of the Second World War – but no single event would ever have such a profound effect on global design sensibilities ever again. [15]
The Exposition's poster, designed by Robert Bonfils.
Courtesy of the Victoria and Albert Museum
The Exposition, which occupied both banks of the Seine, was tied together by the Pont Alexandre III, itself built for a previous World's Fair.
Courtesy of Wikimedia user François GOGLINS (Public Domain)
The Bon Marché's pavilion made use of stepped setbacks, another motif frequently seen in Art Deco buildings.
Courtesy of Wikimedia user François GOGLINS (Public Domain)
The Dutch Pavilion was an example of Expressionist architecture in a largely Moderne fair.
Courtesy of the Nederlands Architectuurinstituut
References
[1] Encyclopædia Britannica Online, s. v. "France", accessed August 09, 2016, [access].
[2] Rydell, Robert W. World of Fairs: The Century-of-progress Expositions. Chicago, IL: University of Chicago Press, 1993. p3.
[3] Raizman, David Seth. History of Modern Design. Upper Saddle River, NJ: Prentice Hall, 2004. p155.
[4] Poulin, Richard. Graphic Design and Architecture, a 20th Century History. Beverly, Mass: Rockport Publishers, 2012. p86.
[5] Windover, Michael. Art Deco: A Mode of Mobility. Québec: Presses De L'Université Du Québec, 2012. p120.
[6] Raizman, p155.
[7] Bayer, Patricia. Art Deco Architecture: Design, Decoration, and Detail from the Twenties and Thirties. New York: H.N. Abrams, 1992. p38-40.
[8] Bayer, p12-37.
[9] Pile, John F. A History of Interior Design. New York: Wiley, 2000. p349.|
[10] Bayer, p21-22.
[11] Bayer, p38-46.
[12] "Art Deco: The 1925 Paris Exhibition." Victoria and Albert Museum. Accessed August 9, 2016. [access].
[13] Bayer, p39.
[14] "Art Deco: The 1925 Paris Exhibition."
[15] Bayer, p37-38.