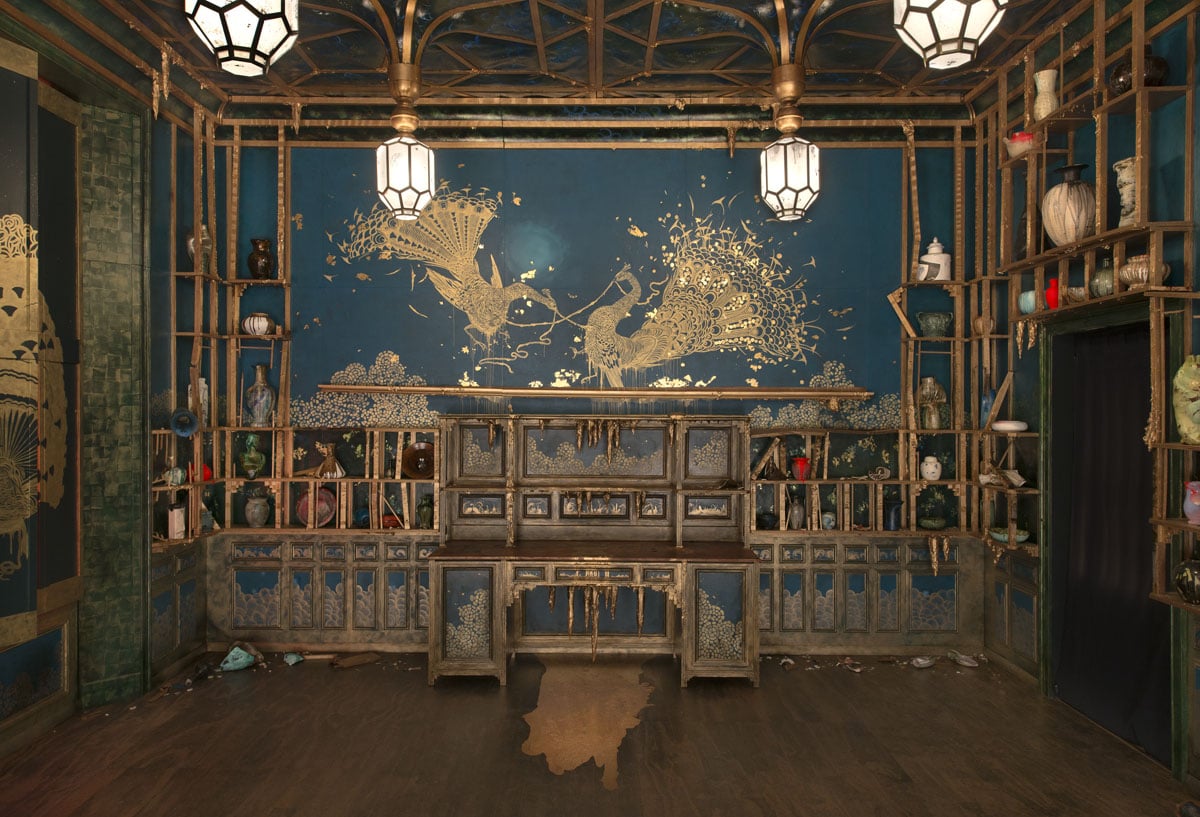 May 20, 2015
"Filthy Lucre" Takes on the Gilded Age, Highlights Our Own Age's Inequity
An artist's response to a design icon from the Gilded Age is also a criticism of the disparities in society today.
Julian Raby, director of the Arthur M. Sackler Gallery and the Freer Gallery of Art, calls Filthy Lucre "both a sincere homage and an ironic parody of the escapist idea of art for art's sake." The ornate finishes and precious objects—ceramics in delicate glazes—were produced with just as much care for Darren Waterston's version as for the original, but in a broken, decayed form.
All photography courtesy the artist and the Freer Gallery of Art, Smithsonian
---
Filthy Lucre, an installation by Darren Waterston, is an uncanny sequel to James McNeill Whistler's Peacock Room. The details that make the original an aesthetic icon are all there, but in a decaying, crumbling form. Paint drips from the walls into a pool of gold on the floor. The rickety shelves collapse under their own weight, and the pottery they hold tumbles and shatters on the ground. Even Whistler's painting La Princesse du pays de la porcelaine, a focal point of the original, has been subjected to deformation. The installation is set to a soundtrack of voices and cello by the band BETTY, making Filthy Lucre a surreal alter ego of its inspiration.
In 1876, Whistler was commissioned to add minor touches to shipping magnate Frederick Leyland's dining room. In his zeal, Whistler made bold and unexpected changes, covering Leyland's sober walls with the intricate gold peacocks that later made the room famous. Unlike many of Whistler's later admirers, Leyland was appalled and refused to pay for his work in full. In revenge, Whistler crafted an insulting portrayal showing his patron consumed by wealth titled The Gold Scab: Eruption in Frilthy Lucre (The Creditor)—for him, Leyland was frilly and filthy at the same time.
Whistler's masterpiece is now housed at the Freer Gallery of Art in the Smithsonian's Museums of Asian Art in Washington, D.C. It has come to represent the struggle between the artist and his patron, and, in a broader sense, the contrasting economic realities of the Gilded Age. Waterston's re-creation of the Peacock Room perhaps reveals its dramatic past, as it points to the equally gaping social disparities of our time. Filthy Lucre is on view at the Smithsonian's Arthur M. Sackler Gallery through January 2017, so visitors can admire both rooms side by side. In preparation for the opening last week, a companion book (Rizzoli, 2014) analyzes both masterpieces with great insight.
Whistler's masterpiece
Waterston's take on Whistler's gilded room-art.
Left: Waterston transformed the demure subject of the original painting in the Peacock Room into a disfigured creature. Right: The room's ornaments have been subjected to the effects of grime and muck.
Waterston nearly perfectly replicates the original, but casts it in a cataclysmic light.
As a counterpoint to the dripping, melting surfaces, audio from behind the ornate peacock panels ironically quotes Whistler: "Paint should not be applied thick. It should be like breath on the surface of a pane of glass."