December 2, 2019
Architecture Reckons with the Future at the First Sharjah Architecture Triennial
The three-month-long show occupies two decommissioned public sites and uses the Emirati city's intact urban texture to discuss contemporary issues in architecture.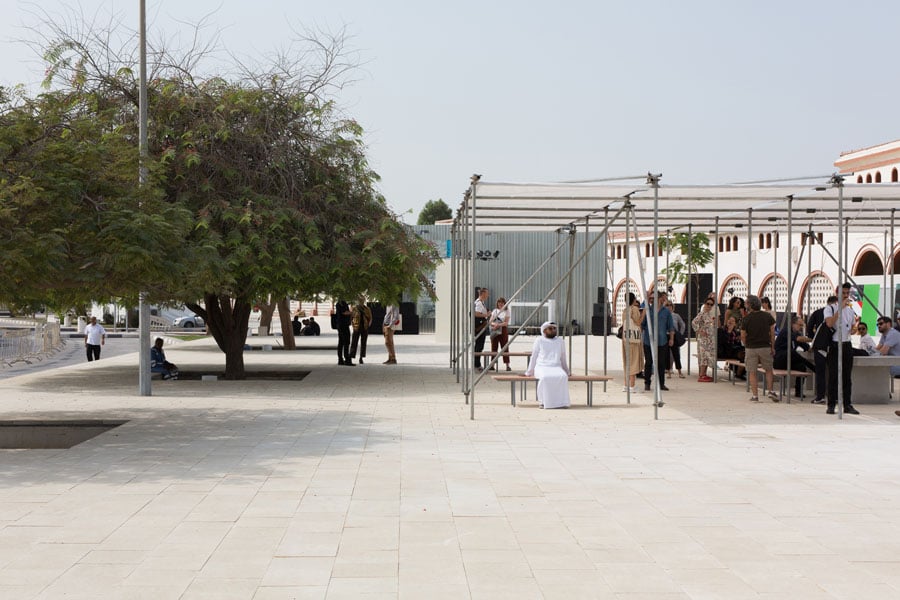 The first iteration of the Sharjah Architecture Triennial, entitled Rights of Future Generations, cements the third-largest Emirati city's profile as a cultural hub in the Middle East and South Asia. The three-month-long affair, which opened on November 9 and runs until February 8 next year, prompts engagement within the urban environment of Sharjah, a historical port city for the Global South that boasts a population of 1.4 million.
Organized by London-based scholar and architecture curator Adrian Lahoud, the event does justice to its raison d'être as the region's first architecture triennial. Occupying architectural landmarks of the '70s and '80s—namely, the Old Al Jubail Vegetable Market and Al-Qasimiyah School—the exhibition folds itself into the fabric of Sharjah, a city that has remained intact in comparison to its flamboyant neighbors Dubai and Abu Dhabi. Sharjah's triennial manifests "a human scale, where historical, modern, and contemporary buildings coexist," Lahoud tells Metropolis. Extravagant skyscrapers and satellite European museums are replaced in Sharjah by a more modest vista, where a spectacular sunrise overlooks low-rise buildings, local fabric stores, and food markets, as well as a handful of high-end hotels that are mushrooming on its scenic shore. "Public buildings offer a meaningful platform for a triennial that attempts to make conversations around architecture accessible to all," says the curator. "Through a commitment to adaptive reuse and intergenerational legacy, the repurposed venues demonstrate a commitment to sustainability."
Inherent in Lahoud's cross-generational and interdisciplinary selection is what the curator identifies as "the idea that architecture holds the key to all our shared futures, especially through the role it can play in addressing climate change." The question of whether structures built for the future can confront environmental decline—the most pressing global issue of our time—is dissected with an all-encompassing approach. The curator invited artists, engineers, performers, activists, scientists, anthropologists, and musicians alike in order to "frame alternative perspectives that lie outside of prevailing architectural paradigms."
Rights of Future Generations kicked off with a four-day intensive titled "Afterlives, Intergenerational Transmissions, and Devotional Practices." Crystallizing the overall ideas that Lahoud weaves across the venues, this multifaceted program involved music, workshops, site visits, and lectures, and served as a connective tissue for international guests and the local community. Ngurrara Canvas II, for example, is a 33-foot by 26-foot floor painting created by 40 native Ngurrara people of Western Australia in 1997 to express dedication to their native title claim over Great Sandy Desert; the colossal work left Australia for the second time since its creation for an awakening ceremony that took place in Sharjah on November 11.
Sharjah's slow-yet-continual urbanization sets the context for Mehr, a work by the architect Samaneh Moafi that investigates an Iranian housing project by the same name. Conceived in 2007, Mehr sought to encompass four million units, and house 12 million residents. The architect's study on state-funded, and inherently male-visioned, living formats, in which domestic life is homogenized and imposed through architectural formats, questions impacts of mass and construction on sustainability and the self. The future of materials, such as gypsum, gets visualized in Material Gesture, a series of abstract sculptures created by Studio Anne Holtrop in collaboration with Holtrop's students and Accademia di architettura di Mendrisio, a Swiss architecture school located on the Italian border. Lined across Al Jubail Vegetable Market, the modest scale formations, created in gypsum with dystopian architectural cues, proposes a broad rethinking of the material's cultural, genealogical, and aesthetic potentials.   
Located on the intersection of east and west, Sharjah embodies a mystic and intact old world legacy: bulky towers and water-facing buildings echo a history of port trade that now backdrops for hefty cultural investment spearheaded by Sharjah Art Foundation. This is the city where Rain Room—Random International's phenomenal water installation which created extended lines during its MoMA run in 2013—is permanently installed in Al Majarrah Park, sitting amidst a mildly busy street in a city that almost never rains. In such an eclectic setting, the triennial utilizes its platform for discussion around the future role of architects—particularly those from the Global South and their diaspora—in challenging Western modes of thinking, and "building" sustainable living methods. 
"Colonial models of development have failed many existing populations, applying Western architectural models of development in regions across the Global South, often disrupting more harmonious relationships between humans and nature," ruminates Lahoud. With his curation of immensely cross-disciplinary practitioners in and outside architecture, he shows that the answer for a better future emphasizes inclusivity and empathy.  
You may also enjoy "Giovanni Vaccarini Architetti's Powerbarn Treads Lightly—While Making a Big Impact."
Would you like to comment on this article? Send your thoughts to: [email protected]