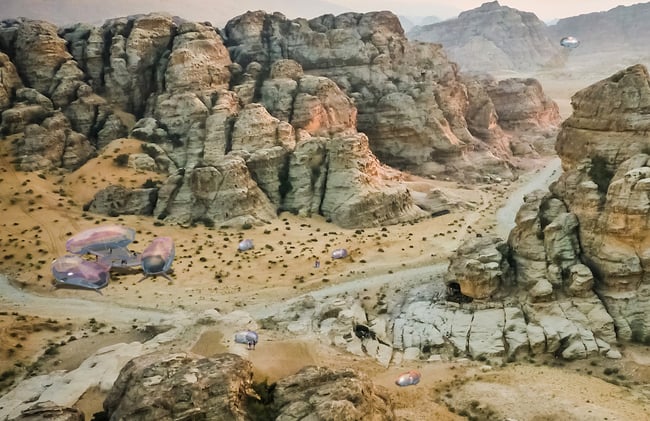 October 26, 2016
A Flying Drone Hotel, and Other Visions for the (Near) Future of Hotel Design
At the 10th annual Radical Innovation Awards, two worthy finalists presented their visions for the hotel of the future—including an idea for a flying drone hotel.
---
In our upcoming November issue, Metropolis takes a hard look at how the hospitality industry will change in the near future, but what will the hotels of the next few decades be like?
The Radical Innovation Award impels designers to consider exactly that—and to create  designs that explore just how innovative the hotel environment can be. At the 10th annual Radical Innovation Awards at the New Museum in New York City on October 10, two worthy finalists—chosen for their creativity, design quality and potential to impact the industry—presented their visions for the hotel of the future.
Driftscape
HOK Toronto
The winning concept, from HOK's Toronto office, was the futuristic vision Driftscape—a mobile, self-sustaining hotel that uses drone technology to enable its guests to land modular units, called Driftcrafts, in usually unattainable locations, from vast oceanscapes to deserts, remote tropical islands to lush mountain terrain. The autonomous room pods are designed to accommodate two people and support up to three days of exploration, while the pods are serviced by an "Oasis," a central amenity base equipped with food and beverages.
John Hardy, CEO of the John Hardy Group and founder of Radical Innovation, says the appeal of the winning concept was that it tapped into the unique kinds of experiences that modern travelers seek. "Driftscape meets growing market demand for authentic, immersive experiences with a concept that is entirely new and original." As the grand prize winner, HOK will now have the chance to develop Driftscape—whose environmentally sensitive design is intended to leave minimal impact on terrain—further in the marketplace.
Nesting
MM Architects Designers & Planners
MM Architects Designers & Planners, from Nanterre, France, were named runners-up for their concept: Nesting. The proposal seeks to give hotels more relevance in a city's overall urbanscape by putting forth a multifunctional, modular structure compact enough to fit in small green spaces. Hotel and meeting rooms would be perched on stilts, allowing them to be placed throughout parks and over lakes, creating nature-clad retreats in urban settings, such as New York's Central Park or St. James's Park in London. Envisioning a partnership between private and public entities, the concept is structured so that revenue from the hotels could help fund the the parkland and greenspaces, which are often overlooked in city budgets.
Space View
Radical Innovation also named a student winner, Juan Orduz, University of Nevada Las Vegas, whose Space View Inn concept proposed the idea of a private space development. Addressing the design and operational obstacles of space travel, Orduz used current space architecture standards to design an expanded truss system that enables leisure and hospitality activities for up to 64 guests. To offset the significant costs involved with such an ambitious project, the designer proposed the idea of a "Space Lottery" that would help secure additional funding and make space travel a generally more inclusive experience.