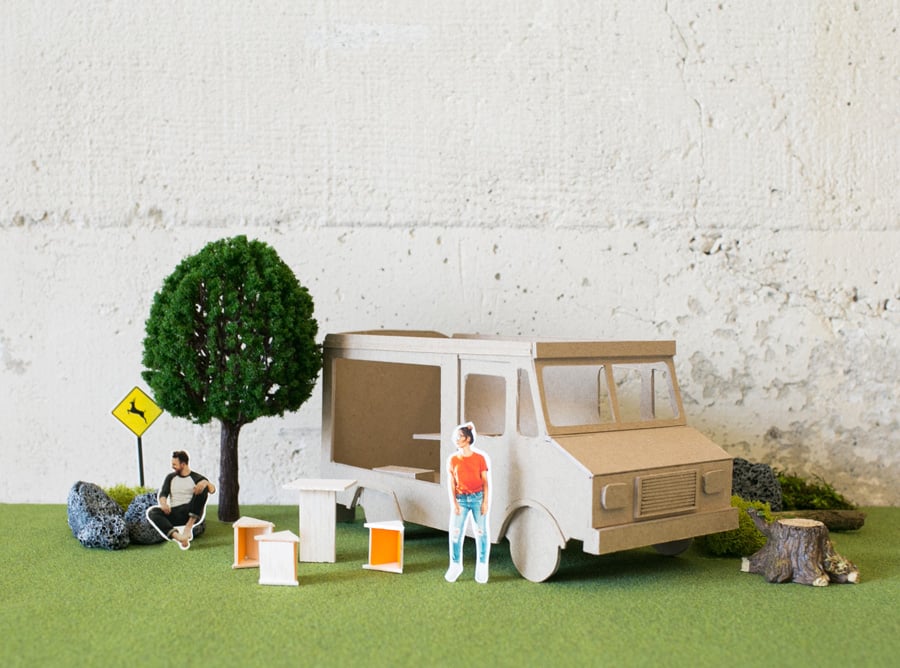 April 18, 2018
Studio O+A Is Putting a Mobile Design Studio in a Repurposed Food Truck
The studio's Food for Thought Truck will travel the country this summer to provide free design services for rural communities.
---
This article is part of the "tech x interiors" special section that was guest-edited by the design firm Studio O+A. The section, which appeared in the April 2018 issue of Metropolis Magazine, explores how technology is reshaping the workplace. You can find the full section online here.
---
Gourmet food trucks can deliver everything from lobster rolls to ice cream sandwiches straight to your street corner—why not high-quality design, too?
That's the basic concept of Studio O+A's Food for Thought Truck, a mobile design studio that's scheduled to head out on the road this summer. The truck will provide its services gratis to far-flung parts of the country. "We're going to take our designers and design process on the road to areas that don't have access to design thinking," says Verda Alexander, a Studio O+A cofounder.
Alexander's initial thought was to retrofit food trucks as satellite offices for companies that wanted to spare their workers the terrible commutes in Silicon Valley. That evolved into a mobile laboratory for tactical urbanism projects—temporary designs typically used to pilot-test city projects before making them permanent. The firm is still working on the full itinerary for the Food for Thought Truck, but intends to set up a temporary workstation for one to two weeks at each location. Outfitted with whiteboards and ingenious multipurpose furniture, the vehicle will be a locus for community meetings and workshops. The designers plan to work collaboratively with local residents to create a design and then help build the project.
For example, in Bakersfield, a city in California's rural Central Valley, the firm is working with local architect Daniel Cater to transform a vacant lot sandwiched between a café and a new townhome development. "This is a small-scale industrial area that is becoming a neighborhood, and the idea is to create some energy and buzz and give wings to the small entrepreneurs who are already here," says Cater, who adds that he is excited to leverage Studio O+A's experience in branding and identity for this infill project.
The truck's full journey will be detailed in a book slated for publication by Artifice Books in 2019, but Alexander expects that the experience will also serve as valuable R&D for the firm. "It's going to be a two-way street, since we'll be testing and solidifying our design process," she says. "We'll be able to take what we learn and bring it back to our interiors practice."
You might also like, "Why Technology Can Be the Enemy of the Creative Workplace."