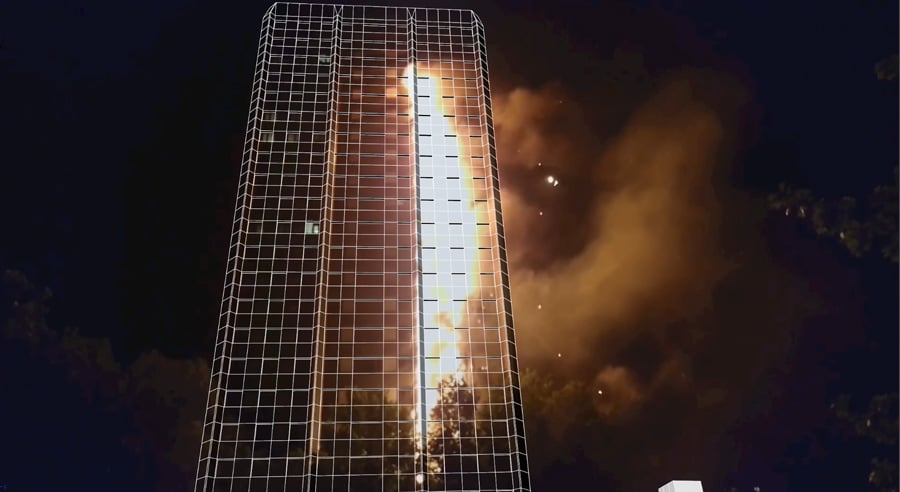 March 27, 2018
How Forensic Architecture Is Harnessing the Power of the Public to Investigate the Grenfell Tower Disaster
The architectural research organization has announced an open-ended, crowdsourced initiative to reconstruct and analyze the June 2017 blaze.
London-based research agency Forensic Architecture has announced a new investigation into the Grenfell Tower fire that took the lives of 71 people in West London last summer. This is the latest in a series of investigations by the agency, which uses architectural thinking and spatial technology to probe incidents of violence and human rights abuses.
The project has been launched with an open-ended call for footage and testimonies which will be collated and organized to produce a 3D model, or "spatial database," which will serve as a publicly accessible resource. While a criminal investigation and another public inquiry by the Equality Human Rights Commission are currently underway, the Forensic Architecture project seeks to provide a new strand of investigation.
As Robert Trafford, a researcher and journalist from Forensic Architecture explains, "We have consulted extensively to make sure that our project sits productively alongside both the criminal investigation and the Grenfell Tower inquiry."
However, as is typical of the agency's practice, the gathering of information in pursuit of social justice is carried out with a more civic-minded incentive: "It's not our duty to supply the state with investigative capacity," Trafford says. "The state has a near monopoly on this investigative capacity, so it's our ambition that this resource bolsters civil society's capacity to investigate and analyze."
Where Forensic Architecture's investigations tend to be specifically commissioned by NGOs or international institutions such as Amnesty International, the Grenfell Tower project is the first to be initiated by the agency itself.
"In this case the project really started when we arrived in the office on the morning of June 14th, obviously as shocked as everybody else was in London," says Trafford. "We resolved immediately that there must be something that we could contribute that would both increase the public's access to truth, and also support the affected communities in their pursuit of accountability, transparency and, where appropriate, justice."
Similarly, where previous Forensic Architecture projects have sought to answer a specific research question – for example, the existence of the Saydnaya prison in Syria – the Grenfell project is unique for its open-ended timescale and undetermined outcomes. "We don't know yet exactly when it will end or where it will land," says Trafford. "In this case we want to bring together as much publicly available information about the Grenfell Tower fire that we can."
At press time, the agency has already collected between 35 and 40 hours of footage, a large amount of which has come from Sky News cameras, in addition to private smartphone footage. . With the call for new material, which can be submitted on a special website, the Grenfell Media Archive, Forensic Architecture aims to collect around 500 videos, as well as the testimonies of survivors and other eyewitnesses, which can help to create a coherent narrative of the events. As Trafford explains, they are particularly interested in footage taken during the first two hours of the fire before the cameras of major media outlets had arrived.
The launch of this investigation follows the announcement of six firms working on proposals to refurbish the Lancaster West estate where the Grenfell Tower is situated. Adjaye Associates, Cullinan Studio and Levitt Bernstein are among six firms exploring new possibilities for the architecture on the site.
You might also like, "In the Aftermath of Violence, Forensic Architecture Reconstructs the Truth."