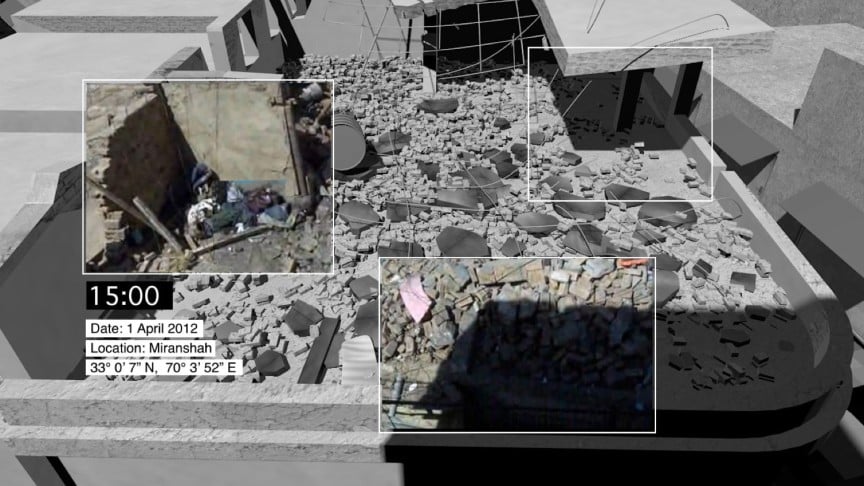 April 28, 2014
Forensis: Architecture in the Court of Law
How one group of architects is using forensics as a tool for justice.
Welcome to Forensis, a comprehensive exhibition of the work of Forensic Architecture, currently open at the Haus der Kulturen der Welt in Berlin. After being greeted by a series of heavy-text panels, what one enters is not so much a display, as it is a forum. By invoking the Latin word from which both 'forensics' and 'forum' stem from, Forensis seeks to critically interrogate legal claims as well as develop new processes of truth-making.
The research on display helps to support the show's central thesis, which judges that the evidence available and the forums to deal with contemporary forms of injustice are ultimately inadequate. New techniques need to be invented that can appropriately address issues such as memorialization, retribution, war, and climate change. How can we overcome the asymmetries and structural shortcomings of our systems of law and science?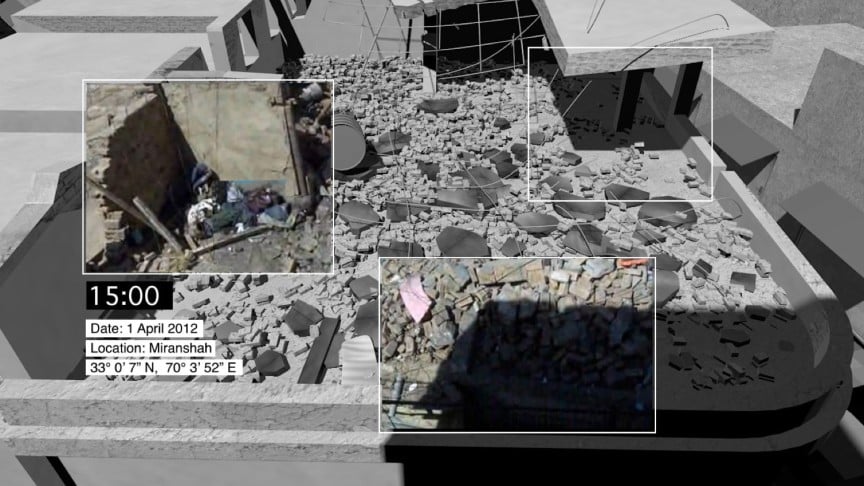 UAV : Unmanned Aerial Violence
Forensic Architecture's latest project, UAV uses photographic and video evidence, satellite imagery, diagrams, and other geospatial data to reconstruct the sites of drone attacks.
Courtesy Forensic Architecture
---
Led by architect Eyal Weizman and the Centre for Research Architecture at Goldsmiths University of London, Forensic Architecture seeks to expose judicial politics—political action taken by courts of law—as an architecture itself, and consequently, establish it as a site for intervention. Collaborators have included civil society organizations, human rights groups, and even the United Nations. Most recently, Forensic Architecture worked with Ben Emmerson, UN Special Rapporteur on Counter Terrorism, to question the legitimacy of governmental actions like drone strikes. The group published a report that plotted 30 strikes in five different countries, detailing the deaths and damages inflicted by American drones in targeted areas. This kind of documentation, which can be parsed through on the interactive project site, effectively circumvents the veil of secrecy and silence employed by the United States with respect to its military operations.
The Death of Bassem Abu Rahma
As one of its first projects, Forensic Architecture mounted an investigation of the 2009 death of Bassem Ibrahim Abu Rahma, a protestor in the Palestinian village of Bil'in. Working with Situ Studio, the group reconstructed the events to show that Abu Rahma was not killed by indirect fire, as Israeli Defense Forces had stated.
Courtesy Forensic Architecture and SITU Research
---
Yet despite the rigor of these forensic analyses, the relation between the constructed 'evidence' itself and its presentation is left unsatisfyingly open-ended. If evidence either creates its own forum or pertains to specific legal forums such as the UN, what does it mean to re-present that evidence here in the forum of a cultural institution? Furthermore, what does it mean to present such distinct pieces of evidence in an exhibition format?
The design of the exhibition itself mimics international courts of law in its digestion of diverse forms of evidence through a process of flattening, where each object is presented as an image. The work on display is therefore experienced through a strenuous process of reading, jumping from video to photograph to map to diagram to caption to text. This overwhelming density of content is frustrating, to say the least. But I wonder, do the courts feel the same?
Forensic Oceanography: The Left-to-Die Boat
Refugees began fleeing Libya as political turmoil overcame the country in 2011. Among those caught were 72 migrants who were left to die on a boat stranded in the Mediterranean. Forenic Architecture's findings into the case directly led to action by the Parliamentary Assembly of the Council of Europe and Human Rights Watch.
Courtesy Forensic Architecture and SITU Research
---
Ultimately, the exhibition ends on a question: What is the future of the work on display? One way that this could have been addressed would have been to consider the implications of what is meant by "projective forensis." Instead of merely presenting legitimate traces of criminality, it perhaps would have been meaningful for the project to follow through on its claims and and begin to address what it would mean to be found guilty in today's world. While each of the works presented begins to imagine a more just future, the project's fate is largely left to the juridical devices that surround us today. The difference and hope, though, is that we now have the tools to address these political challenges ourselves.