June 5, 2023
Four New Types of Coworking Spaces for the Remote Work Revolution
Hotels
The Hoxton's shared workspace concept welcomes guests and locals alike.
Even before the remote work revolution, The Hoxton hotels, part of the Ennismore collective, had a reputation for drawing local workers into their open-house lobbies. Now the brand is leveraging these years of experience as an unofficial workplace with its new concept Working From_.
Launched in November 2019 with Working From_ Fulton Market within The Hoxton, Chicago, followed by Working From_ Southwark, London, in February 2020, The Hoxton's shared workspaces offer a range of membership types. Guests can utilize options including Desk Hop for access to an open-plan office, Open Studio for a semiprivate permanent space with six to eight desks, or Private Studio for their own office with up to 36 desks.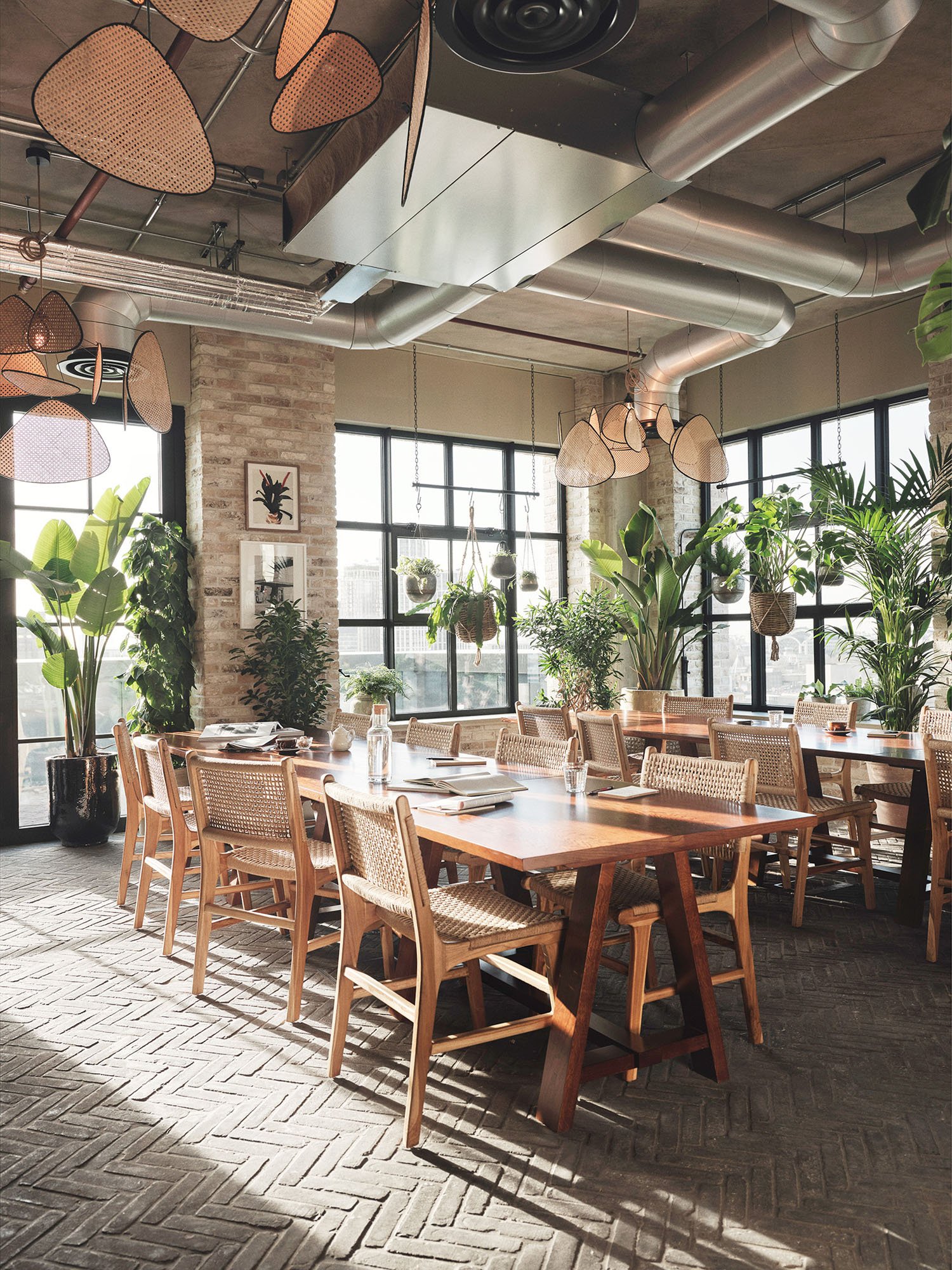 AIME Studios, Ennismore's in-house design team, is behind the spaces' distinct home-away-from-home environment, which features ergonomic chairs alongside vintage pieces, library desks, and armchairs set in cozy corners. "A favorite design feature amongst members are the custom-designed daybeds, which are perfect for those who work better horizontally," says Rob Andrews, COO of The Hoxton and Working From_. Both locations are flooded with natural light, and in Southwark, a winter garden with natural stone herringbone flooring extends to an adjoining terrace. Members also have access to private phone booths, wellness spaces, and member cafés and bars.
The brand will make its Belgian debut this September with a location in Brussels's iconic Brutalist-style Victoria Tower, the former home of IBM's European headquarters. The space will offer views of the nearby Botanical Gardens, and the same inviting vibe as its predecessors. "The already-growing trends of remote working and flexible hours were significantly accelerated by the pandemic," says Andrews. "Freedom and adaptability remain a priority for modern workers."
The Countryside
Neulandia is building residences and work hubs for remote workers in rural Germany.
The ultimate form of remote work? A move to the countryside. New ways of working make relocating to rural areas more feasible for those who desire the country life, and organizations like Neulandia are helping make it possible.
Founded in 2019, the German organization aims to connect creative digital workers with forward-looking rural communities. "Many people don't want to live in big cities," says Frederik Fischer, Neulandia's managing director. "They're locked in by their social networks and job opportunities." To provide social support, the organization designs each of its communities around coliving and coworking facilities and works closely with each city to contribute to local transformation initiatives. "Our members embark on this journey as part of a community," says Fischer.
The organization includes several project types of which the KoDörfer, or co-villages, are the most complex. Four years in the making, construction has begun on Neulandia's first KoDorf in Wiesenburg, one hour away from Berlin, and the second will launch later this year in Erndtebrück, with the first tenants arriving in 2025.
Neulandia also organizes what it calls the Summer of Pioneers (SoP), bringing a curated group of 20 creatives together er to try out rural life. Participants are provided with furnished apartments and a coworking space, and in return are asked to volunteer locally. This year marks the organization's seventh installment and its first time taking the idea international. The first session starts in May, and additional SoPs are planned for Ireland and Denmark later in the season.
Residential Amenity Spaces
WeWork opens its first-ever apartment building location in partnership with Chicago real estate developer CEDARst.
In residential buildings, dull business centers used for infrequent copying and printing needs are giving way to a wave of full-fledged work environments. Now that a dedicated work area has become a coveted amenity, more and more residential developers are investing in coworking spaces.
Chicago-based real estate company CEDARst recently enlisted WeWork to open and operate a workspace in its Bridgeview Bank apartment building. Marking the coworking giant's first-ever location within a residential space, the office fills the historic building's grand hall on the second-floor and mezzanine levels. Like the rest of the building, originally constructed in 1925, the space has been restored to preserve original details and architectural flourishes such as recommissioned bank teller spaces, fireplaces, and ornate windows.
The open-floor shared workspaces, private offices, generous meeting rooms, phone booths, and kitchen spaces are available to WeWork All Access members and through WeWork On Demand, a pay-as-you-go product allowing residents of Bridgeview to book according to needs, whether it's for an hour or several months. "People want spaces that foster collaboration, as they are eager to escape the isolation of their homes, but don't include a commute to a downtown office building," says Robin Cardoso, territory vice president of Central West, WeWork. And while Wednesdays and Thursdays are typically the busiest days for bookings at WeWorks globally, at this location, Mondays are busiest, according to Cardoso: "This may indicate that people are eager to work from places closer to home early in the week and before the weekend."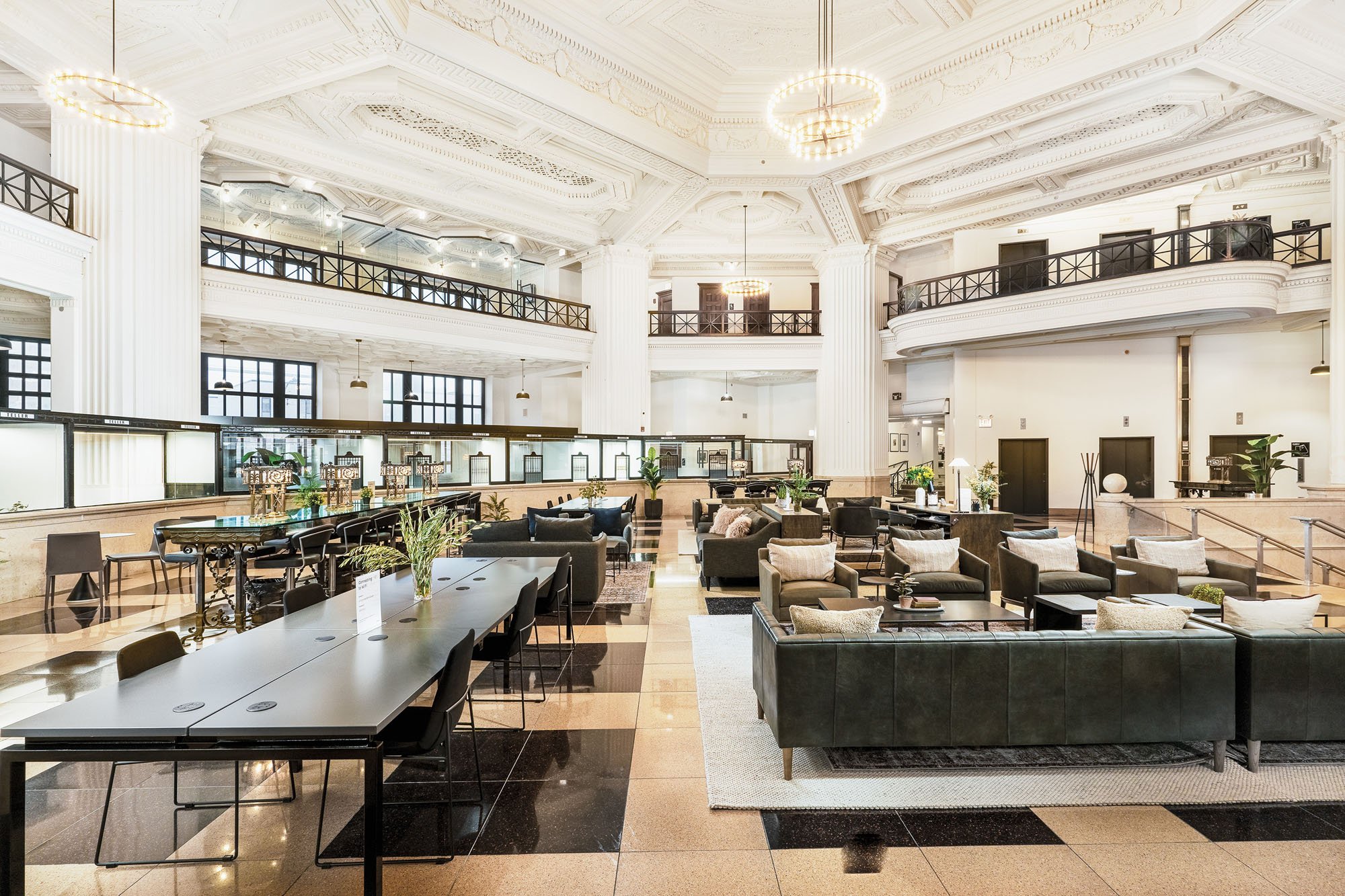 Luxury Retreats
Barnfox offers an ecosystem of getaway spaces for workers and teams outside the city.
For remote-first employees who have shed the weekday ball and chain that was their former office, getaways are no longer reserved for weekends. Inspired by this location independence, Frederick Pikovsky and Tim Tedesco launched Barnfox in 2020.
Their concept was a network of retreat spaces that would allow visitors to work and play from wherever they chose, connecting them with nature without sacrificing a fiber-optic internet link. "We realized if remote work was to become the norm, then remote work in small but charming destinations could be too," says Pikovsky. They opened their first location in Hudson, New York, just two weeks before COVID-19 lockdowns began.
Since then, the duo has opened three additional Barnfox spaces: a second in Hudson, plus outposts in Kingston and Livingston Manor, New York. Pikovsky—who previously launched one of Brooklyn's first coworking spaces, DUMBO Startup Lab—works on the interior design, and Tedesco builds out the custom woodworking. Each location features private rooms for calls and comfortable desks and chairs surrounded by site-specific details such as the original location's wavy, custom-built wall, inspired by the Hudson River.
The core Barnfox locations are also supplemented by a network of partner properties available for team retreats and events. "We are social creatures," says Pikovsky. "People will live scattered throughout the country and world, but there will be a need for beautiful spaces away from home to gather." Barnfox's fourth location is set to open at The Academy, a mixed-use space in Poughkeepsie, New York, this summer, and according to Pikovsky, a Barnfox Work/Retreat Hotel is expected in the near future.
Would you like to comment on this article? Send your thoughts to: [email protected]