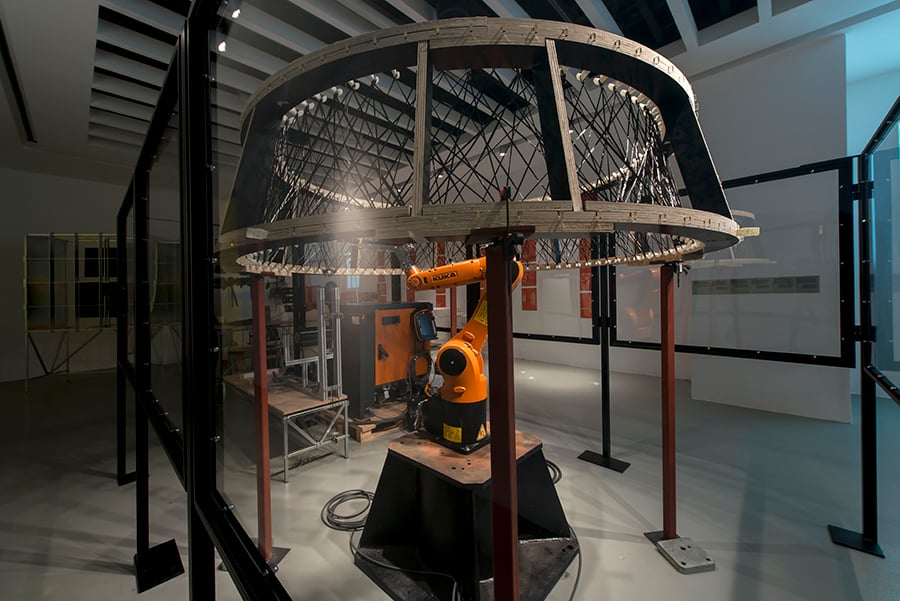 September 24, 2018
The New Istanbul Design Biennial Wants to Change How We Learn to Design
The sprawling biennial's installations highlight how designers can find new sources of knowledge and collaboration.
---
At first sight, the embroidery in the Yapi Kredi Cultural Center, one of the main venues for the Istanbul Design Biennial, seems like any other beautiful decorative design: swirls of golden metal, punctuated by silver beads, flow over a simple white cloth. But the embroidery isn't mere decoration: It's a functioning computer. Its golden lines are wires and its beads electric nodes. "The Embroidered Computer," composed by an interdisciplinary team at the University of Applied Arts Vienna, is meant to be a provocation that questions the borders between different design disciplines. The device is also representative of the aims of the fourth iteration of the biennial, which opened Sunday across six venues in the Turkish city.
The exhibition, which was organized by a team led by Belgian curator Jan Boelen, uses a broad spectrum of works—including performances, objects, installations, and films—to ask a simple question with broad implications: How can we teach designers differently so they can find fresh solutions to the challenges facing society? Or as Boelen said during the biennial's opening event, how can we go "beyond the framework of traditional design education?…What could be new practices that have learning at [their] core?" Boelen added, "We are not presenting clear solutions…[but] doubt, curiosity." Therefore, the biennial isn't a tidy collection of prototypes and strategies, rather a loose "bricolage" of examples that demonstrate how designers can find new sources of knowledge and collaboration.
---
Many installations and projects are indeed stimulating examples of this idea, not just because they are interesting interdisciplinary objects, but because they provide some context for the partnerships that created them. For instance, the designers of "The Embroidered Computer" recreated their entire workshop (complete with loom, material samples, soldering rods, and sewing machine) in the middle of the exhibition space. Blooming Algae, a project by the Arles, France-based Atelier Luma Algae Lab, not only showcases objects made with an algae-derived 3D printing material, but also includes a live algae culture and the studio's 3D printing tools.
The biennial—which Boelen curated with associate curators Nadine Botha and Vera Sacchetti—features a strong art component as well. Installations like Google Weaving Stop-Time by Emilie Rӧndahl saw multiple participants in the artist's native Scandinavia Google-search "textile, Turkey, labour" and, using a Turkish weaving technique, create a small tapestry of the first image they saw. The exercise isn't so much about weaving but rather a meditation on how we rapidly consume digital media—and how design can help slow down that consumption.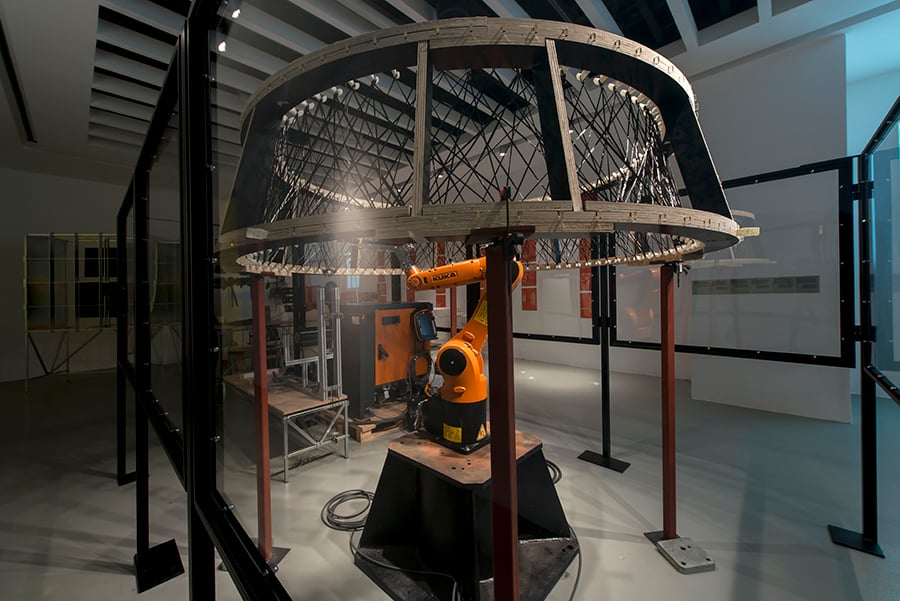 ---
Inevitably, as with any sprawling show, some installations hit closer to the biennial's overarching objectives better than others, but generally each of the show's venues (each dubbed a "school" and organized around a loose theme) has a strong anchoring example. Over the course of the exhibition's run (ending November 4), these installations will be supplemented by a series of public classes and events led by exhibiting artists and visiting experts. For example, one pair of artists that explored facial recognition software at the biennial are holding a "facial yoga" class that, among other things, trains you to fool facial recognition software.
Is the biennial a success? Its impact won't be seen in the short term, but rather in how designers learn their profession in subsequent years. As Boelen put it, "We are not here to optimize the system, but to question it…[to] inspire with doubt."
You may also enjoy "How Textile Designers Can "Hack" Fabrication Technologies and Techniques."