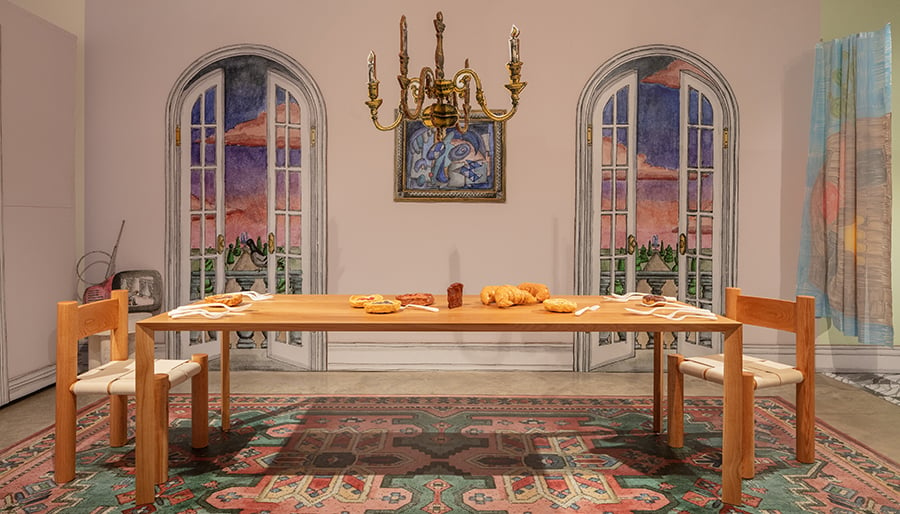 January 30, 2019
The Eerie-Fantastic Interiors of Friedman Benda's Blow-Up
Imagined as a dollhouse brought to life, the exhibition features domestic objects by Wendell Castle, Soft Baroque, and others.
In the shadow of the model homes and oligarch dream houses studding Manhattan's High Line, PIN-UP founder Felix Burrichter has transformed the Friedman Benda gallery into something more playful than the average design show.
Blow Up, which opened January 10th and closes February 16th, refashions the main gallery space into a series of domestic fantasies—a lurid kitchen, a queer library, a nursery fit for Rosemary's baby—via vinyl-covered cardboard walls dangling vertiginously from hooks screwed into the gallery's ceilings. In these eerie spaces, he arranged almost five dozen enviable objects amassed from the gallery's collection and a dozen new commissions. "I almost fainted," Burrichter says of the moment he saw work from the Campana brothers, Katie Stout, and Soft Baroque play well together. "It was…big."
Dollhouses and doll play, with their odd scale and empty but gendered spaces, are of course not only training grounds for femininity and domesticity, but sites of resistance. They are not just prescriptive (This is a home!) but projective (That could be a home.). Their interiors' uncanny valleys might fill with misery—when Ibsen's Nora tells her husband, "Our home has been nothing but a playroom," she doesn't mean it's been fun—or with kitsch accidental, like the Lonely Doll's home, or intentional, like Gina Garan's worlds for Blythe. Burrichter toys with these implications from the very start, where visitors take a right from the gallery's reception desk and enter a kitchen dominated by a terrifying Pentagon Group prototype of a stove. It glowers above a floor of vinyl tiles with secret inscriptions, near a wall illustrated with pantry items and a chainsaw. Elsewhere, expert works sit beside camp fancies: In the living room, for example, the young Karlsruhe/Marrakesh-based BNAG's waxed pine seat, apparently a human-scale replica of a Teletubby chair, serves the eternal Cloud Form Desk by Wendell Castle. Two paintings of chessboards by Sarah Ortmeyer hang behind them, both the wrong size to play.
Burrichter's collaborator, Adam Charlap Hyman, blurs the line between dollhouse and architect's model with his watercolor-cum-blueprints of the imaginary home, expanded onto panels of corrugated cardboard at a scale of one inch to one foot. They are accomplished, not to mention learned and lighthearted, as in the curious case of the literal meta-dollhouse tucked into a nursery corner.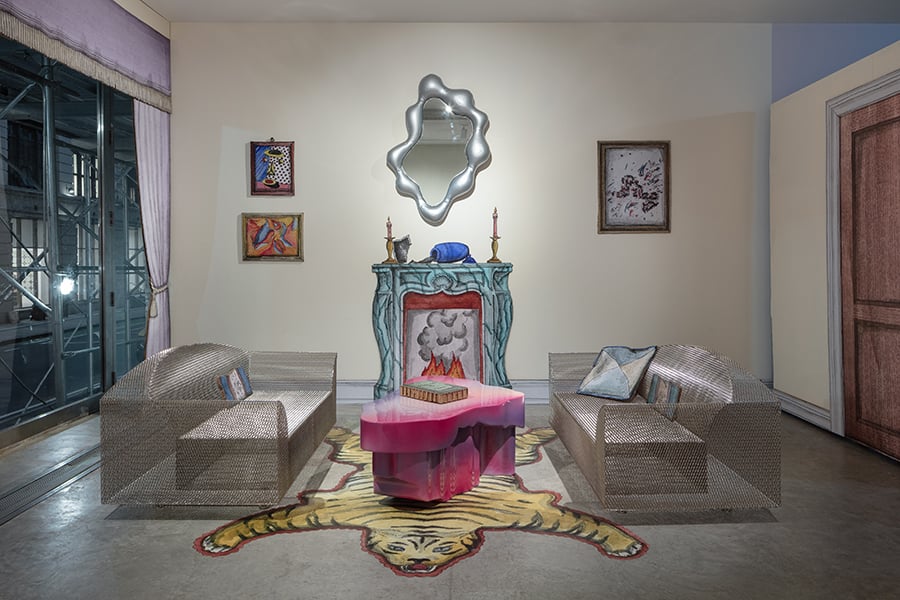 Serious pieces like Gaetano Pesce's Felt Cabinet hold their own, though Burrichter says, "I've never seen Pesce look more domesticated…castrated, almost." Burrichter tossed cardboard pillows on Shiro Kuramata's cagey sofas of nickel-plated steel, which he said felt "blasphemous," then set Leon Ransmeier's aluminum chaise next to them, unadorned but for its butch profile.
"Everything seems very cute, but when you look closer it loses its cuteness," Burrichter says. "These conditions cause you to think spatially, but also to wonder, what are the typologies of behavior?" Might a baby really sleep in a crib that shimmies like a drunk belly dancer? Who keeps a heart in a hamper? When is a chair really a toilet—as BNAG seems to ask with its waxed spruce seating? Truth is up for grabs. And in a moment when it's impossible to know the scale of impending economic and environmental disaster, when walls are battlegrounds and the very existence of trans identities are somehow up for debate, these questions are no longer child's play.
You may also enjoy "At Gagosian Show, Marc Newson Highlights Uncommon Craft Techniques."