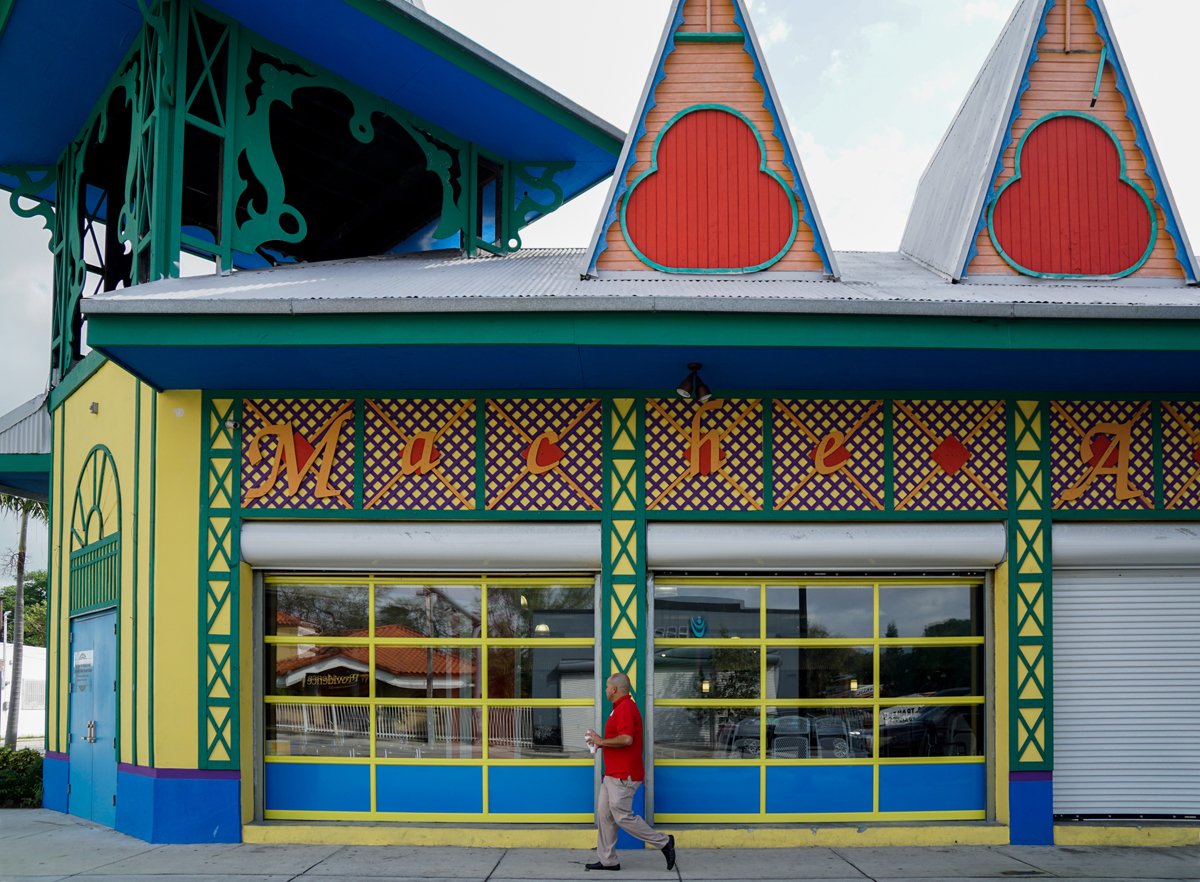 April 5, 2016
Grappling with Gentrification in Miami's Little Haiti
As booming real estate yet again shifts the landscape of creative hot spots in Miami, it's now Little Haiti's turn.
In 1991, architect Charles Harrison Pawley won an AIA Honor Award for his Port-au-Prince–inspired marketplace for Little Haiti, Miami. The building eventually fell into disrepair, and its reopening last year marked the creative resurgence of this neighborhood.
Courtesy Angel Valentin
---
Drive up Northeast Second Avenue, the spine of Miami's Little Haiti, and you will see a painted slogan scrawled in large letters across the facade of a building: "THIS IS NOT SOUTH BEACH." It's a telling message, especially for Miami, where yesterday's down-at-the-heels district quickly morphs into tomorrow's fast-escalating real estate bonanza. As in many cities, it's the artists and designers who pave the way; in the past two decades, that pattern has spelled rising costs and gentrification in South Beach and Wynwood, both still arty and edgy, but neither affordable anymore. Time to move on.
The neighborhoods known as Little Haiti, Little River, and Palm Grove (with other more or less historic names in the mix, including the original moniker of Lemon City) have been slowly, very slowly, attracting and nurturing homegrown (and some outside) talent. With their array of small industrial buildings, warehouses, workshops, and storefronts, these neighborhoods are a lure for a new generation of artists, craftsmen, and makers, along with the galleries and studios that they inevitably pioneer.
"I love Little Haiti," says Michael Dolatowski, an architect who just a year ago opened a design and fabrication studio with two others (a graphic designer and a master carpenter) in a space that was both a warehouse and a metal shop. In February, Deft Union launched—to many plaudits—its first furniture line, called Future Vintage. "We're definitely still in the first wave of gentrification," says Dolatowski. "We're the creative class, the artists. But I admit it's a double-edged sword."
Little Haiti has its own history of nurturing local talent. The Little Haiti Cultural Center, opened in 2009, features both classes and performances, along with well-regarded exhibitions in its gallery, some of which have been curated by the prominent Haitian-born artist Edouard Duval-Carrié, whose own studio is nearby and who cofounded the Haitian Cultural Alliance. Every Thursday to Saturday, the cultural center opens the doors of the spectacular Caribbean Marketplace, an AIA Award-winning structure designed by the late Charles Harrison Pawley; the weekend market includes art, crafts, food, music, and more. Gary Feinberg, who runs the seven-year-old Little Haiti Community Garden, says that one of the neighborhood's strengths is that "so far it's still Haitian. Little Haiti has a richness that most other neighborhoods don't have."
The enclave has become a magnet for design studios and art galleries, pulling them away from areas like Wynwood. Neighborhood initiatives remain, however, such as the seven-year-old Little Haiti Community Garden.
Courtesy Angel Valentin
---
Still, a certain inevitable gentrification looms. The developer and preservationist Avra Jain, who is best known for her spirited restoration of the Miami Modern-style Vagabond Hotel on Biscayne Boulevard, and a business partner, Matthew Vander Werff, have contracted to buy more than eight acres (or approximately 20 city blocks) in the northwestern part of Little River; it is industrial and residential now, and their goal is to transform it with restaurants, galleries, start-up businesses, and more.
Almost a bookend—on the easterly edge of this emerging arts and makers district—is a complex called Ironside, founded in 2005 by manufacturer Ofer Mizrahi, who named it for the amount of iron found on the site and for its trackside location. The organization took shape when Mizrahi began building a small campus of design-trade and craft studios around a large showroom for his company, Coverings.
Ironside is now a flourishing collective of designers, makers, and shops and has expansion plans that come from Ron Arad, a longtime friend of Mizrahi's. Among the tenants are the architect Jaya Kader Zebede (KZ Architecture), the retailer Imperio JP, and a concept store called Okkio. Another maker there is Cataline Rojas of Puro Papel, who sources century-old (and older) block presses to make cards, stationery, packaging, and much more, all by hand.
Gallery Diet, a longtime Wynwood Art District star, recently moved into a building on Northwest Second Avenue, relocating because, as owner Nina Johnson-Milewski says, "the architecture of this particular building was very well suited to our programming. Having outdoor space and a number of smaller, flexible galleries felt very natural for us." Several other top art galleries–among them Emerson Dorsch, Mindy Solomon, Yeelen, Michael Jon, and the ironically named Guccivuitton–have moved or are in the process of moving to the area. There are two artist-residency programs (Fountainhead Residency and Laundromat Art Space) and several coworking spaces, among them MADE at the Citadel.
Emmett Moore, an artist and designer, was an early resident of Little Haiti. Shortly after graduating from Rhode Island School of Design, he moved his studio into a woodworking shop, then for a period lived there in a loft of his own design. Moore, whose work has been shown at Gallery Diet and Patrick Parrish as well as at Design Miami, says that five years ago "it was so quiet at night it might as well have been an island. But it's changed dramatically. Now there's a lot going on."
Ironside, located at the edge of the resurgent creative hub of Little Haiti, aims to be a community unto itself. It has attracted a number of local designers and retailers to its studios and showrooms.
Courtesy Miami Ironside
Some of the tenants are very hands-on: Graphic design studio Puro Papel has its own letterpress equipment.
Courtesy Miami Ironside
Others, like interior designer Deborah Wecselman, who runs both her own interior design studio and a store called The Find at Ironside, showcase the work of local and international makers.
Courtesy Miami Ironside