March 29, 2021
Hack Care Is a New and Improved Guide to Dementia-Friendly Design
Lekker Architects and Studio Lanzavecchia + Wai have created a free and downloadable toolkit for providing better dementia care.
"Dementia literature is often quite academic and opaque," says Hunn Wai, cofounder of Singaporean-Italian design studio Lanzavecchia + Wai. An antidote to that problem? Hack Care, a colorful, accessible, and freely downloadable compendium of more than 50 practical tips designed to help caregivers make homes dementia-friendly. Commissioned by Singapore-based charity Lien Foundation and authored by research and design agency Lekker Architects with Lanzavecchia + Wai, the toolkit is styled like an IKEA catalog and includes essays, interviews with caregivers and specialists, and a series of online instruction manuals.
Adapting furniture and other interior elements is already a common practice in the dementia care community, explains cofounder Francesca Lanzavecchia, "but we wanted to use our design skills and lenses to formalize those hacks so that they could be replicated in a more integrated, pleasing, and understandable way." Using IKEA furniture and its catalog format was about recognition and associations. "There are a lot of emotional qualities linked to the brand," says Wai. "We wanted to recreate that same tone, that same accessibility, and even the aspirational aspects."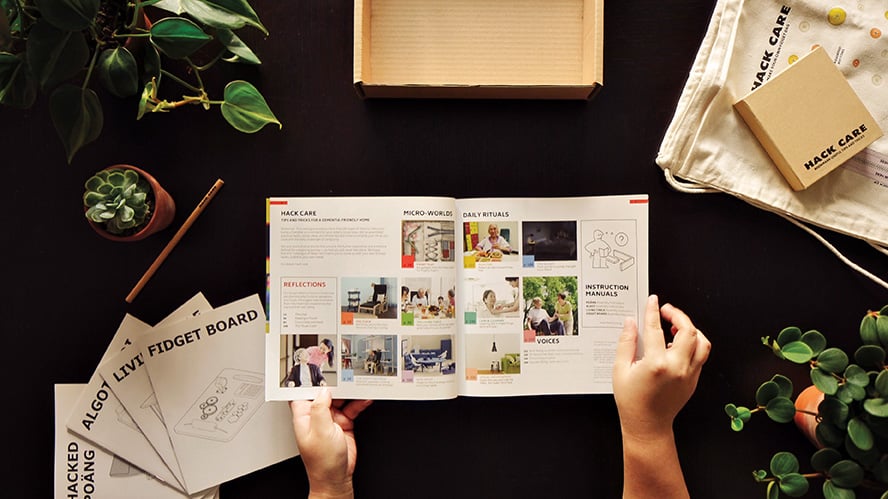 People living with dementia find basic activities increasingly challenging as their perception gradually deteriorates and visual associations become confused, continues Wai. Hack Care recommends clarifying domestic surroundings by camouflaging unnecessary or dangerous items—such as certain doors, handles, or light switches—and clearly demarcating walls and floors with contrasting trimwork and steps with bright yellow strips.
Dementia sufferers also often struggle to interact or consume literature or TV as the disease worsens, so one suggestion the book makes is to create a fidget board out of tactile or noisy household items mounted on to a prosaic chopping board to provide stimulation for the senses. The board can be fitted with locks, buttons, zippers, and shoelaces to remind the person living with dementia how to engage in these everyday activities. "It's about maintaining the integrity of those gestures," says Lanzavecchia.
Dementia is not a linear disease, say the designers, and objects or modifications that are calming one day can cause confusion the next. The beauty of these hacks, however, is that they are as easy to undo as they are to implement. To any furniture designers or manufacturers that may be inspired by Hack Care to create a dementia-specific design collection, Lanzavecchia and Wai have a simple message: "This is a completely altruistic project, so go for it, run with it, make it better."
You may also enjoy "The U.S. Is Woefully Lacking Good Design for Dementia Patients"
Would you like to comment on this article? Send your thoughts to: [email protected]
---
Register here for Metropolis's Think Tank Thursdays and hear what leading firms across North America are thinking and working on today.