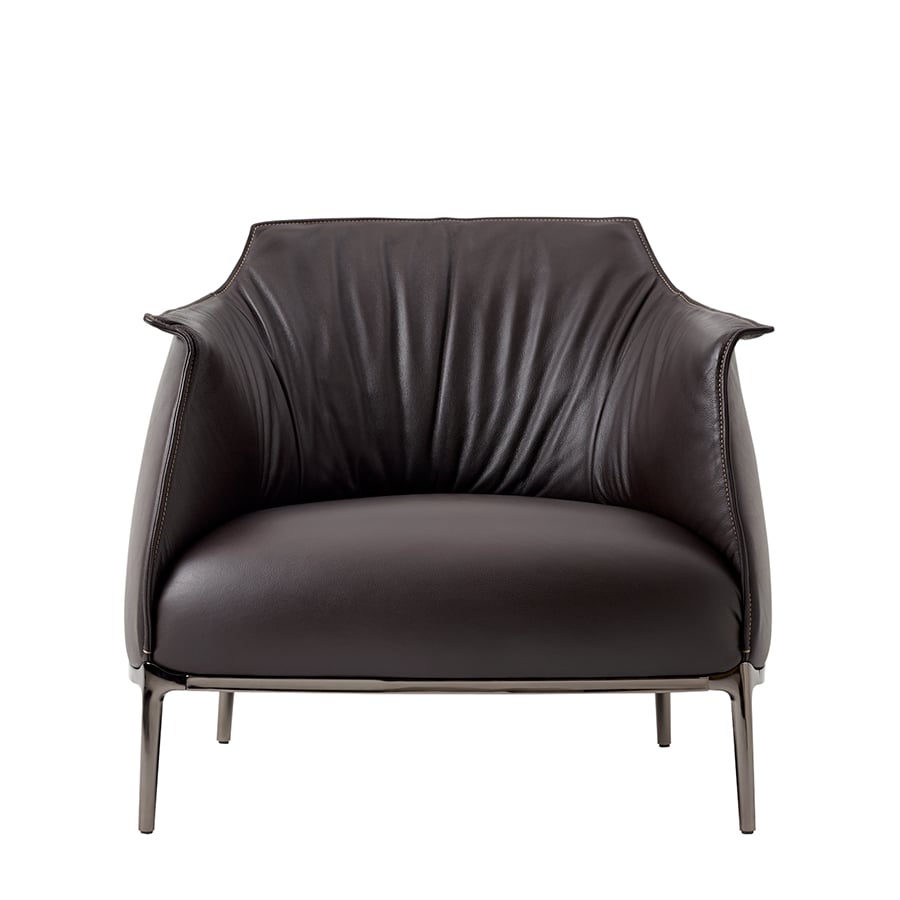 June 8, 2018
More Than Ever, We Work on the Move
Haworth goes global to deliver innovation and inspiration for today's mobile workforce.
---
"Technology is allowing us to work anywhere, but where do we do our best work?" asks Kurt Vander Schuur, global brand director for Haworth. The advent of wireless connectivity and cloud computing means work is no longer tethered to a desk, or even to a traditional office. Today we work anywhere, from an airport lounge to home or a café.
As the way we work shifts, Haworth continues a legacy of workplace innovation. In 2011, it curated the Haworth Collection, a group of products that represents timeless value, craftsmanship, and iconic design. Then, in 2014, it acquired the Poltrona Frau Group, and with it a world-class array of lifestyle furniture from renowned Italian brands Cassina, Cappellini, and Poltrona Frau. By consolidating its portfolio and forging strategic partnerships with best-in-class European furniture and textile brands, Haworth has sharpened its offerings to better reflect how productivity now takes place.
Beyond the contract products that have been the company's mainstay for decades, the new acquisitions allow Haworth to offer residential furnishings for the home and home office, for the hybridized "resimercial" workplaces that attract millennial talent, and for luxury interiors like the business-class lounge or executive suite. "The global landscape for public spaces and offices has changed a lot. Now it is more domestic, more open to design, more open to new colors and materials," says Giulio Cappellini, director of the eponymous, forward-looking design company. Informal, ancillary seating can be used to create comfortable reception areas and communal workspaces, while portable stools and side chairs provide impromptu perches for spontaneous idea sharing in the office kitchen or the neighborhood coffee shop. With the addition of leading indoor/outdoor brand JANUS et Cie to its portfolio in 2016, Haworth can also draw upon products that are engineered for rooftop gardens, terraces, and courtyards.
---
Textiles and soft goods play an important role in creating workplaces that are warm and inviting, and they are increasingly used in the open office setting as a means to enhance workplace versatility and productivity. Haworth has expanded its product offerings to include residential and contract textiles through partnerships with the Danish company Kvadrat and the Spanish rug manufacturer GAN. In the loftlike interior of the open-plan office, Kvadrat's upholstery fabrics, pillows, in-room drapery, and modular felt systems can create homey touchdown spaces, partitioned work zones, and enclosed refuges that are as adaptable as they are comfortable. Textile panels mounted on walls or ceilings enliven industrial-inspired interiors with color and texture while improving the often-challenging acoustics of an open space. Adding rugs and soft seating to a community space or meeting area is a simple way to create a living room–like ambience where people feel inclined to gather and interact. Modular floor-coverings like GAN's Bandas line can be configured to expand or contract as the needs of a particular workspace change.
A symbiotic relationship between Haworth and its affiliated brands enables their innovating together and independently, sharing resources, specialized manufacturing skills, and insights from their respective market sectors. "There's been great encouragement in understanding that we were working on the same type of crossover fields," says Patricia Urquiola, art director of Cassina, which had already been developing multiuse home furniture prior to joining forces with Haworth. The blurred lines between work and home similarly impact the design of Poltrona Frau's handcrafted furniture. "Whenever we develop and design new products, we don't think strictly anymore about one single use or application," notes Kurt Wallner, managing director of custom interiors. Instead, "we ask, Can this product be considered in a public space, in an office space?"
Haworth leverages its partnerships with these global leaders in residential and hospitality design to provide more choice when it comes to how its products are used in the workplace—wherever that may be. This in turn empowers employees to be their most productive, by enabling them to work in the places and spaces that work best for them. "It's about understanding what kind of job functions and personalities and work styles work in what spaces," says Vander Schuur, "and how that translates to work settings and environments that foster innovation."