April 1, 2020
Home Stories Summons Up a History of 20th-Century Interior Design
The exhibition at Vitra Design Museum in Germany revives 20 iconic interiors. It's an ambitious task, writes our correspondent, but one that's ultimately successful.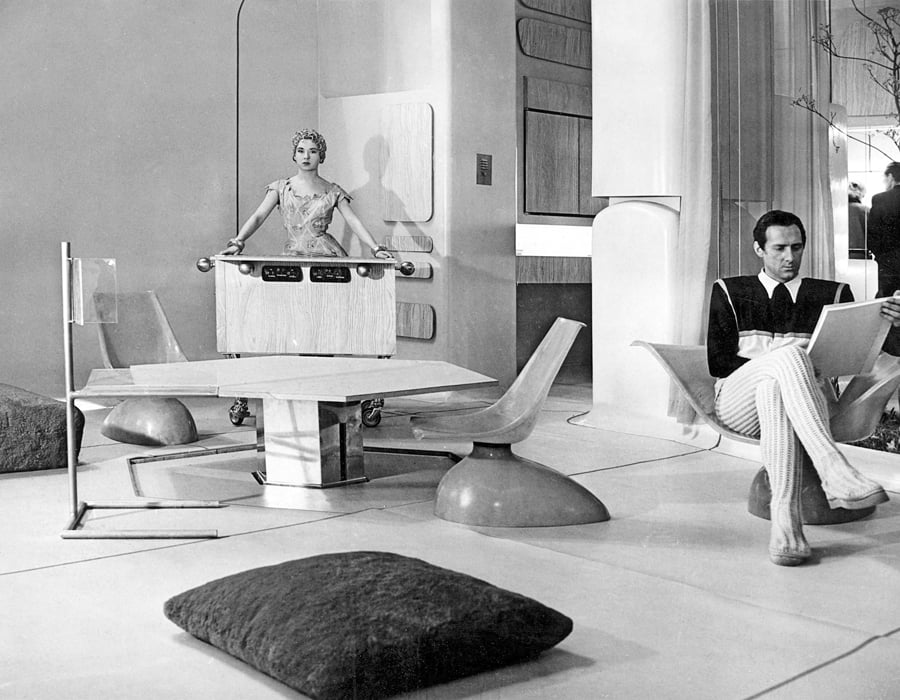 Though its building is comparably small in size, Vitra Design Museum's exhibitions are never lacking in ambition. Placed inside a twisted Frank Gehry–design building from 1989 on the Swiss-German border—his first building in Europe—the museum is grounded in the legacy company's vast collection of about 7,000 pieces of furniture, which also encompasses the estates of the Eameses, Verner Panton, Alexander Girard, and George Nelson. Thematically the museum focuses on interior design and architecture and never misses an opportunity to include Vitra designs and products in its exhibitions. In this regard, Home Stories: 100 Years, 20 Visionary Interiors, the museum's newest exhibition, is no exception.
But Home Stories is nonetheless led by a bold and fascinating conceit: selecting 20 "visionary interiors" from 1920–2020 to represent the "history of the home," where, as curator Jochen Eisenbrand puts it, "important societal, political, urban, and technical shifts" are reflected. This is as major an undertaking as it sounds and one thing is certain: After a visit to the exhibition, your head will spin.
The survey unfolds backwards in time, stretching from some small-sized, pastel colored contemporary refurbishments (an apartment in Madrid by Elii, and a community housing in London by Assemble) to eye-blindingly colorful explosions of Postmodernism (Memphis Group) through Verner Panton's "Phantasy Landscape," and into Claude Parent's "oblique" apartment in France and Andy Warhol's "Silver Factory." You'll know you've reached the end of the exhibition when you encounter the classics of early Modernism. There, Mies van der Rohe's Villa Tugendhat and Josef Frank's Villa Beer demonstrate that the 1920s held multiple Modernisms—and Elsie de Wolfe's Villa Trianon, where ornament is laid on thick, augments the argument for a more complex telling of interior design throughout the century.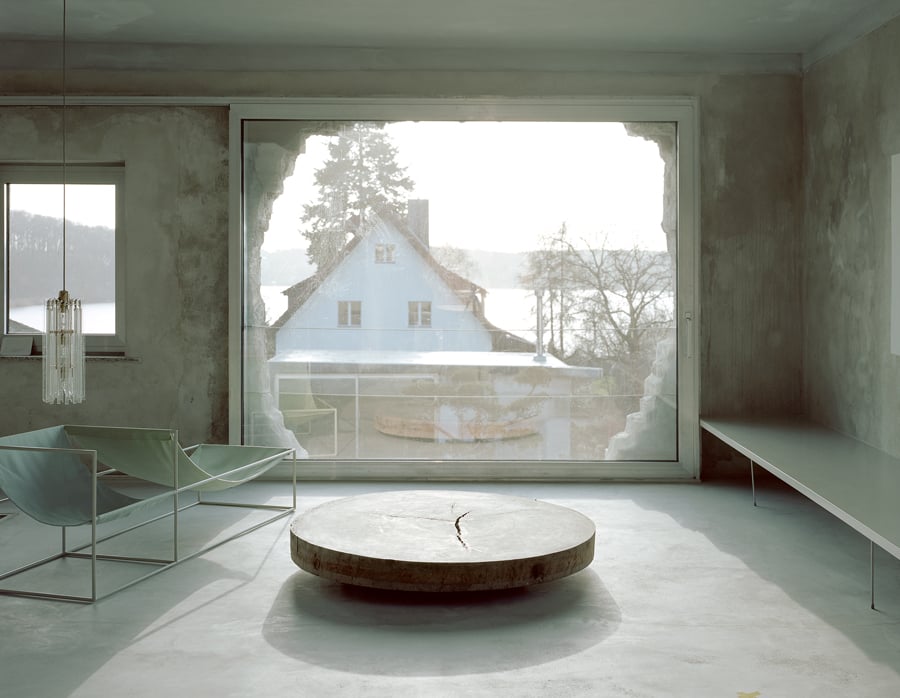 To include all this in its limited space, the curators had to reduce all 20 interiors to their core—each is represented by one large image on a wall, foregrounded by a podium holding a handful of related pieces of furniture and sometimes a model.
Does the curatorial strategy work? Well, yes and no. On the one hand, reproducing a genuine sense of atmosphere for any of these interiors is near impossible. (Isn't "home" all about the sense of the space—its acoustics, smell, and feel?) On the other hand, the exhibition creates some important, original, and fun connections between ideas and places. The Smithsons' House of the Future, for example, is directly adjacent to the fictitious Villa Arpel from Jacques Tati's satirical and highly anti-modern film Mon Oncle. Elsewhere in the exhibition, a single viewpoint combines Finn Juhl's house in Denmark (1942) and Lina Bo Bardi's "Casa de Vidro" in Brazil (1950) with Bernard Rudofsky's Nivola House-Garden in Long Island (1950)—early examples of dissolving the boundaries between indoor and outdoor, through a global perspective. The exhibition's 300-plus-page catalog is also recommended; it richly documents all 20 interiors, amounting to a history of 20th-century interior design, with contributions by Alice Rawsthorne, Jasper Morrison, and Joseph Grima, and with interviews with the likes of contemporary figures such as Apartamento founder Nacho Alegre and designer Sevil Peach.
The interiors highlighted in Home Stories. 100 Years, 20 Visionary Interiors can be glimpsed in the slideshow below.
Though the exhibition is on show until August 23rd, 2020, Vitra Design Museum is temporarily closed due to the evolving COVID-19 situation. However, assets including curator's talks, are viewable online. 
You may also enjoy "Brooklyn Museum Presents a 'Hemispheric' Survey of Indigenous Responses to Climate Change."
Would you like to comment on this article? Send your thoughts to: [email protected]