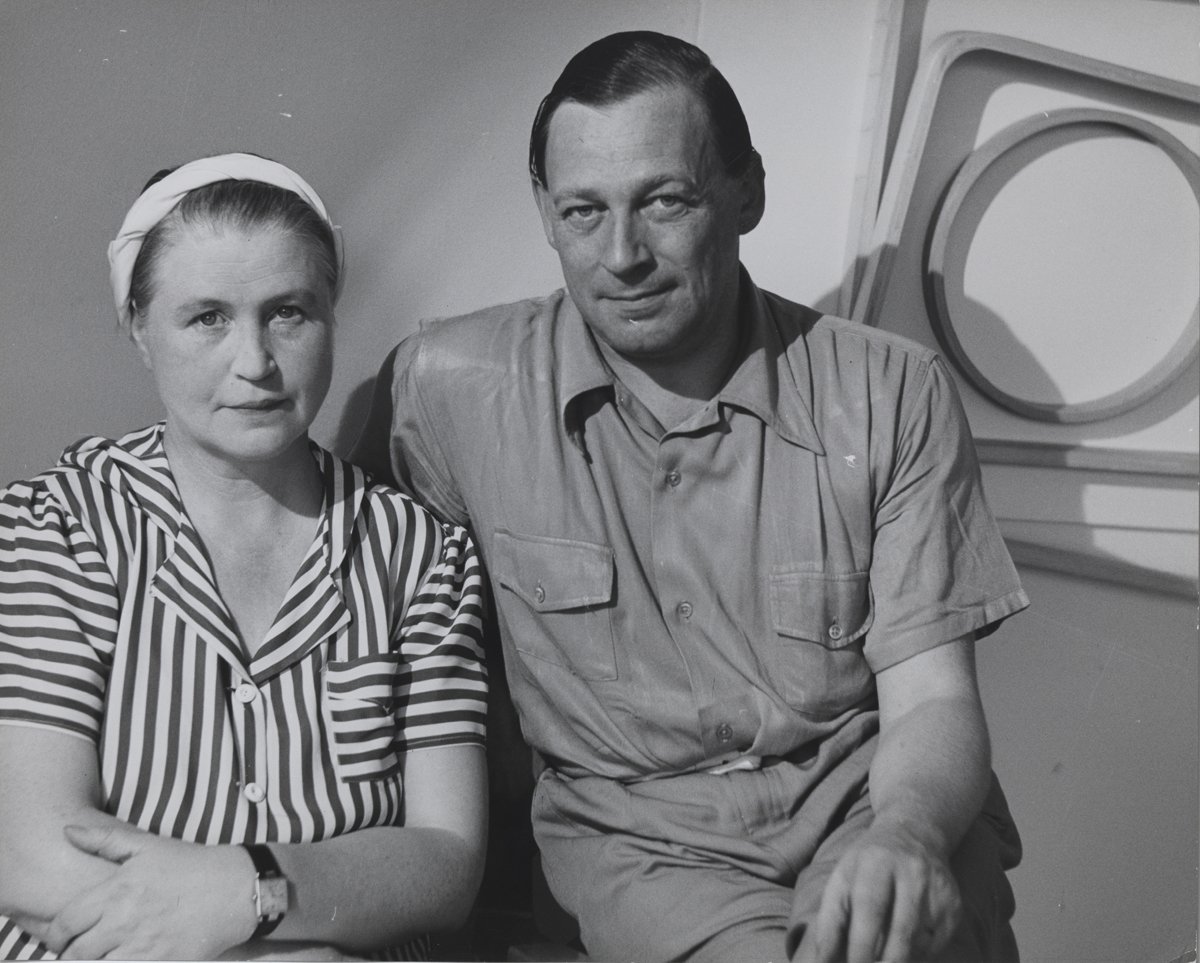 April 18, 2016
How the Aaltos' Productive Partnership Drove Modernist Furniture Design
Nina Stritzler-Levine, curator of "Artek and the Aaltos: Creating a Modern World," talks about Alvar Aalto and Aino Marsio-Aalto's productive partnership.
The Aaltos photographed in the Artek-Pascoe showroom by the graphic designer Herbert Matter in 1940. The couple are the focus of a new exhibition at the Bard Graduate Center Gallery in New York.
Courtesy Aalto Family Collection
---
Alvar Aalto and Aino Marsio-Aalto built one of the enduring design brands of our time, Artek, and turned it into an essential force in the Modernist movement. Artek and the Aaltos: Creating a Modern World, which opens at New York's Bard Graduate Center Gallery on April 22, offers a fuller picture of this legacy than ever before. The exhibition's curator, Nina Stritzler-Levine, spoke to Metropolis's Paul Makovsky about her research, some rare finds, and a new understanding of the Aaltos.
Paul Makovsky: It seems like ever since I've known you, you've been working on this show.
Nina Stritzler-Levine: This company, Artek, and the Aaltos had a concept whose message and meaning transcend time. They were the creative force; there's no question. Individually and as a couple. Both were valid. That's what's so interesting about creative partnerships. You can certainly think of Charles and Ray Eames, but there's a fundamental difference between them and Alvar and Aino, which is that Alvar and Aino were both trained architects. I'm convinced that this distinguishes them—the rigor and the demand of architecture training that makes for a kind of thinking. How prevalent was it to actually have two architects, a different-gendered couple, working together at that time, in 1924? It was extremely rare. There's another important thing, which is that scholarship on the Aaltos is plagued by bad research and bad documentation.
PM: There has been so much published on Aalto, but you soon realize that a lot of it relies on just a few texts.
NSL: Yes, there is a huge literature.There's Alvar Aalto the architect and designer and then there's Aino the designer but there really is nothing that brings them together, and I hope that this project will be a catalyst for that.
PM: Why has it taken so long for so much of this material to come to light?
NSL: This is a question, among several others, I've been asking myself. Why does it take me, an American, to come along to do this? And why is there only one major book on Artek, and why is it only in Finnish and Swedish? I think it could be that the whole subject of Artek, in Finland, is so commonplace that it's completely taken for granted. I got into a taxi in Helsinki and the taxi driver was talking to me and he asked me what I was doing in Helsinki. I said, "I'm working on a project," and he was inquisitive and so I told him about it. He said, "That's interesting. In New York?" A taxi driver who knew about Aalto and Artek.
On the other hand, in the States—let's just say generally in the English-speaking world—Artek is so intertwined with the name Aalto that it's not really perceived as an entity other than that company that makes and distributes Aalto. But it isn't true—Artek has perhaps the largest, the most important archive of its kind of the 20th century, bar none. It's just enormous. It's really a lifetime's work.
Up until about five years ago, the Artek archive in its entirety resided in the Artek offices in Helsinki. It was then moved to the Aalto archive in Jyväskylä, which encompasses approximately 100,000 drawings, of which that is only counting the official cataloguing of drawings through the Villa Mairea [1940]. That means all the Säynätsalo Town Hall drawings, all the National Pensions Institute drawings—they're there, but they aren't officially catalogued. Can you imagine? Somebody needs to create an Alvar Aalto Research Center. It has to be done. It's so vast and important.
PM: How did your idea of Artek change or shift over the course of your research?
NSL: Well, what isn't widely known is that Artek did interiors, and I discovered what turned out to be the first work order for Artek in an envelope. It was for Viipuri [Library, completed in 1935]. It was signed by Aino Marsio-Aalto. Nobody thinks of Artek and Viipuri—yes,they think of the stool, but they don't think of Artek connected to an architectural classic like that. Not only were they connected, the two were inextricably linked through Aino Marsio-Aalto.
A 1939 photograph of the very first Artek store on Fabianinkatu in Helsinki. Curated by Nina Stritzler-Levine, Artek and the Aaltos: Creating a Modern World explores how the designers used their furniture company storefront as a platform for Modernist art and architecture.
Courtesy Artek Collection/Alvar Aalto Museum
---
PM: In other words, the Aaltos were designing at many scales from the beginning.
NSL: Absolutely, but it's not just about designing at every scale. Everything that Aino Marsio-Aalto and Alvar Aalto did—and this is really important; it's that distinguishing element—was concerned with architectural thinking, down to the smallest umbrella stand. She went to architecture school in 1916, two years before Alvar Aalto. She was a superb student. One of the extraordinary things about this exhibition—and it took me two years to do it—was that I was able together student and travel sketchbooks, student notebooks, and other material from her family.
PM: The old interpretation has always been that Aalto was the master and maybe Aino helped along the way somewhere. How did you try to debunk that narrative?
NSL: At the core of the exhibition and the accompanying book was my desire to untangle their partnership to the best of my ability, and it's not an easy thing to do. Early on, when I was discussing the book with the contributors, I said, "You know, there's all of this 'I know Marsio was the soft one versus Aalto's hardness.'" I told them, "I don't want any of this BS in our book." It's simply two architects. That's the basis of this project. Architectural thinking.
PM: How did they meet?
NSL: Aino graduated in 1918 and first she goes to work for a bricklayer on a construction site—this is a woman in 1918. After that, she goes to work for a carpenter. They end up meeting in the city of Jyväskylä, where the archive now is. It was a thriving city in the 1920s. Aino goes to work for a local architect. Alvar Aalto opens a practice, and I guess he puts an ad out and she goes to work in the office basically for free because he has no money. They're married by the end of 1924. We have some fantastic photographs in the exhibition of her working in the Jyväskylä office. I carry this photographic representation of her working all the way through our project and her death because rarely do you see Aino Marsio-Aalto at work as an architect.
PM: What do people usually see her as?
NSL: Just a face. I found through the family unpublished photos of her working on the site of the 1939 New York World's Fair. It's identified as a shared project [the Finnish Pavilion]. That's another thing—how do you know what's Aino, what's Alvar Aalto? At a certain point, you see enough signatures, and you know her hand and see it's very different than Alvar Aalto's. Then she starts to use initials, so it's always "AMA." It's never "AA."
PM: Were they ever identified as a full partnership in the mainstream media?
NSL: In the New York Times [about the New York World's Fair pavilion], they talk about how American women should be like Aino Marsio-Aalto. She's a practicing architect, the wife of Alvar Aalto, and she's the mother of two children. "How does she do it all?"—this is in the article. She comes to personify the new woman.
In the early projects, Alvar Aalto identifies them as an office, together. When they moved to Turku, however, they moved with two children. She is a mother, and it has an immediate impact on the identity of the office. But I fundamentally believe that she was involved in the projects all the way through to the time of her death, even if she wasn't in the office. It's not for nothing that the house in Helsinki is small. The office was right there because work was life.
PM: What do you see as the strengths that each brought to the partnership?
NSL: We know that Alvar Aalto was one of the most outgoing, gregarious [people], living life to the fullest, but in the 1920s, so was she. What happens [is], they go from the center of Finland to Turku, the former capital of Finland. This was a place where—I call it the transformation because I'm not going to get religious about it—the Aaltos experienced a conversion. And it wasn't just the Aaltos. Modernism was how Finland defined its independence.
PM: Can you tell us more about this transformation?
NSL: It's interesting because Alvar Aalto became almost more widely accepted abroad, and this plagues Aalto's entire career. The complexities of home. For them, as a working couple, moving to Turku means [its proximity to] Sweden.The first point of transformation is the Swedish avant-garde—going to the Stockholm Exhibition [in 1930, themed Functionalism]. It's through Sven Markelius, who very much becomes the catalyst through which Aalto is welcomed into the inner circle of Congres Internationaux d'Architecture Moderne (CIAM).
From the moment that Artek is established it sees itself as an international company, with this notion of furnishing the world. This is a thing that's argued in the book, that this is really the first worldwide company. There's a map that the Aaltos draw with Finland at the center. By 1939, the lines of the map go to every continent except Asia and the East Coast of the United States. Aalto spoke German as a third language [after Swedish and Finnish], close to being fluent. He could speak to Gropius and to his circle in the Frankfurt CIAM.
Aino Marsio-Aalto and Bauhaus professor László Moholy-Nagy on the Oulujoki in 1931.
Courtesy Alvar Aalto Estate/Alvar Aalto Museum
---
PM: Was there also a Bauhaus connection?
NSL: You know, everybody mentions the Bauhaus. But where's all the Bauhaus stuff? We don't have any in the archive. Then a remarkable thing happened. When I finally was able to make contact with the family and the two grandsons, one of them, Henrik, said, "Maybe you'll be interested in these." It was just an envelope stuffed with about 30 to 40 photographs by [Bauhaus master and photographer] László Moholy-Nagy. It was everything I had been looking for. The brochure that Moholy-Nagy did for all the Bauhaus books. Moholy-Nagy went to Finland with his friend [the actress] Ellen Frank in the early 1930s. The friendship between Aino and Alvar Aalto and Moholy-Nagy is not just a friendship. It's an extremely close, professionally reciprocal, nurturing friendship of huge proportions. What did Moholy-Nagy do? He went to visit the Aaltos in Turku. They went on a trip together, first into Finland.Then Moholy-Nagy and Ellen Frank go to Lapland, where fantastic photographs are taken of the Sámi people. I went looking through the Moholy-Nagy books and I thought, "Where are these things published?" I believe that some of these photographs Alvar Aalto kept on his desk, perhaps even his whole life, because in ways that are quite remarkable, these Moholy-Nagy photographs inform Aalto's work.
Visitors to the Artek store in Helsinki made their way through the furniture section (top) to an art gallery in the back (below).
Courtesy Saurén/Artek Collection/Alvar Aalto Museum, AFMN
Courtesy Alvar Aalto Museum, AFMN
PM: What other findings did you come across in your research?
NSL: There was a stamp under all the furniture that was made for the Paimio Sanatorium [completed in 1932]. Just furnishing Paimio was a business unto itself. Artek did a lot of colored furniture very early on. Starting with Paimio, the palette of colors is rich, beautiful, fascinating—at times unusual and unexpected. They're not monochrome. I'm not doing the project to create a kind of connoisseurship of Alvar Aalto furniture, but I'm interested in it. It needs to be sorted, and I'm taking a shot at it. It's a list for now of the stamps on Artek furniture, with the approximate dates, and they still do this today. It's highly sought after because it's in the patent laws. You have to put a label on every product when it gets into another country—"Aalto design, made in Finland." In the exhibition we have the original patents for [manufacturers] such as Finmar and Stylclair [for whom Aalto designed furniture pieces]. Anybody who thinks that Alvar Aalto was not directly interested in this doesn't know what they're talking about, because there's reams of correspondence in which he had to defend his designs.
I also had a photocopy of Aino's diary. (The Aalto family calls me "the diary hunter.") The diary begins very early, in fact; the year that they moved to Helsinki in '33. On the first page, she's on an airplane going to Stockholm, and she's talking about the texture of the wall in front of her. She must have had an extremely deep visual sensibility; she was just seeing the world around her in an incredible way. There's a page devoted to the meal that she eats in [historian Sigfried] Giedion's apartment where she gets involved in just the food on the table, like the lettuce. She got really granular. The fascinating thing is when the diary gets into the months before the opening of Artek. She's thinking, "I have to do this, I have to do that, I have to plan." Everything that we know about Artek's distribution on the continent is here, documented. The exhibition has many of these trouvailles, the great finds.
PM: Can you take us through the chronology of the show?
NSL: Artek was established in October of 1935, in a restaurant in the middle of Helsinki. The Aaltos [along with Nils-Gustav Hahl and the couple's patron Maire Gullichsen] open the first shop at Fabianinkatu 31 in February 1936. [Historian] Arthur Rüegg was my conscience throughout all of this, and he kept on saying to me, "Can you find the plans for the first floor [of the store]?" So in addition to being the diary hunter, I became the plans hunter. In 1937 they expand the store, and we have a drawing that I'm sure is by Aino and Alvar together. It's a wonderful drawing with a section of furniture, and they cut through the wall and they make an art gallery. The only way to get into the art gallery is by entering from the street.
There are certain frames in the exhibition. There's the move to Turku. The move to Helsinki. The starting of Artek. The meeting with Gullichsen, Aalto's greatest patron. There's the Paris World's Fair [in 1937] exhibition, then New York's World's Fair two years later. Then there are bad things. There's the war. This issue of standardization, which is a foundation of Artek and Modernism—standardization becomes a very bad [concept] in the war. The Nazis did the worst kind of horrific human things with standardization. Aalto, with a group of Finnish architects, goes to Berlin in 1943, and sadly enough, one of the things they do is talk about standardization. Then Aino Marsio-Aalto dies in January 1949.
PM: Looking back, even that first store already reflected their way of thinking—the furniture and gallery were totally integrated.
NSL: They were showing Picassos andGauguinsin Helsinki. And it isn't that they just showed paintings. They showed ceramics, pictures, textiles. It's art that they perceived to be worthy of having in a gallery. They were very ahead of the game. It's extraordinary, something about Artek that people don't necessarily think about. Today, this connection between art and design is perceived to be something unique to our contemporary discourse. The Aaltos were doing it in that gallery in 1937.
Artek and the Aaltos: Creating a Modern World opens on April 22 and runs through September 25, 2016.
Furniture displays in the Finnish Pavilions at the Paris World's Fair in 1937 and at the New York World's Fair in 1939 "put Artek into the world," Stritzler-Levine says. In both cases, the displays were jointly attributed to Aino and Alvar.
Courtesy Alvar Aalto Museum
"I think that Aalto furniture, because of how pervasive it is, is under-recognized as an area of study," Stritzler-Levine says. Pictured: A high-back stool designed by Alvar Aalto, from the Rafaela & Kaj Forsblom collection.
A birch screen and the model 31 armchair with stepped legs, both designed by Alvar Aalto.
Courtesy Bruce White
Establishing provenance is an important aspect of the research behind the exhibition. This detail from a low-back stool (model B65) shows a label from the Chicago retailer Baldwin Kingrey.
Courtesy Bruce White
"This whole idea of the [plain] birch is a trope," Stritzler-Levine says. "Frequently, they combine colors in unexpected ways." This set of stacking stools (model 60) belongs to Pertti Männistö, who holds "maybe the most important collection of Aalto furniture."