July 19, 2017
How England's Brutalist Buildings Are Getting Second Lives
While many Brutalist buildings may have outlived the purposes they were originally intended for, their generosity of space and solidity of construction can make them perfect for adapting to residential use.
Sharing the trajectory of many artistic movements—which appear radical and challenging when they first appear, yet familiar and endearing with the passing of time—Brutalism has, for many, gone from stern to approachable—so much so, in fact, that it has become particularly attractive for residential occupancy in the current market.
Brutalism, a practical response to the devastation and austerity resulting from the Second World War and a conceptual challenge to the lighter styles of architecture that dominated the inter-war period, resulted in a plethora of highly functional institutional buildings and housing schemes, many delivered for local authorities, between the 1950s and 1970s. Materials – with concrete predominating – were generally 'honestly' expressed. The aesthetic was often a ruthless manifestation of functional, structural, and construction methods.  Brutalist developments were associated with the concept of 'Streets in the Sky'—the buildings offered opportunities for complete communities to be created en masse.  Sadly, investment in the day-to-day management of these developments has not always been sustained.  By the early part of the 21st century, some were already facing demolition, while those that had been listed or protected were deteriorating.
Because of this, the current upswell in positive interest in Brutalism as an architectural style could not be better timed.  The impact of the wrecking ball on blackening concrete has been tempered as the Brutalist legacy increasingly becomes something to be preserved and maintained (as with the refurbishment of the National Theatre, Brunswick Centre or Park Hill in Sheffield) or else reinvented and rejuvenated (as with Balfron Tower or Plymouth Civic Centre). And while their inflexible floor plates, structure, and floor-to-ceiling sections, as well as environmentally-compromised envelopes, have made many Brutalist buildings outmoded for the commercial or educational purposes they may have been originally intended for, their generosity of space and solidity of construction can make them perfect for adapting to residential use.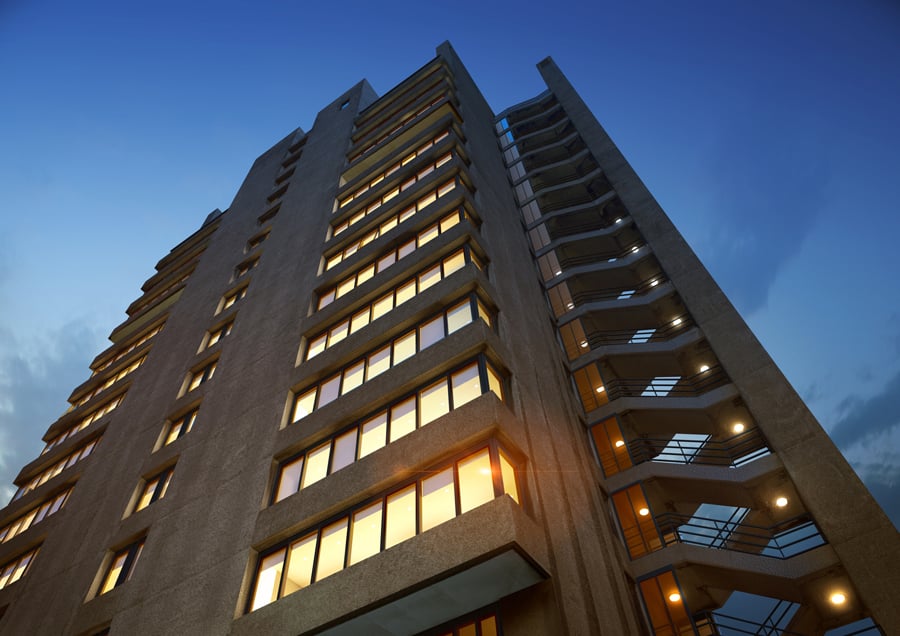 Three Case Studies in Brutal Reinvention
Working with heritage buildings from many different eras has long been an area of passionate interest of Conran and Partners, ever since the days of Butler's Wharf in Bermondsey and the Michelin Building at Brompton Cross.  We are currently delivering several high-profile, listed Brutalist projects in London, including Baylis Old School, Centre Point Tower, and the Barbican's Blake Tower.  These projects demonstrate how this distinctive style can be revitalised, reintegrated into the urban fabric, and made relevant for a new generation of users (thus safeguarding their viability for the future). By reawakening these high-profile projects, we are seeking to engage the spirit of our past, whilst still creating unique places to live within a world increasingly in danger of becoming ever more generic.
For example, we are currently transforming Blake Tower—a 17-storey tower at the edge of the Barbican Estate designed by Chamberlin, Powell and Bon in 1968—into 74 apartments.  Our design reconnects the neglected building with the rest of the Estate and celebrates the scheme's expressive character and intelligent structural form. We saw Blake Tower's imposing bush-hammered walls as something to embrace, and the apartments have been strategically planned to reveal the original architectural anatomy. The principal design challenge was in converting the interior spaces into generous residential units, whilst leveraging where natural light penetrates the structure (important to retaining the building's personality both internally and externally).  The ruggedness of the internal concrete surfaces are contrasted with softer, clean white surfaces, warm timber and concealed lighting in the apartments. Moreover, the iconic curve, as seen in the Barbican's unique balustrades, is woven into the design details, from a striking brass screen in reception to bespoke bathroom sinks and curved brass door handles.  
Centre Point Tower, one of London's most prominent and well-known former office developments (which Eduardo Paolozzi described as London's first 'Pop Art' building), is probably the best known of our current projects. We are close to revitalising the tower into a community of 82 apartments above a new public square.  It was interesting to see how Seifert and Partners' original scheme was unintentionally better conceived for residential rather than commercial use, with generous floor plate proportions, natural light, and spectacular views. Our reinvention has focused on maximising these benefits for occupiers, encouraging 'calmness' in what is otherwise a very busy part of the capital.  One of the most satisfying aspects of working on a fifty-year-old Brutalist building is to see how brightly the concrete sparkles once it has been cleaned, providing a clear demonstration that Brutalism is more about a bright, optimistic future than a bleak, dystopian one.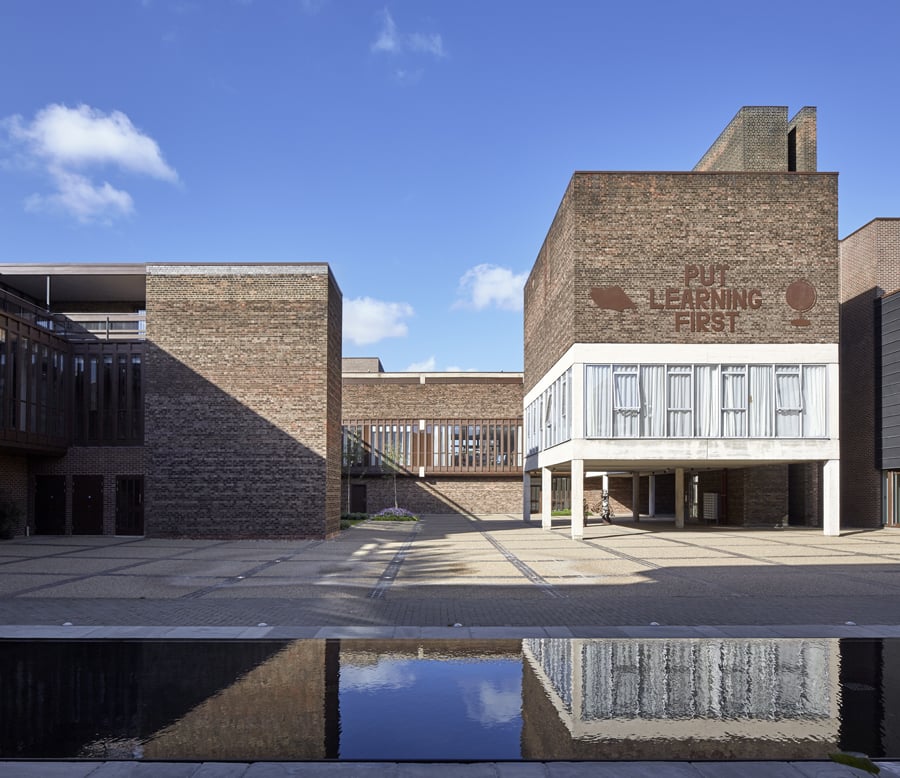 We have also restored and converted the former Lilian Baylis School in Kennington, south London, a series of listed school buildings that served 600 children but subsequently fell into disuse. Since our process begins by defining a building's original design philosophy and palette of 'rules,' in order to safeguard the architectural integrity, it was essential for us to have the former ACP project architect for the original school, Bob Sealy, as a resource. Sealy provided our design team with invaluable insight into the thinking behind the original design. Our subsequent design – for Henley Homes— added 149 new homes, landscaped gardens, secluded plazas, and community facilities that re-connect back to the wider neighbourhood.  The project provides a diversity of housing unit sizes and types, from one-bed apartments through to large family townhouses. Some 46 of the new homes are within the refurbished teaching blocks; the original architecture sets the spirit and tone of the new design.  The generous, fully-glazed classroom windows create large light-filled interiors.  Properties within this important regeneration scheme range from two to six storeys in height. We believe that the design represents a cohesive response to the scale and character of both the listed buildings on the site and the neighbouring buildings.  
An architectural style which was once regularly criticised for lacking any relationship to its context is now being rehabilitated across the capital – and elsewhere in the world – as a catalyst for urban regeneration, re-engaging residents with the urban grain and bringing life back into some of the most neglected corners of our cities. Brutalism – far from being drab and 'of its time' – has emerged as an unlikely yet almost ideal candidate for the kind of housing urban residents increasingly demand and need; it has begun its evolution into a positive, forward-looking aesthetic for the 21st century.   
Tim Bowder-Ridger is Senior Partner/CEO at Conran and Partners.
If you liked this article, you may also enjoy