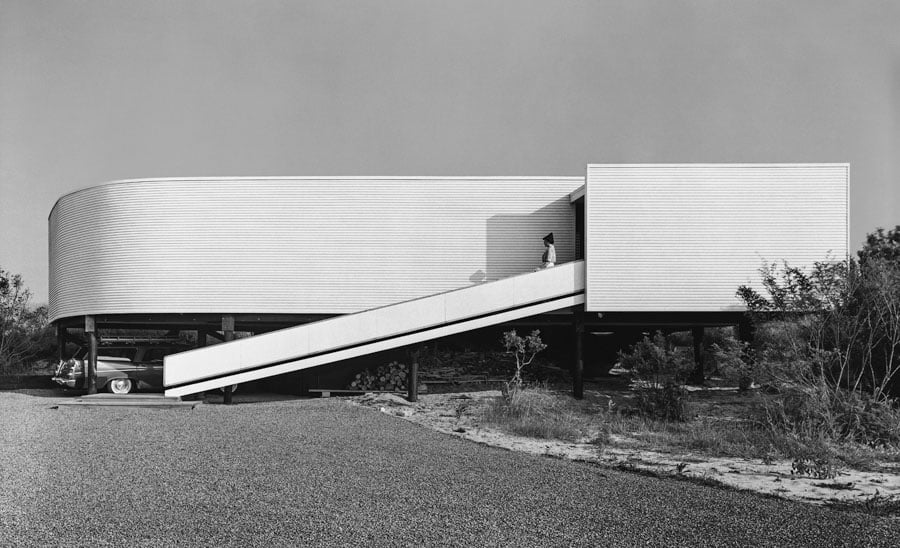 January 28, 2020
A Space of Perceptual Stillness: How Ezra Stoller Photographed Modernity
Pierluigi Serraino, author of the new volume Ezra Stoller, shares insight into the legendary photographer's work.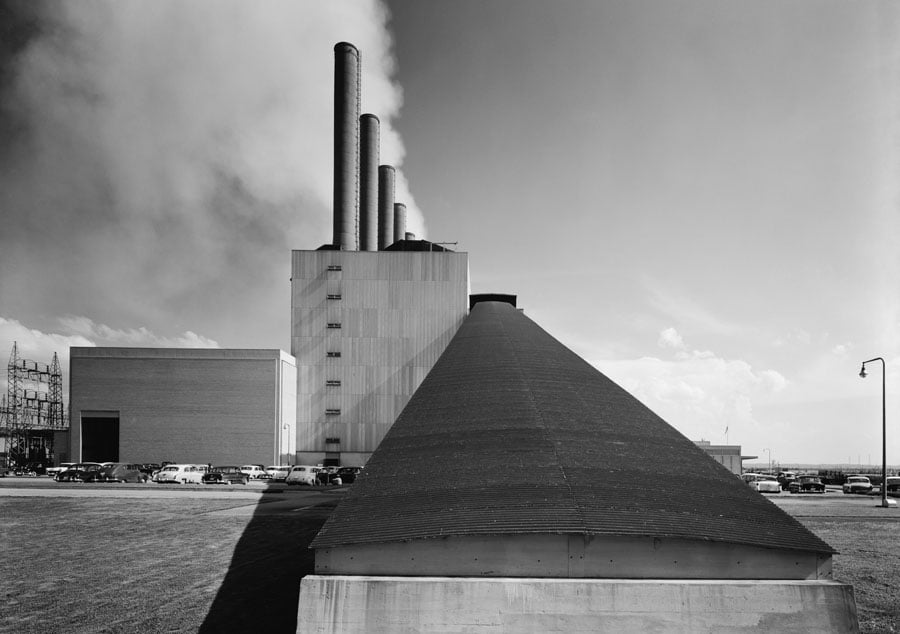 "A good architectural photograph is not possible without good architecture," states the architect and writer Pierluigi Serraino in his new book Ezra Stoller (Phaidon). This "starting point," or "dependency," as he calls it, had the effect at times of subordinating image-making to the act of design itself. But, he elaborates: "What was possibly less widely recognized…was the counter-dependency of architecture on its photography, which was necessary for the discipline to be apprehended and assessed at a global scale and, maybe even more importantly, remembered by a future audience."
At a recent festival in San Francisco, Serraino and I discussed how this exchange shapes the ethics of architectural photography, as well as Stoller's compositional choices and disciplined shooting style.
Kenneth Caldwell: There is a curious dynamic going on between these two modern disciplines—architecture and photography. Did writing this book change how you understood this relationship?
Pierluigi Serraino: It made clear to how paramount the role of photography is in establishing the iconicity of the building. It's enlightening to see the same building photographed by two photographers—how the same building can be two different experiences, because [it] has no objective reality, but can have very different perceptual realities.
The photographer becomes the interface between the existence of the building as a material entity and the consciousness of the building in the general public.
The image makers have an ethical role in what they photograph, and Stoller was an extremely ethical photographer. He had almost a moral sense, like Mies had about his own architecture.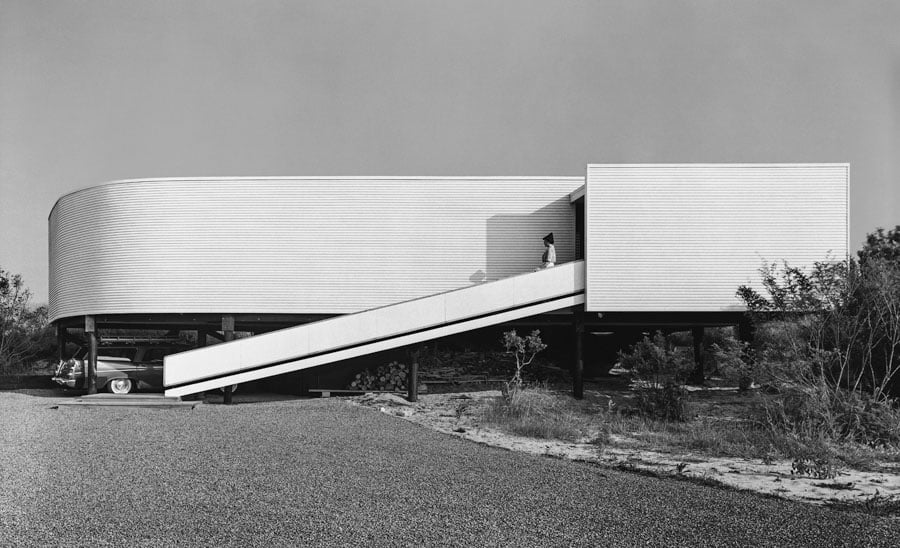 KC: How was Ezra Stoller different than other photographers you studied?
PS: He would arrive at the scene, and he would study it without taking a single image. He would say the first few images that you take are typically thrown away because you are too excited about the building. You have to let the building sink in, and then you make a plan.
KC: Can you explain his rationale about why he used people and context so infrequently?
PS: Stoller believed that people would take attention away from the space: that if you have a child in the photograph, people will focus on the child as opposed to the room. So he would be very cautious about using people, which is the total opposite of what [Julius] Shulman was doing: consistently bringing in the sense of hedonism—the pleasure of experiencing the space. Stoller wants you to observe, contemplate, and be in a space of perceptual stillness. The pictures are almost visual absolutes.
He was not a hurried photographer. No snapshots. Everything was very deliberately studied, calculated. And he wasn't stiff. He was very disciplined.
Stoller knew that these images were going to be published, but it didn't matter to him. He had a very clear conception of the building as a visual narrative. It would be a complete set.
KC: Stoller was trained as an architect?
PS: Yes, at NYU when there was an architecture program. And in the same years as Robert Damora, who was the photographer that trained Stoller. You don't hear much so much about him, because then he became an architect.
The first job that put Stoller on the map was the picture of the 1939 Finnish Pavilion by Alvar Aalto. Stoller was just 24 years old, and he already knew exactly where he was going to put the camera.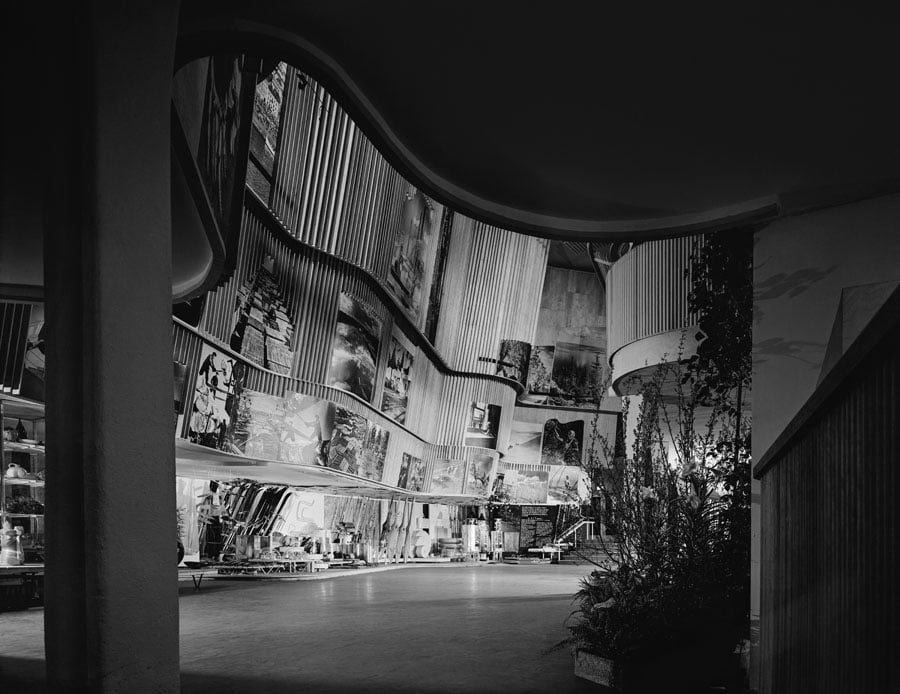 KC: Let's talk a little about some other relationships with architects. Did he ever meet Kahn?
PS: Yes, he met Kahn on a job. That was the Olivetti Factory in Harrisburg. Stoller tried several times to write his own book, telling those stories and he just couldn't do it. He kept writing over and over again. I read all his notes, and he had a few sheets on each of the architects, on how he met Mies and how he met Kahn.
He said Kahn was lamenting the poor quality of the contractors. Stoller felt a close affinity to Kahn, and he regretted that he did not photograph more of his work. Later, Stoller photographed the Salk Institute, one of the few jobs that he did without being paid because typically he only worked on commission.
Architecture can be told not through words, but through images. If you cannot see the building, which is the experience of architecture—it's the most important—the next best impersonation is not a literary narrative, but a photographic narrative. That's why the book is a book of photographs. They tell a story of a particular design rigor that Stoller felt that buildings possess.
KC: Stoller stops shooting in the late '80s. And in your book, he talks about how, as he's getting older, it's very hard to do that day of walking around and scouting. I thought it had more to do with the rise of Postmodernism, which wasn't very concerned about the spatial experience, but focused more on applied ornament. He was friendly with some of the more thoughtful architects from the Postmodern era, like Charles Moore and Robert Venturi.
PS: There is no Postmodernist work in Stoller. Stoller had, in years of hyperactivity, close to a hundred jobs per year. He went from 180 to 70 the following year, and then 50, and then just less and less and less.
Later on he really focused on Richard Meier because he was responding to the work. He felt that the work was really culturally relevant.
KC: In this book, is there a favorite photograph or two that really surprised you?
PS: I was surprised by this memorial for JFK that Philip Johnson did. I'm not a Philip Johnson supporter, considering everything that I know about him.
This project has the symbolic authority of a building by Kahn. It's essentially a square lifted from the ground, which is never fully enclosed. And it's so arresting in its intelligibility.
KC: How do you think Stoller felt about Johnson?
PS: Few architects had the same social connections that Johnson had and, therefore, the ability to reach the media the same way that he did. Stoller was very ambivalent about his relationship with Johnson: He would stay distant. In this respect, I would say that Stoller was an ideologically driven photographer. He believed that modern architecture was a response of the 20th century, and he photographed accordingly.
This interview has been edited for clarity and length.
You may also enjoy "What Does It Mean to Build Bauhaus 'On Brand'?"
Would you like to comment on this article? Send your thoughts to: [email protected]