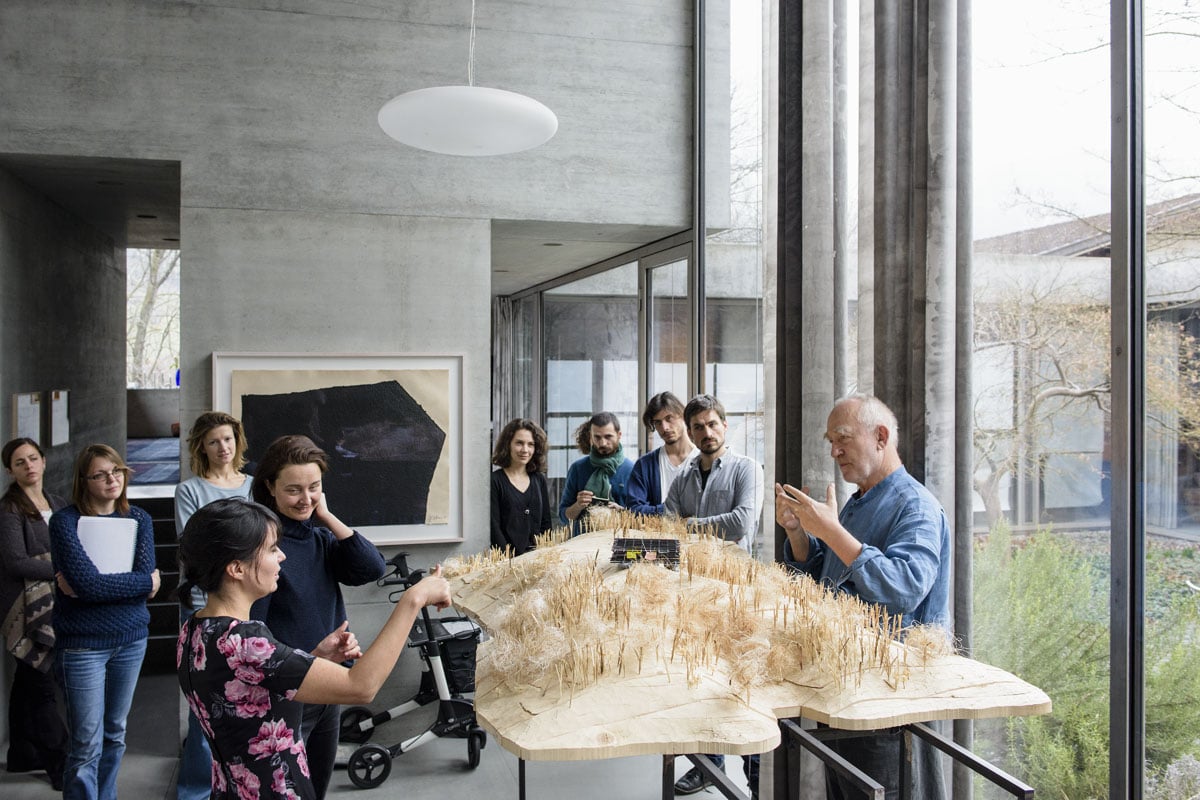 November 2, 2015
How Peter Zumthor and His Protege Collaborate Across the Language Barrier
The Swiss master Peter Zumthor and the young Paraguayan architect Gloria Cabral have developed an architectural bond that goes beyond language.
Architect Gloria Cabral (pictured left, in the foreground) worked with Swiss master Peter Zumthor (far right) on the Tea Chapel at the Shrine of Our Lady of the Rosary of Namyang, in South Korea. The collaboration was made possible by the Rolex Mentors & Protégés initiative.
All images courtesy Gloria Cabral and Peter Zumthor/Rolex Mentor and Protégé Arts Initiative
---
It was an unlikely pair. He is a well-established architect with a long career, working out of a small town tucked deep in the mountainous Graubünden canton in Switzerland; she is at the beginning of a promising career in Asunción, Paraguay's capital and largest city. They did not even share a common language, yet they connected through something more binding than the spoken word: an intuitive sense of space—and their work ethic.
Even in their first conversation, architect Peter Zumthor noticed that young Gloria Cabral could grasp his unique approach to creating spatial experiences, understanding it at a deep level. Intuition is paramount to him, so he selected the Paraguayan architect to be his protégé for the 2014–2015 mentorship cycle of the Rolex Mentors & Protégés initiative. (Read about last year's collaboration between SANAA's Kazuyo Sejima, and Chinese architect Yang Zhao here.)
Neither Zumthor nor Cabral sees the need to have a website, and both believe in the social responsibility of architecture and rely on indigenous craftsmanship for their projects. In a time when the architectural profession seems to be overtaken by corporate business mantras, Zumthor and Cabral are more interested in taking time to mature a design and execute it. Theirs is an old-fashioned way of being an architect.
As a teacher herself, Cabral knew that a successful learning experience depended heavily on the receptiveness of the one being taught, so she embarked on her menteeship wholeheartedly, absorbing as much as she could while working on a tea chapel in South Korea being developed by Zumthor's office. The Tea Chapel aims to transcend the particulars of culture and religion by creating instead a place that is inspired by their common belief in ritual, and will be part of the Shrine of Our Lady of the Rosary of Namyang, which will include works by other architects (the main cathedral is being designed by Mario Botta).
Cabral says she found some similarities between Zumthor's process and how things are done in her office, such as the collaborative initial conversations about the direction of the project, but she also noted an important difference: "From the detailing, to the time dedicated to different parts of the project development, to the clarity of the concept," she says, "there was a precision in how things were done." She would like to incorporate this into her work, although implementing these standards and work modes in her hometown might require some difficult adjustments.
But then, Cabral believes that a good teacher and mentor is someone who not only provides academic knowledge but also "guides and inspires us to do what we might not even know could be done."
Cabral examines a model of the tea chapel.
Even though they don't speak the same language, Zumthor and Cabral found that they both like to start projects with open-ended collaborative conversations.
Mentor and mentee tour the Teletón Children's Rehabilitation Centre in Asunción, which was designed by Gabinete de Arquitectura, the firm Cabral runs with her partner Solano Benítez.