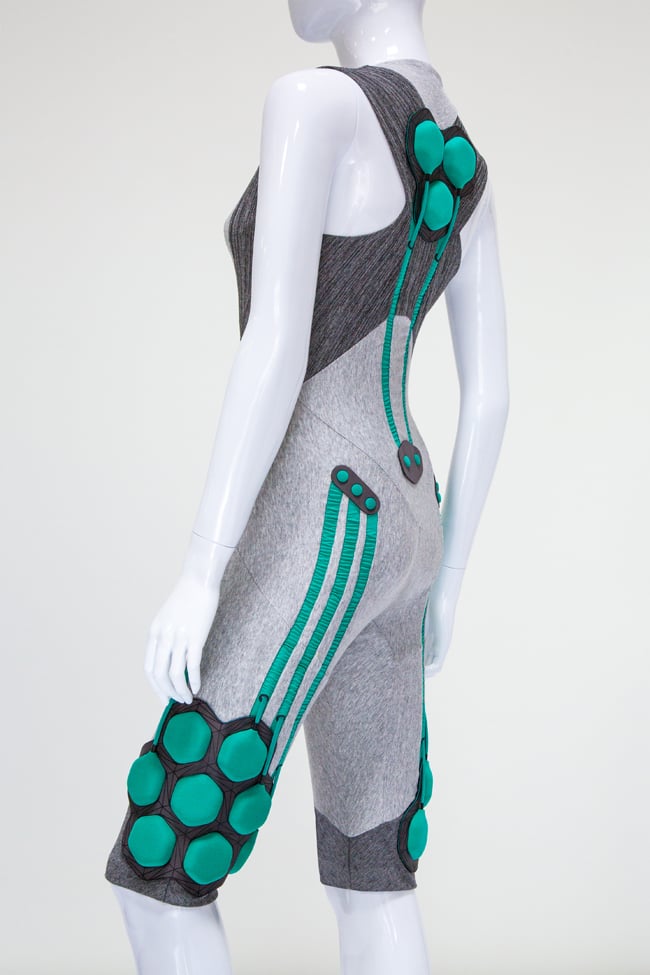 February 9, 2017
How Yves Behar Is Putting Design & Technology in the Service of Aging
Two projects in the "New Old" exhibit at London's Design Museum—a robotics-enhanced suit and a desktop companion—demonstrate a sea change in attitudes towards aging and technology.
The Aura Powered Suit, developed by Superflex and designed by fuseproject, enhances muscle strength using robotics.
All images courtesy fuseproject
---
Thirty years ago, the Design Museum in London put together a pioneering exhibition on how design could respond to aging. "At the time, of course, this was an entirely new subject," says the museum's director, Deyan Sudjic. "The elderly, and those who were less abled, were really ignored by the world of design." That early exhibition focused on getting the basics right: how to make showers safer and more convenient for aging users, for example.
Thankfully, things are different today, with designers complying with the American Disabilities Act, and baby boomers emerging as an attractive consumer group targeted by many businesses. So when designer Yves Béhar and his firm fuseproject were invited to participate in the museum's ongoing pop-up exhibit NEW OLD, he sought out partnerships with companies at the leading edge of technology. Cue the robotics and artificial intelligence.
Like many of the technologies we use today, the Aura Powered Suit, fuseproject's collaboration with the startup Superflex, came out of military research to help soldiers avoid injury and improve their endurance. The robotics-enhanced suit consists of electrified "muscles"—made of a soft, engineered fabric—powered by hexagonal motor-and-sensor pods that together make up an artificially intelligent system.
Worn as an undergarment, the suit provides support at the torso, hips, and legs, "reacting to the body's natural movements, adding muscle power to naturally complement the user's strength in getting up, sitting down or staying upright," Béhar says. Because Aura is a smart system, aware of the user's body and their surroundings, it can also help tackle balance issues and coordination problems, so that older people don't need to be "a captive in their own homes," he says.
fuseproject's other project in the show is ElliQ, a robot that doesn't look like one. Designed in collaboration with Intuition Robotics, ElliQ is a multicomponent desktop object intended to be a companion to people who live alone; it complements the efforts of their caregivers. Robotic companions, like the surprisingly successful Japanese baby seal Paro, have generally focused on providing therapeutic benefits. ElliQ is different, says Intuition Robotics CEO Dor Skuler: "As opposed to other robots, which focus on the disability of aging, we are trying to celebrate aging and help older adults keep active and stay engaged."
Each of the robot's components has a specific function. The screen, called the Connector, helps users communicate using video calls and social media through a single interface, so they don't have to familiarize themselves with multiple platforms. The app, called the Coach, learns people's preferences and keeps in mind their health goals, and then uses the Engager to suggest new activities and keep users motivated. The Companion, the most stereotypically robot-like component, moves its head and uses light and sound to signal emotions and respond to users. Finally, the Lookout can be turned on to carry out monitoring, alerting caregivers of accidents, health incidents, or security concerns.
Robotic technologies are not without their drawbacks—especially around data and its use or misuse, as a new exhibit at the Vitra Design Museum points out. However, older people do not stand outside the general population in becoming increasingly reliant on technology for information and communication, and are not immune to the tech-fetishism around robotics. "The New Old, the coming cohort of aging populations, are much more comfortable with digital technology," says Jeremy Myerson, Helen Hamlyn Professor of Design at the Royal College of Art and curator of the show. "To coincide with this exhibition, we commissioned a poll with [market research group] Ipsos Mori, and they asked people, 'Would you liked to be cared for in your old age by robots or humans?" Surprisingly, a quarter of the people said they'd like to be cared for by robots."
The suit will eventually be covered by a layer of fabric, so it can be worn as an undergarment. The pods can be removed to facilitate washing of the suit.
The development of the suit, with explorations in the materials and technologies
Superflex decided to focus on the aging population, since power assistance can make a big difference in keeping older people active and agile.
While the suit provides assistance, it also allows the users muscles to exercise and recover, strengthening them over time.
Aura displayed in the exhibition New Old, at the Design Museum in London
ElliQ, a robotic desktop object, is fuseproject's other project in New Old.