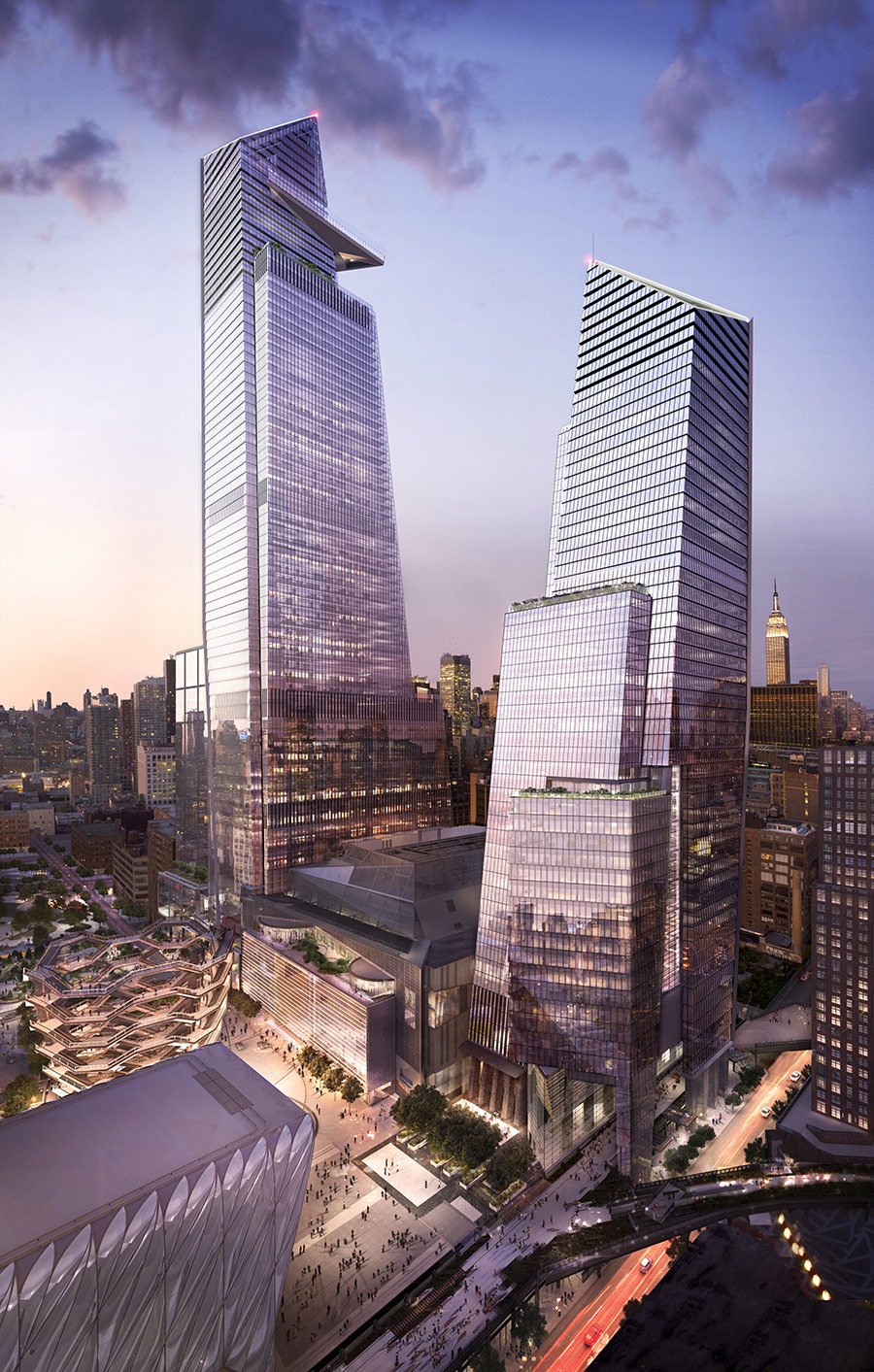 March 15, 2019
Dig We Must: What Hudson Yards Gets Wrong
Fred Bernstein writes that because the mega development—the first phase of which opens today—was built on a basement-less platform, its public spaces are cramped.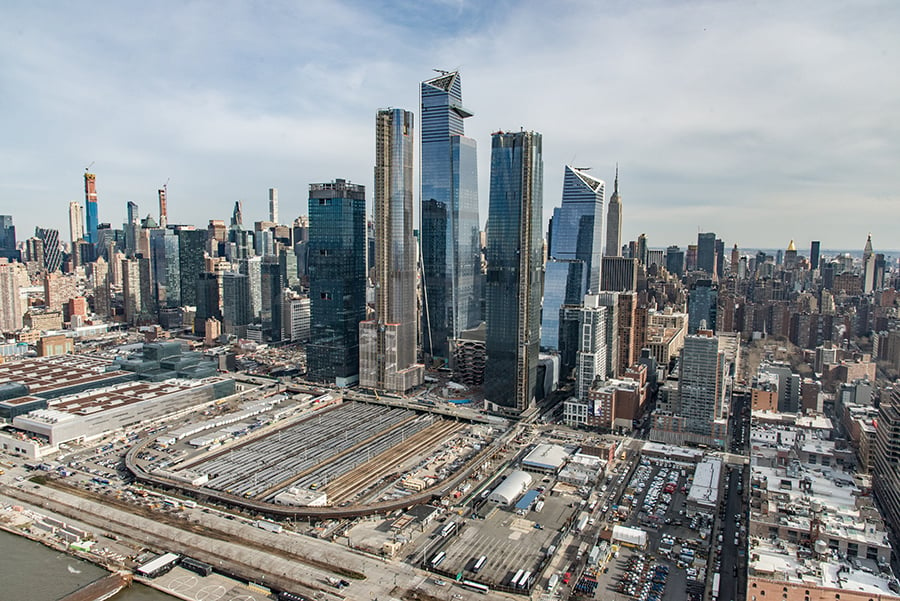 ---
Two gigantic developments are changing the Manhattan skyline. Each covers about 15 acres and contains millions of square feet of offices, stores, restaurants, and cultural attractions. And yet the World Trade Center, nearing completion in lower Manhattan, and the first phase of Hudson Yards, which opened to the public this morning, couldn't be more different.
That's because only one of them has basements. High-rise developments need large public plazas to avoid feeling oppressive. And basements makes such plazas possible.
Rockefeller Center, about a mile from Hudson Yards, may be the most admired urban development of the last 100 years, celebrated for (among other things) its spectacular art deco architecture. Michael Kimmelman, in yesterday's New York Times, attributed the success of Rockefeller Center to its "dramatic sequencing of low-, medium- and high-rise buildings." But an important part of that sequencing is underground. Trucks making deliveries to Rockefeller Center do so subterranean-ly. Likewise, trash is picked up from the center's basements, not from sidewalks. Street level is thus freed up for things that make urban life enjoyable, including landscaping and public art.
Rockefeller Center's most famous feature, its skating rink, is below grade. From Rockefeller Plaza, at street level, it's possible to look down, at the rink, or straight ahead, across a void. Unobstructed sightlines make Rockefeller Center's central space feel bigger than it is.
Hudson Yards is built on a platform above railroad tracks. That means its architects had nowhere to go but up. And so its two main attractions—the Shed (a performance/exhibition venue with a retractable roof) and Vessel (the contraption composed of 154 stairways, also known as New York's Staircase)—occupy precious space on the pedestrian level. Moreover, its shopping mall—a staggering 72,000 square feet—rises from the same platform. No wonder Hudson Yards feels crowded, like a checkerboard with more checkers than squares.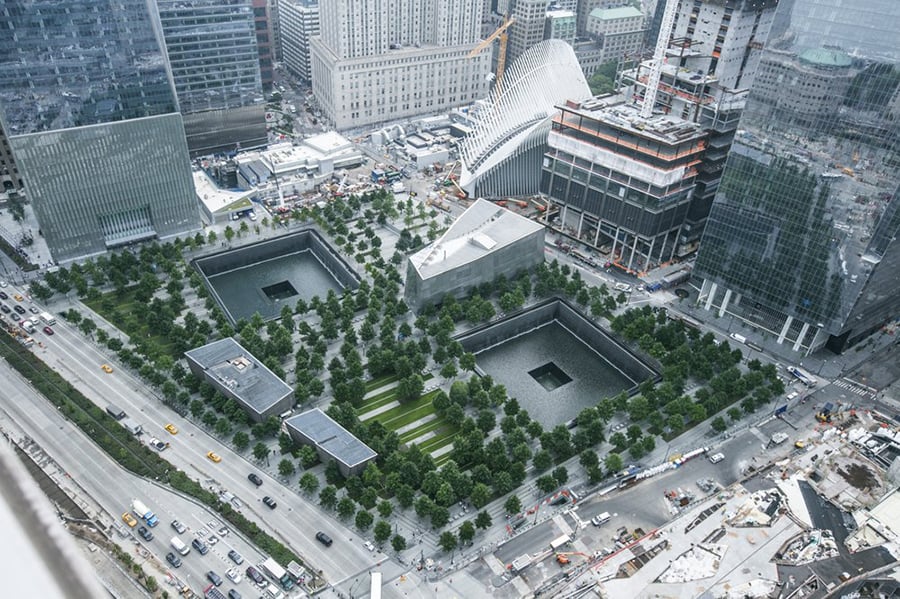 ---
At the World Trade Center, shopping takes place below street level. In that regard, it follows the model of Rockefeller Center, with its famous retail concourses.
And the World Trade Center's two tourist attractions (jointly titled the National September 11 Memorial & Museum) also get out of the way. The museum—except for a garish entry pavilion—is entirely underground. And the memorial, the giant fountains conceived by architect Michael Arad and co-designed with landscape architect Peter Walker, never rises above handrail height. The movement of water from grade to pools 30 feet below, and then from those pools into seemingly bottomless pits, is awe-inspiring, a spectacle that honors the enormity of 9/11. But it's also possible to look across the fountains, which at eye level are simply voids. That makes the World Trade Center seem expansive.
The evocative World Trade Center memorial design also contained an important urban planning idea: As Arad told me in a recent conversation, "It's against the natural instincts of everything in the city to create a void." And yet he created two voids (the fountains), within a larger void (the grove of swamp white maples surrounding them). He was emulating not just the "hole" in the middle of Rockefeller Center but the bigger "hole" in the middle of Manhattan: Central Park.
Altogether, the open space at the World Trade Center covers about six acres. The first phase of Hudson Yards (from 30th to 33rd Streets between 10th and 11th Avenues) offers about five acres of open space, but that includes the ground beneath the Vessel, which cantilevers out in all directions from a 50-foot-wide base, like an upside down Rockefeller Center Christmas Tree.
There are other differences between the two developments. Hudson Yards was built by a private firm, the Related Companies, headed by the magnate Stephen Ross. The World Trade Center, too, is largely a private development, with the mogul Larry Silverstein controlling its office towers and the developer Westfield guiding its retail component. (The latter organization turned Santiago Calatrava's $4 billion "transit hub" into a mall.)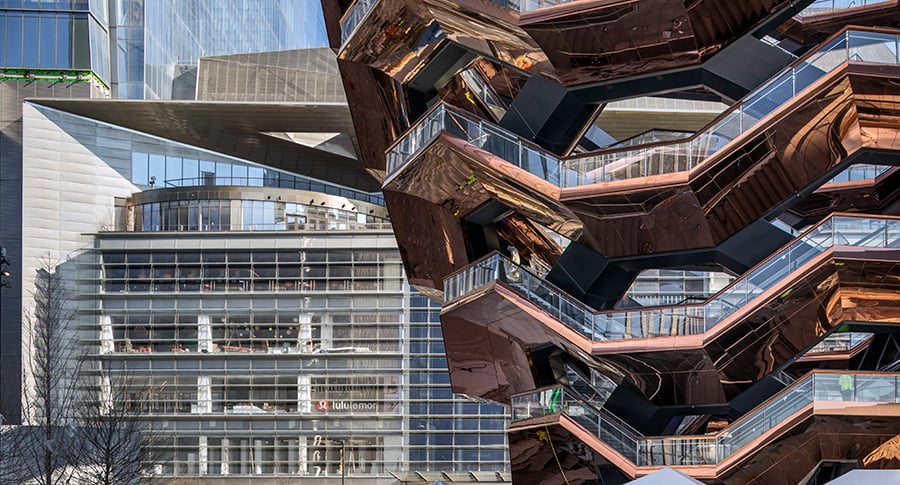 ---
But overall responsibility for the site lies with the Port Authority of New York and New Jersey, a quasi-public agency that answers to two governors. For that and other reasons, the World Trade Center redevelopment was the focus of relentless public scrutiny—and pressure. Its central feature, the Arad and Walker–designed memorial known as Reflecting Absence, was chosen in a very public competition, from among more than 5,000 entries. By contrast, Ross maintained secrecy about the plans for Hudson Yards; he kept drawings of Vessel under lock and key for years. Architects working on Hudson Yards were signed to strict non-disclosure agreements.
Ross could do that because at Hudson Yards, he held all the cards. At the World Trade Center, no one person (not the governors, not Silverstein, and not Mayor Bloomberg, who stepped in at several key junctures) had control. There was no Moses, or even Robert Moses, there to lead the way. And yet the dreaded design by committee seems to have produced a better result than the design by fiat at Hudson Yards.
Of course it's not Ross's fault that Hudson Yards couldn't have a basement. But if he couldn't build down, perhaps he should have built less. When it comes to urban design, it's not just what you build. What you don't build—especially what you don't build at street level—makes a world of difference.
You may also enjoy "Hudson Yards Promised a High-Tech Neighborhood—It Was a Greater Challenge Than Expected."
Would you like to comment on this article? Send your thoughts to: [email protected]