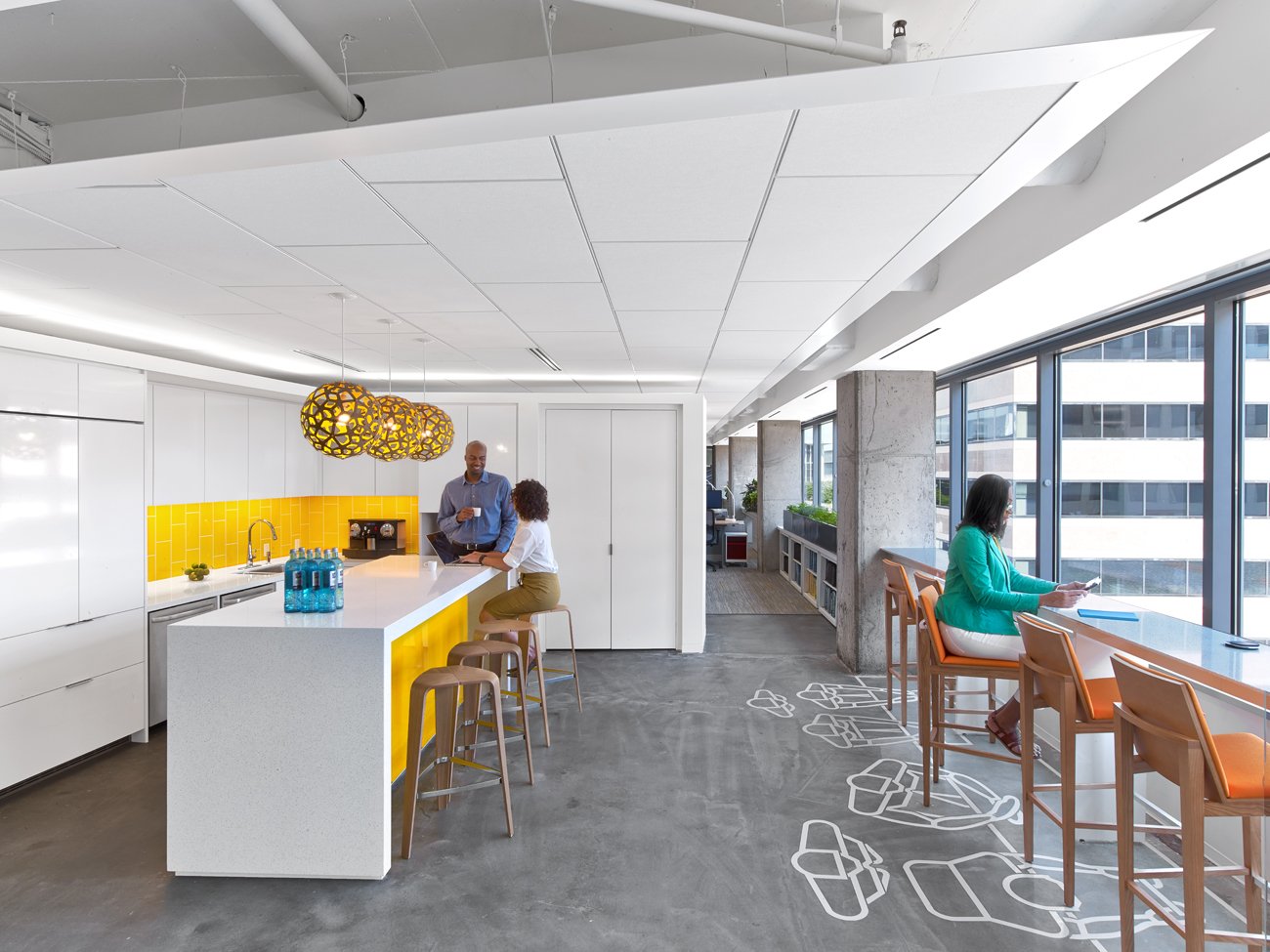 November 21, 2016
In Today's Interiors, Design You Can't See Trumps the Photo Op
In some of the best workplaces, the most interesting parts are often not visible to the eye.
The American Society of Interior Designers' new Washington, DC–offices uses design to create a healthy work environment.
Courtesy Eric Laignel
---
Randy Fiser is on a mission. The dynamic CEO of the American Society of Interior Designers (ASID) is a persuasive campaigner for excellence in that field. He uses the power of his position to foster a deeper understanding of how interiors can improve the human condition. Case in point: At the New York School of Interior Design (NYSID) Symposium in early October, Fiser presented two key voices in inclusive design, one representing emotional needs, the other physical needs. It turns out that the two areas of expertise together represent the human condition, albeit at its most stressful moments. It also turns out that the lessons designers can learn from studying these special needs help them understand how to design for the general population. Actually, we have learned this fact from the space program: Extreme environments can bring common human needs into clear focus.
Dr. John Zeisel works with people living with dementia. He reminded us that regardless of abilities we are "hard-wired" to seek connections with others, live with hope, and respond to environments that recognize our need for safety and health, and make us feel at home. Meanwhile Patrick Burke, principal at Michael Graves Architecture & Design, spoke on behalf of wounded veterans and their families. The Graves office has been designing accessible housing and products, such as a new-generation wheelchair, for this group's special needs even as the firm's namesake founder and superstar architect navigated the world in a wheelchair.
One of Graves's most memorable pleas during his prolonged hospitalization, before he returned to his Princeton office, was "I can't die here. It's too ugly!" While he seemed to be responding to the horrors we've all experienced in hospital design, he must have had in mind the indignities that patients routinely experience: No connection to the outdoors, dysfunctional wheelchairs that need to be adjusted by hands that come into contact with germs collecting in clunky parts, bathroom mirrors inaccessible from a wheelchair—the list goes on.
It is no accident that Fiser's panel at the NYSID Symposium was called Living Better: Wellness by Design. This thinking is also brought to life in ASID's new offices, and again, the alert CEO is the team's cheerleader for adopting the evolving ways of working. Here you see a new human, earth-centered design in action. While the office may look similar to others designed for the new economy and in line with our digital ways, its most interesting parts are what you can't see. And that represents the growing focus on technology and wellness and what they bring to human interactions. Natural light, artificial light calibrated to circadian rhythms, healthy foods, free-address work areas for mobile workers, and minimally toxic interior furnishings are among the design solutions that can only be experienced (In fact, they add little to the visual drama of the space.) And that seems like a good direction to go, at a time when the design world is trying to understand "experience design." It looks like the NYSID Symposium, which celebrated the school's 100th anniversary, is pointing the way to the future of interior design.