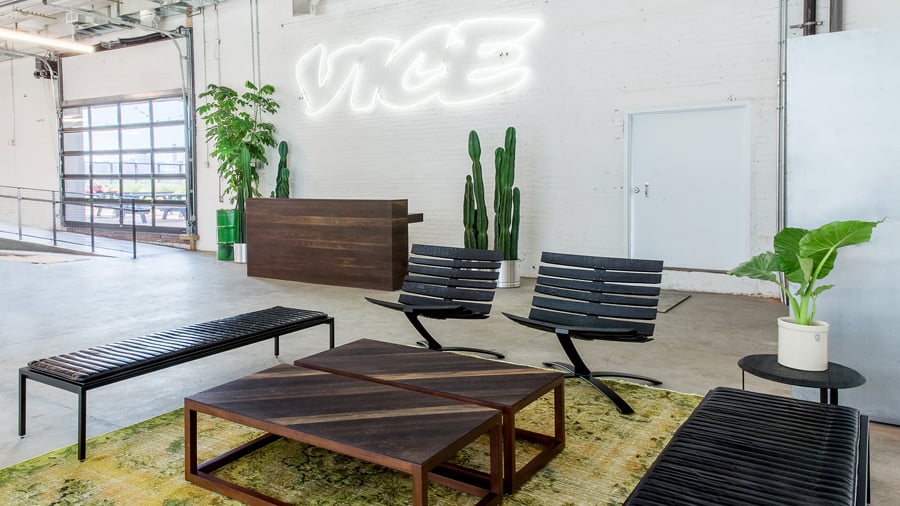 June 7, 2017
Indie Means Business: The Designers Unseating the Contract Furniture Industry
Independent designers and retailers have been slowly consolidating their position in the contract furniture industry. Now they're ready to give established businesses a run for their money.
A coffee table with a base of repurposed cast-iron fencing, chairs made out of scraps collected from neighboring wood shops—these were the kinds of furniture that Brooklyn-based company Uhuru crafted in its Red Hook workshop in the first five years of its existence. Then, at a party in 2009, a designer at Uhuru met a VP from the burger joint Shake Shack. "He was basically doing the rollouts for all their new restaurants, so we just sort of started a relationship," says Jason Horvath, who cofounded Uhuru in 2004. "They really poured some fuel on our growth." Within a year, Shake Shack was making twice as much revenue as McDonald's in its New York locations; it now has 130 restaurants. Uhuru provided the furniture for those outlets, which paved the way for it to set up its own contract division in 2012, executing workplace and hospitality projects and multiplying its turnover by ten in the next three years. It launched its first line of contract furniture, called the Essentials Workplace collection, at ICFF last year.
Uhuru is not alone in having this kind of story. In the past three years, the American contract furniture industry has seen quite a lot of upheaval. The biggest brands, such as Herman Miller, Knoll, and Haworth, went on an acquisition spree, absorbing a whole slew of residential brands. Then some big names in residential furniture, like West Elm and Room & Board, began to dip their toes in the commercial market. In the midst of this transition, a group of much smaller brands has cannily responded to the same market conditions—the redefinition of the office as a collaborative, creative space and the design aspirations set by the offices of tech start-ups—by investing in new capabilities and new talent.
Each of these companies has found its own path to success. Philadelphia's Amuneal and New York–based Dune have invested in new, significantly larger manufacturing facilities to power their expansion into custom contract projects. Skram Furniture Company, which operates a solar-powered facility in Burlington, North Carolina, built its reputation for finely crafted, sustainable furniture in the high-end residential segment before starting to take on hospitality and workplace projects.
Popular design retailers have followed suit. This month, Los Angeles–based A+R—which became known for bringing European brands like Hay, Muuto, and Menu to the United States—is opening a 7,200-square-foot showroom focused on the contract market, which now accounts for more than 70 percent of its sales. Design Within Reach (DWR), which, ironically, was founded with the idea of making contract furniture accessible to general consumers, rebranded its contract division this past February.
SURVIVING THE STORM
One of the big drivers of this trend has been the fluctuation of the economy in the past decade. Small companies that successfully weathered the Great Recession of 2008 had to figure out how to secure their position as the economy bounced back. "In 2012, most people were faced with a decision—what to do next," says Amuneal's Adam Kamens. He made the decision to diversify from metal fabrication, primarily for retail spaces, into hospitality and workplace projects. "We actually had to invest in a complete new facility, because we wanted to really be able to handle the scale of the contract projects that we have," he says. "We built our own wood facility and have basically doubled our manufacturing footprint."
For Dune, 2012 brought a new challenge. Richard Shemtov, who founded the company in 1998, had just landed a dream commission—seating elements for all the public areas in New York's Museum of Modern Art. Then Hurricane Sandy struck, flooding his factory with four feet of water from the Passaic River. "The flood destroyed everything, and the damages were not covered by insurance. We had completed almost 50 percent of MoMA's order," Shemtov remembers.
But he turned the calamity into a catalyst, finding a new facility in Jersey City, New Jersey. Not only did Dune complete the MoMA project—the final pieces were installed this year—but it now has the biggest manufacturing facility for custom furniture in the Northeast. And that has been a big draw for clients. "People are so used to picking things out of catalogs that they are surprised to have the option of designing their own furniture," Shemtov says. "Designers often take their clients to our factory to see the furniture being made."
START-UP POWER
"It really is the tech business that is leading this," says Rose Apodaca, cofounder of the A+R store in Los Angeles. 2014 was a turning point for her, too, when architect Barbara Bestor turned to A+R for common-area furniture for the offices of Beats by Dre. "Before we could even catch our breath, we were already involved in the trade business," she says. A number of designers who had previously come to A+R for accessories found it an ideal resource to fit out the "breakout" areas—lounges, huddle spaces, and conversation nooks—initially beloved by the tech industry and now found in offices everywhere. "We're working with a leading health company, and they're talking about these breakout spaces as if it's something revolutionary," she says. "We're just nodding our heads, because we've been working with tech companies who've been doing this already for a few years."
Tech start-ups have been the stars of the postrecession economy and have infected other sectors with their flexible-but-fast work culture. "If you look at most of the people we're working with, they're disruptive and they're changing something in their industry," Horvath says. "They're asking for something different." Thanks to their nimble design and manufacturing capabilities, smaller businesses are perfectly positioned to provide that. Plus, being from the same generation doesn't hurt. "After all these years, I'm finally doing business with people my own age," Amuneal's Kamens jokes.
MANUFACTURING ETHICS
"There's really a new landscape when it comes to commercial interiors," says Laurent Lisimachio, principal and design director at Gensler New York. Clients from the financial and legal sectors—not traditionally known for embracing the avant-garde in their offices—have begun to see design as a way to keep employees, especially younger ones, engaged. "Working with specialty fabricators allows us to be ultimately innovative," he says. "It translates into better employee performance and better corporate performance, and that's what we're really seeking."
Other cultural factors have played into the rise of smaller contract furniture manufacturers—one of the biggest being the maker movement. Designer A. Jacob Marks started Skram in 2001 by designing and making all his furniture by hand because he has a strong belief in craftsmanship and what it can do for the town of Burlington. And as Skram has grown—at a rate between 15 and 30 percent each year—he has tried to keep those values alive. "Instead of doing several dozen jobs a year, we do several hundred jobs a year now, but I still see everything go through," he says.
Sustainability is another core value that unites this new vanguard of contract manufacturing. In 2015, Skram invested in solar panels, which now provide for more than half its energy needs. The company prides itself on responsible use of materials, picking nontoxic finishes and adhesives and sticking to durable, natural materials as much as possible. "We reject the idea of obsolescence in our furniture," Marks says. "We believe that our customers, on some level, appreciate the philosophy of 'Buy it once, buy it right'—and they are willing to invest in the value that we represent."
THE TIPPING POINT
Because of this natural fit in the ethos of emerging manufacturers and the kinds of businesses that buy their products, there is a sense that the tide of the contract industry itself is turning. Some bigger companies, like Humanscale, are finding opportunities for teaming up. "Uhuru would get specified on a project, and often they'd bring us in," says Humanscale's senior brand director, Tina Brennan. "In some cases, when a client would want a sit/stand solution, they'd utilize the base of our Float desk and then do a custom Uhuru wood piece for the top."
For their part, the retailers find that nurturing emerging design talents gives them an edge over bigger companies, which became rather risk-averse around the time of the recession. "We continue to find it a hallmark of our brand to introduce new and fledgling design houses to the North American market," Apodaca says. Exclusively representing some of those, like Danish design firm Friends & Founders, provides A+R's clients with some distinctive choices.
STAYING COMPETITIVE
Their bet on the contract market having paid off, Amuneal, Dune, Skram, and Uhuru now face a new challenge—growing and competing in a landscape with some pretty big players. In this, they have an important lesson to learn from DWR, not just because it has been operating in the contract market longer but also because it has a unique relationship with the companies whose products it carries in its stores.
DWR has been handling contract projects since John Edelman and John McPhee took over its leadership in 2009. In 2014, it was acquired by Herman Miller, yet its contract arm—which formally launched as a separate division in 2010—sells merchandise from Herman Miller and its competitors with no hint of conflict. This is because it maintains an inventory of products, says DWR Contract vice president David Kennedy, unlike the bigger manufacturers. "Everything was made to order and still is," he explains. "If you're buying from Herman Miller, you're still waiting for the product to be made and delivered. Having that product available immediately gave us a toehold in the industry."
The emerging businesses do recognize the value of having original inventory. Having displayed workplace products at NeoCon last year, Uhuru is presenting its Totem storage collection at this year's fair. Amuneal's product line, showcased at its new New York showroom, includes the customizable Collector Shelving System. Dune and Skram both presented new pieces during NYCxDESIGN last month.
But the battle for the contract industry isn't going to be easy, especially since many established manufacturers are trying to massage their giant businesses into providing custom services—Steelcase's experiments with digital fabrication are one example (see p. 98). In the long term, however, the newer companies have the odds in their favor—they understand digital-era entrepreneurs and they are bringing fresh talent into the furniture industry. If they can manage the balancing act between maintaining a catalog and offering unprecedented levels of customization, the future could very well be theirs.