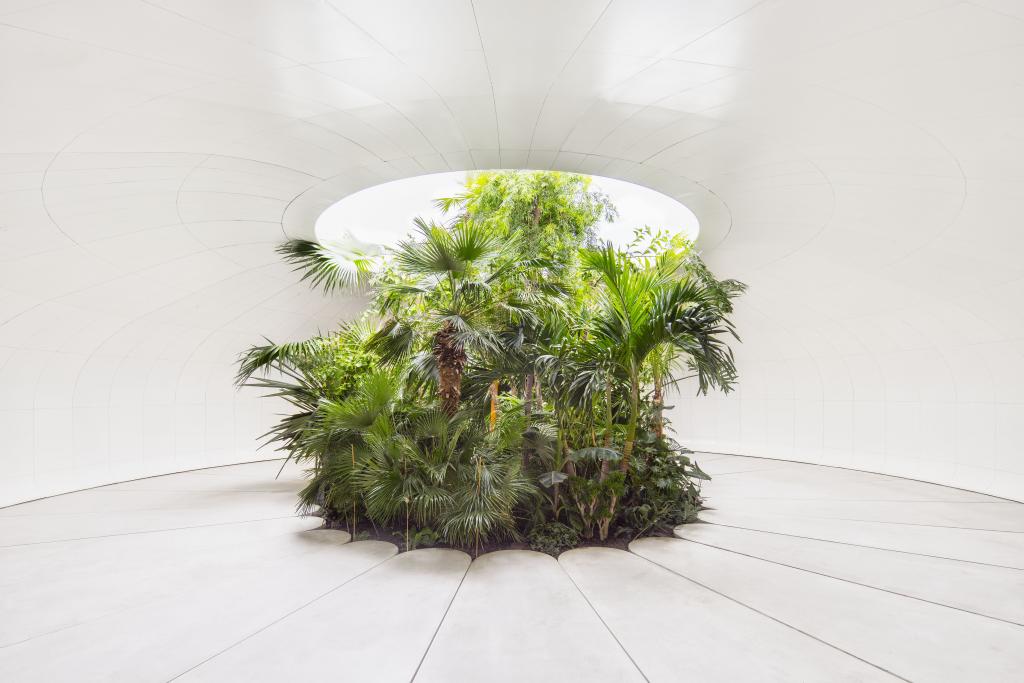 July 16, 2014
A Futurist Hobbit Hole Inspired By Igloos & Barragán
"Yourtopia" questions what our homes should look like in an ecologically-minded age.
Our homes shield us from distractions so that we may cultivate our own interests and, in the process, sense of selves. Dutch architecture firm SeARCH has taken this idea to the extreme with "Yourtopia", a temporary refuge that radically reconsiders what a home can be.
Visitors to the studio's dome-shaped, hobbit-like home (the exterior is covered in grass) at the Het Nieuwe Instituut in Rotterdam are immediately confronted by the space's lack of windows. The white steel walls curve towards a central oculus, the pavilion's only source of light. Directly beneath, a thicket of exotic plants and trees that form the room's core peeks up through the skylight. Beyond the flora and light-reflective walls, the design is decidedly bare-bones. This economical approach was a response to the Het Nieuwe's original brief to develop a temporary pavilion for this year's International Architecture Biennale Rotterdam—a design which, according to the organizers, demonstrates the "minimum needs in order to enjoy a maximum quality of life."
SeARCH's folly questions what the fundamental guts of a home are and should be, an interrogative process which led to the abandoning of windows for the skylight instead. The studio wanted to focus on qualities often forgotten in the "technocratic approach of designing living environments," says project architect Leen Kooman. "The pavilion emphasizes the importance of our relation with nature in the built environment. By leaving out the usual elements which organize life in the average house the focus becomes stronger."
The architecture of Yourtopia was inspired by the villas of late Mexican architect Luis Barragán, which brought out the silence and daylight of their local environments. One, of course, thinks also of the Pantheon's circular chamber, with its solid, window-less walls, ethereal light source, and generally introspective character. But more instrumental, Kooman adds, were indigenous nomadic forms of living like igloos in the Arctic and underground dwellings in China.
"In indigenous architecture the link between limited resources and craftsmanship leads to often surprising solutions with strong connections to the human being," Kooman says. Just as SeARCH's celebrated Villa Vals dug itself into an Alpine valley, so too Yourtopia esconces itself in the geological to create a new domestic space—an ecological living pod that is as personal as it is utopian.