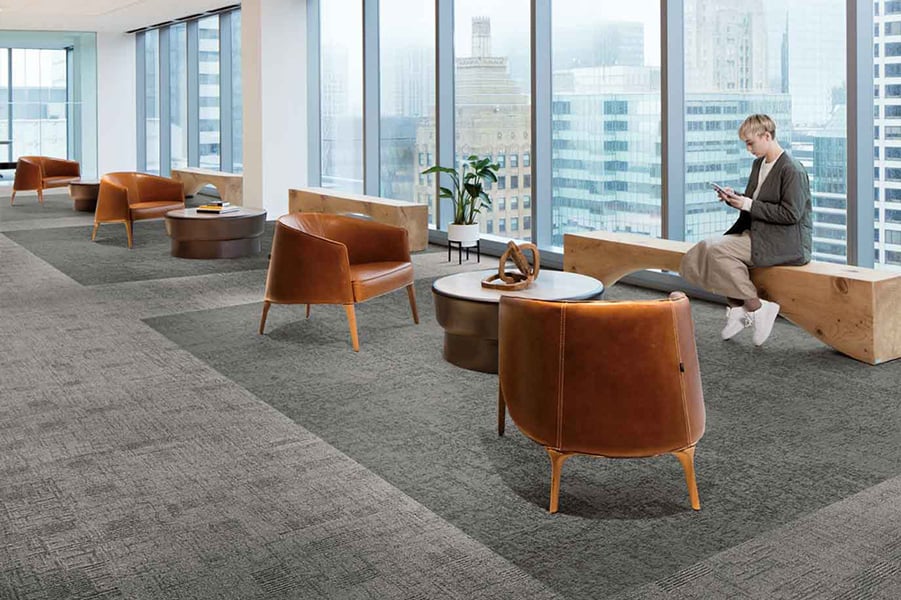 April 8, 2021
Interface is Designing for the Future with Carbon in Mind
With the climate crisis accelerating, designers and product manufacturers are prioritizing carbon to have a positive impact on the environment.
Sponsored by:
Nearly three decades ago, Interface founder Ray C. Anderson envisioned a way that we can all design a better future for humanity and the environment. He steered his company towards a purpose-driven future that would be environmentally sustainable and restorative.
In the time since the global flooring company began its sustainability journey, scientists have learned that the climate crisis is accelerating more quickly than previously assumed. Fortunately, designers have more ways to respond than ever before. "It's a great time to be a designer and a design-focused person. We are optimists by nature, and I think the world needs us," says Chip DeGrace, vice president of workplace applications at Interface. With a bevy of carbon neutral flooring products, Interface's aim is to help architects and designers create beautiful spaces that have a long-term positive impact on the world.
Today, their Climate Take Back initiative is a continuation of Anderson's original mission. With a goal to reverse global warming, Climate Take Back is leading Interface to consider how they can continue to lower the carbon impact of all of their products. The brand has landed on an all-encompassing approach that extends to product design—all of Interface's flooring products are now carbon neutral across their full product life cycle through the third party–verified Carbon Neutral Floors™ program—as well as to transforming its operations and supply chain.
A recent breakthrough by Interface goes beyond carbon neutrality to create products that actually help restore the health of the natural world. Inspired by natural carbon sinks like oceans, forests, and crops that store carbon and keep it out of the atmosphere, Interface is using this same idea to manufacture carpet tiles that are carbon negative when measured cradle to gate. By developing proprietary bio-based materials and innovating with recycled content, Interface is able to store carbon and use it as a resource, keeping it out of the atmosphere where it contributes to global warming.
By creating products that are carbon neutral and carbon negative, Interface is tackling embodied carbon. This is the amount of carbon released into the atmosphere to produce building products—from raw material creation through processing until they are packaged and ready to be shipped from the factory—and it accounts for about 28 percent of the building industry's carbon emissions each year. When designers use low-carbon or carbon neutral products like Interface flooring, they reduce the embodied carbon footprints of their own projects as well as the built environment's negative impact on the planet.
Nearly 30 years after Anderson set out to transform Interface into a restorative enterprise, those radical ideas are bearing fruit and the timing couldn't be better. As the climate crisis grows more and more dire, it's clear that if we want a livable future, we will need to build a decarbonized world.
Fortunately, the next generation of architects and interior designers knows how urgent this task is, and they're also aware of the power of design to make a difference. For them, low carbon is the sine qua non of design, and DeGrace is optimistic about young designers' attitudes towards repurposing, thoughts about efficiency, and awareness of how material choices impact the environment.