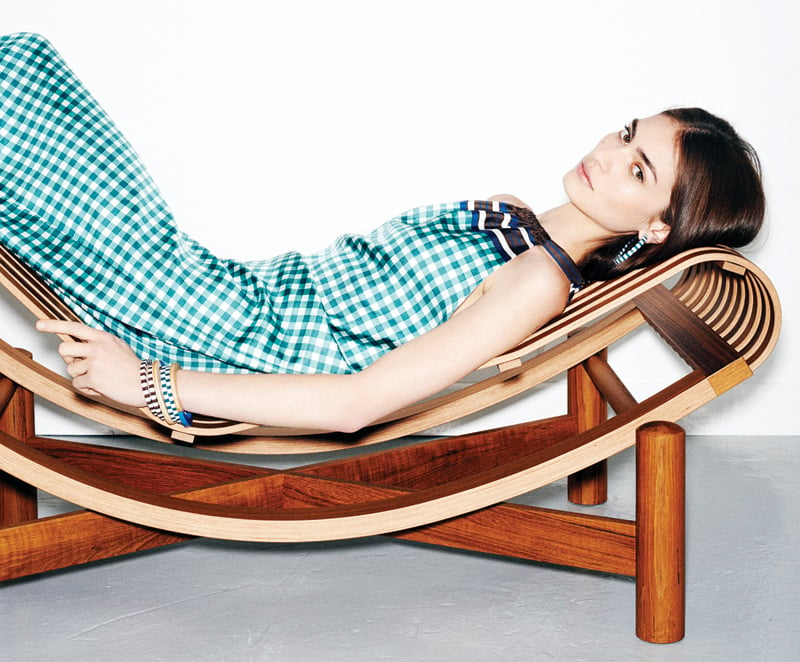 December 23, 2014
The Intersection of Fashion and Design Is Charting New Territory
As luxury fashion brands begin to cultivate entire lifestyles, crossovers with architecture, product, and interior design become ever-more exciting.
Courtesy Louis Vuitton
The intersection of the world of design— fashion, products, and architecture—is nothing new. In the 1920s, Charlotte Perriand worked with Le Corbusier and Pierre Jeanneret to create the LC4 chaise longue, which was inspired by the flapper fashions of the day. About six decades later, Giorgio Armani dipped a toe in the product-design world with his Logo lamp. And when Fendi launched its Fendi Casa line in 1989, the furniture became as desired as the cosmopolitan fashion line's famously unattainable purses.
Now, more than ever, we are seeing the fashion world embracing product design and architecture. The new Frank Gehry–designed Louis Vuitton Foundation museum in Paris is a gigantic example—both literally and figuratively—of the two worlds colliding. But look around, and you'll find this crossover everywhere. Fashion is no longer just about clothing, but about embodying the lifestyle of a brand—evident in the many high-end boutiques that showcase discerning interior details, including walls and carpets made from classic textile brands. Visit Mary-Kate and Ashley Olsen's Los Angeles–based flagship store for their label The Row, and you'll discover yourself in a midcentury Modern-esque house, complete with a garden and pool.
The growing number of home interiors, products, and furniture reiterates this trend. As Anna Wintour once noted, "I've long believed that the eye runs naturally from the catwalk to the kitchen," and the rest of the fashion world seems to agree. Designers from Jason Wu to Paul Smith are putting their stamp on everything from faucets to fabrics, and turning to renowned product designers to make it happen. Fendi Casa recently announced its soon-to-come Fendi Château Residences in Miami, while Armani/Casa also has condominiums planned for Miami, and already has them in Istanbul, Mumbai, Manila, and Dubai. Undoubtedly, the intersection of fashion and design is charting new and exciting territory.
Diesel + Foscarini
Paul Smith + Maharam + Carl Hansen & Søn
Armani + Dada
Jason Wu + Brizo
Fendi Casa + Toan Nguyen + Thierry Lemaire
Louis Vuitton + Cassina + Charlotte Perriand
Hermès Maison + Philippe Nigro​
---
---
​Diesel Creative Team for Foscarini
Hexx lamp
Courtesy Diesel Living/Foscarini
Diesel's foray into homewares began in 2008 when it partnered with Zucchi to create a line of textiles. "It was an organic evolution from the Diesel fashion experience," says Andrea Rosso, the creative director of licensing at Diesel. "Since Diesel opened its first store in 1995, we have traditionally put a lot of importance on the interior design aspect—every store is different from the other, and there is a lot of creativity and research."
This nonconformist style is what appealed to Foscarini founder Carlo Urbinati when the lighting company began its collaboration with the laid-back clothing label. "Diesel tries to produce something that isn't pretending or pushing you to have everything in its style," says Urbinati. "It produces garments that are mixable with anything else you like."
Diesel Spring 2015
Courtesy Diesel
Urbinati wanted this for his lighting collection for Diesel Successful Living—pieces that aren't meant to be matchy-matchy. Diesel's style sets the tone for a living collection that isn't about following trends, but rather encouraging users to follow their own path. "The lamps aren't meant to be set together with sofas, or chairs, or a table," Urbinati says. "They live on their own. They create a different perspective of something you are familiar with—something you use."
Foscarini is not the only product company Diesel is collaborating with. It's also working with Moroso on furniture, Scavolini on the new Diesel Social Kitchen, and Seletti on the accessories. These companies all have a similar appeal to Diesel's: a passionate approach, technical expertise, and the drive to experiment. "The collection as a whole is an ideal pairing of each specialty partner's industry know-how and design capabilities with Diesel style and attitude," says Rosso. "It's about our way of life, our values, and our ironic, creative, and unexpected approach."
---
Paul Smith + Maharam + Carl Hansen & Søn
---
Hans Wegner for Carl Hansen & Søn
CH07—Shell Chair with Maharam fabric
Courtesy Maharam
When one thinks of high fashion, a 65-year-old chair by Hans Wegner is not the first thing that comes to mind. Yet, take into consideration Paul Smith's penchant for classic tailoring and colorful stripes, and it makes sense that the company joined together with Carl Hansen & Søn and Maharam to create special-edition designs to commemorate the 100th anniversary of Wegner's birth. "Carl Hansen is the designer's designer," explains Smith. "The furniture is so beautiful, but also so simple." The partnership between the three began when Carl Hansen's Shell chair was covered in Smith's Big Stripe fabric and sat on display in the Maharam showroom. Carl Hansen & Søn CEO Knud Erik Hansen's young employees brought him there to show him the stripes. "I thought, 'My goodness, are we going to put pajama fabric on our chairs?'" he says. "But it didn't take very long for me to realize there was something very special in this. There's a very high sense of color and a lot of quality, and the material is first class. When it's upholstered on our furniture, I must say, it looks smashing."
Paul Smith Fall 2014
Courtesy Paul Smith
"Lots of people commented on how fantastic it looked," says Smith, who has already been working with Maharam for more than a decade. "From there, it was just a phone call asking if I'd like to do it. I took about two seconds to decide: 'Yes! Absolutely yes.'"
"That was very exciting for us," adds Hansen. "I feel that it must raise some eyebrows when a fashion person and a classical furniture producer collaborate and actually get something out of it." But he also points out that this creates a universal appeal for people. "I have felt that at Paul Smith both in Milan and New York," Hansen says. "The young people are as excited as the older people are. When you bring these two parts together, the power is phenomenal."
---
---
Armani/Dada
Slide kitchen system
Courtesy Armani/Dada
"Although, at first glance, fashion and furniture may seem very different," says legendary designer Giorgio Armani, "the creative processes for designing them are surprisingly similar. Both require you to take things from the realm of imagination and translate them into reality."
Armani first ventured into home-product design in 1982 with his dramatic Logo lamp, and then made the big leap in 2000 with the opening of the first Armani/Casa store in Milan. "I wanted to create a complete Armani lifestyle that reflected my ideas and was applicable to various fields outside fashion," he says. "Going into furnishings seemed like the natural next step."
To create the "Armani lifestyle"—think luxe materials, minute detailing, streamlined elegance—the company has collaborated with Roca for bathrooms, Rubelli for fabrics, Jannelli & Volpi for wallpaper, and Molteni Group for the Armani/Dada kitchen brand. "The goal was to develop the kitchen environment as a completion of the Armani home," says Molteni Group owner Andrea Molteni of the partnership, which began in 2008.
Giorgio Armani Spring 2015
Courtesy Armani
Armani wanted its kitchens to evoke the informal yet refined atmosphere of a dinner invitation issued by a chef. Molteni Group was the ideal partner for this venture, not just because of its technical expertise and innovative capacity, but also its well-appointed aesthetic and regard for superior products. "I believe there is a deep sharing of values," says Molteni. "It's the quality of excellence that lies within the craft process of production and the meticulous choice of materials with full respect for their history and characteristics."
---
---
Jason Wu for Brizo
Single handle vessel lavatory faucet
Courtesy Brizo
Since its founding in 2004, luxury fixtures company Brizo has embraced influences far beyond its niche, be it art, food, architecture, music, or travel. But perhaps the most significant impact on the brand's creative development has been that of fashion. "We've always been influenced by fashion," says Brian Nobbe, Brizo's brand director. "It's more than the clothes you wear—it's an expression of yourself."
This thought process led to the company's partnership with fashion designer Jason Wu in 2006—two years before the now-elite designer secured his spot in the fashion world when Michelle Obama wore one of his dresses at the presidential inaugural ball. "Brizo was an infant in 2006," says Nobbe. "And Jason was an up-and-coming designer, so there were a lot of similarities between us."
The partnership evolved to produce the 2011 Jason Wu for Brizo line, a powder-room suite that features both minimalist Scandinavian influences and ornamental Baroque detailing. In 2014, the line expanded to an entire bathroom collection. "It's a bit of a contrast," Nobbe says. "Jason actually had the inspiration for the juxtaposition of the two aesthetics, and it really stood out in the bathroom."
Jason Wu Fall 2014
Courtesy Jason Wu
Now Brizo is furthering its foray into the fashion world with the launch of three premiere collections. The Artesso kitchen collection is inspired by early 1900s styles, while the Sotria bath collection reflects mid-twentieth-century fashions. The third is the Old World–inspired Virage bath collection. To reiterate its fashion influences, the brand is collaborating with celebrated fashion photographer Greg Lotus, who is creating a highly stylized campaign showcasing models in haute couture to complement certain elements of Brizo kitchens and bathrooms. "We're driven to reinforce the understanding of fashion as a lifestyle," explains Nobbe. "And we're excited about the idea of bringing fashion into unexpected places.
---
Fendi Casa + Toan Nguyen + Thierry Lemaire
---
Toan Nguyen for Fendi Casa
Janus floor lamp
Courtesy Fendi Casa
Alberto Vignatelli, CEO of Luxury Living Group, had a vision for Fendi Casa, the interiors collection that he developed for the brand. He wanted Fendi to continuously evolve with offerings for those customers who weren't drawn to its traditional style. To bring this vision to life, Vignatelli enlisted furniture designer Toan Nguyen.
"When I was approached, the designs of Fendi Casa were pretty far from my world," says Nguyen. "But Vignatelli was interested in an alternative vision and in extending the collection, so I accepted the challenge." The result was the Contemporary Collection, a sleek, modern furniture line that showcases detailed craftsmanship and embraces the lavish fur and leather that are associated with the fashion house.
The interiors company began a new collaboration this year with French architect Thierry Lemaire, whose work with dramatic materials—such as velvet and exotic wood—was a natural pairing for the sumptuous-fabric-loving company. "Fendi Casa's style is elegance with equilibrium. It uses materials and shapes that rethink the idea of beauty," says Lemaire. "My style fits easily into that image of luxury, modernity, and tradition."
Fendi Fall 2014
Courtesy Fendi
Fendi is now taking that image even further through its brand-new partnership with developer Chateau Group. The two are launching a Fendi-branded condominium building in Miami, the Fendi Chateau Residences. Decorated with Fendi Casa fixtures and fittings, the building epitomizes the opulent brand—the many luxury amenities include white-glove services, a private restaurant with a full chef 's kitchen, a ballroom, private cinema, spa, and a relaxation terrace with aromatherapy. "Fendi is still the brand that makes people dream, and that spirit is extended," says Nguyen of the brand's ventures. "If art was once the biggest influencer of fashion, now design and architecture are playing an important role as well."
---
Louis Vuitton + Cassina + Charlotte Perriand
---
Charlotte Perriand for Cassina
Nuage modular unit
Courtesy Cassina
Charlotte Perriand always understood the crossover between architecture, products, and fashion. During the 1920s, she designed the LC4 chaise, with Le Corbusier and Pierre Jeanneret, which was directly inspired by the flapper fashions of the day—she wanted to create a chaise longue that women could lie upon wearing short skirts, without everyone seeing their underwear. "The furniture, the equipment of the architecture—it was for a new type of woman with a new type of clothes," says the late architect and designer's son-in-law Jacques Barsac. "It was about the spirit of the new woman." One might call it functional beauty at its best.
This elegant merger between function and style is something that Perriand—who was once mostly recognized for her work with Le Corbusier and Jean Prouvé—eventually became known for, and was what drew the attention of the designers at Louis Vuitton. For the brand's spring/summer 2014 line, it unveiled the Icons Collection, a brightly colored, adaptable selection— informed by Perriand's passion for interchangeable clothing—that includes a reversible yellow jacket with removable sleeves as well as expandable bags.
Louis Vuitton Spring 2014
Courtesy Louis Vuitton
This ode to Perriand's work would not be complete without using her designs to showcase the line. Turning to furniture producer Cassina for Perriand's repertoire, the fashion house incorporated her tables, shelves, and seating into its lookbooks and displays. Yet, the true homage came when Cassina and Louis Vuitton joined forces to release a limited-edition version of Perriand's classic called LC4 CP. The chaise longue, of which there are only 1,000, uses raw saddle leather supplied by the Louis Vuitton tannery. "It was something new and important for Cassina and Louis Vuitton," says Gianluca Armento, Cassina's brand director. "And it's probably the most beautiful chaise longue done in ninety years."
---
Hermès Maison + Philippe Nigro
---
Philippe Nigro for Hermès
Maison Cheval d'Arçon
Courtesy Hermès Maison/Philippe Nigro
The silk scarves and Birkin bags of Hermès may be its signatures, but the brand has had its hand in industrial design for decades, producing furniture by interior designer Jean-Michel Frank as far back as the 1920s, and other objects since then. In 2011, the French marque launched Hermès Maison, enlisting designers whose work reflected the classic elegance associated with its aesthetic. It turned to Japanese architect Shigeru Ban, Italian designer Antonio Citterio, and French designer Philippe Nigro, whose Les Nécessaires d'Hermès furniture collection launched in Milan in 2013.
When the company approached Nigro in 2011, he admits he didn't know a lot about it. "I had to discover a bit about Hermès," he says. "I found that there's a reality behind each object—bags, clothes, and everything else it does—that is always quite clever. It pays attention to function." This appeal is reflected in their first collaboration, the name of which translates into "the essentials of Hermès." Each piece was cleverly designed to provide multiple functions—a coat rack can display objects, for example, or a stool can act as a table.
Hermès Spring 2015
Courtesy Hermès
This past year, Nigro launched a second collection, Curiosités d'Hermès, which was inspired by the "cabinets of old." The opulent materials of both collections— brushed steel, leather, ebony-finished pear wood, and (of course) Hermès fabrics— keep with the brand's reputation for creating luxury goods intended to last forever. "I think Hermès is different," says Nigro. "It has in its DNA this patience for research, for functionality, and for high quality. It's not just making objects on which to put the Hermès label. It wants to develop objects in a clever way that makes sense."
Furthering its foray into the home, Hermès has added a line of interior scents that interact with the living space. Developed by Céline Ellena, artistic director of Hermès's Le Parfum de la Maison, the five scents are not typical home sprays. Instead, the fragrances are released through folded paper, wax objects, and ceramic-clad candles—encompassing the notion of bringing beautiful objects to life through materials and crafts. "This idea is very Hermès," says Ellena of its inscrutable charm. "It's very high-end, very French. It may be something you don't understand, but that doesn't matter."