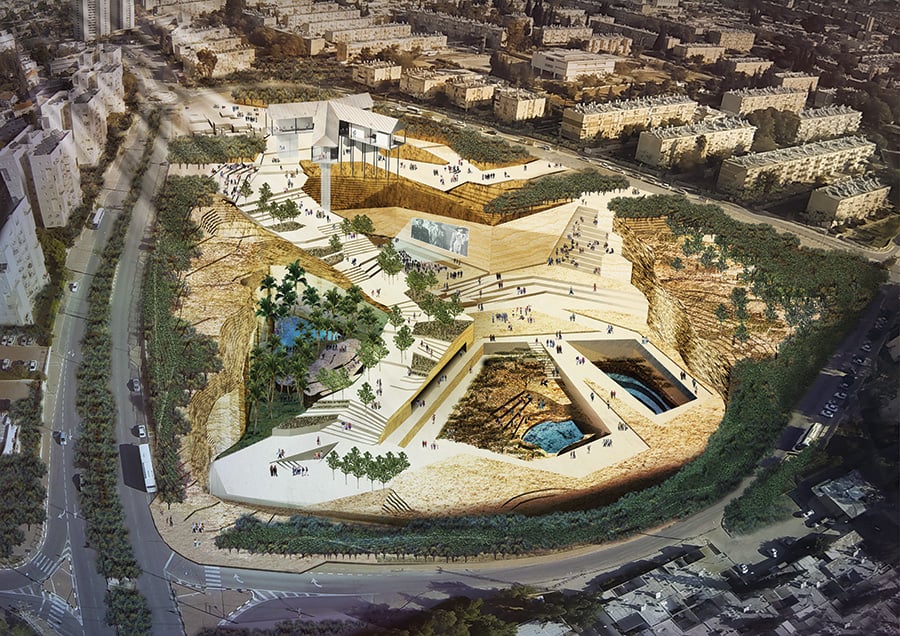 November 30, 2017
Kate Orff on Her New Project in Israel, What's in Store for the Venice Biennale, and Activism in Landscape Architecture
Orff's New York practice SCAPE develops broad-based coalitions that can advocate for the firm's projects.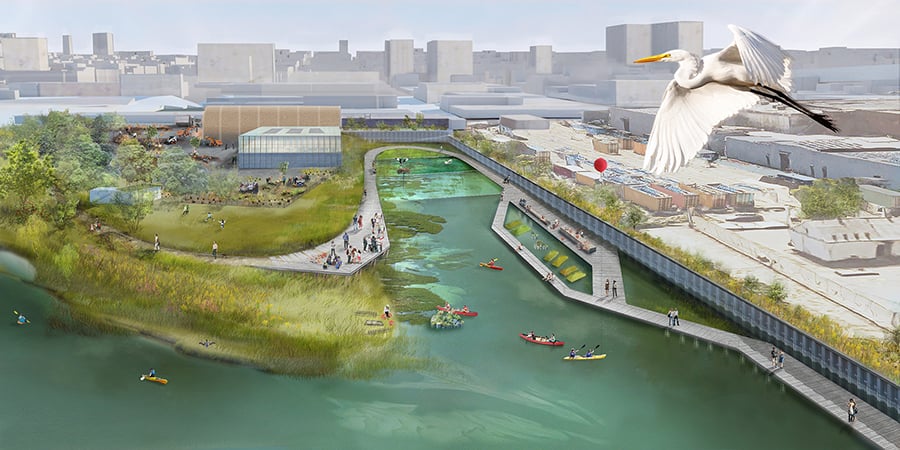 As the race against time (and sea level rise) to build climate resilience into the urban and social environment accelerates, some architectural practices stand out for designs that uniquely, and effectively, combine communal and environmental values and goals. SCAPE, a landscape architecture studio based in New York founded and led by Kate Orff, is one such example. A central feature of the office's working culture is the emphasis on developing broad-based coalitions that can advocate for a given project. Additionally, nearly all of Orff's projects focus on facilitating constructive encounters between people and different aspects of nature—especially waterways and waterscapes. Rather than shying away from activism and politics, Orff is upfront about her commitment to issues of social equity, feminism, environmentalism, and civic advocacy. Beyond SCAPE, Kate is also the director of the urban design program at Columbia University's Graduate School of Architecture, Planning, and Preservation (GSAPP), author of Toward an Urban Ecology (2016, The Monacelli Press), and co-editor of Gateway: Visions for an Urban National Park (2011, Princeton Architectural Press). This year, she was awarded the prestigious "Genius" Grant from the MacArthur Foundation in recognition of her work. On the occasion of this exciting win, Metropolis editor Akiva Blander recently spoke with Orff about some of her ideas and current work.
Metropolis: You wrote a thesis about feminism and environmentalism while you were in school. What was that in response to? Do those ideas continue to inform your work?
Kate Orff: I went to college at the University of Virginia and studied in this program that was called Political and Social Thought, and I put together a major called eco-feminism. There was this branch of feminism, which was tied to, for example, womanhood being closer to the earth. And I was like, "no," it's highly political in its conception. The reason that women also understand these deep connections between environmental phenomena and social injustice is that women are doing the groundwork around the world, like gathering firewood, carrying water, working the fields. So, I tried to use much more of a political lens to talk about women, environment, and making change. I was trying to tie together women who were making critical connections between people's lived experiences and ways of making change that I felt weren't happening in many of the environmental movements. Afterwards, I went to Harvard and got an MLA in landscape architecture.
So, there was all the political and social thought of the early years, combined with the tools of the landscape architect, and that is basically how I work. A major mode of working for me has also been very proactive and research-oriented; very motivated by questions, rather than just being a landscape architect in the service-based profession, which is how it's more traditionally practiced. I've tried to foster this culture at SCAPE of advocacy and research. Not just responding to a client that says, "I want a roof garden here," but trying to craft questions about the larger landscape.
It seems so obvious that landscape architecture should be rooted in a kind of environmentalism. But, it seems today like a lot of landscape firms don't really foreground this environmental awareness or activism. Do you think this has been a blind spot? Why?
Well, it's funny because landscape architecture is a very tiny profession. There are many, many strings of thought within landscape—there are people working in the National Park Service, in municipal governments. There are firms that are looking at just high-end residential landscapes for beautifully crafted meadows for very rich people that live in Connecticut, which is all fine. But it is a truly diverse small profession.
And what it has not been in the past is very politicized. In my reading of the situation, land policy and land use are at the root of almost every political issue in some way. I would say I do think the profession is moving more in that direction, and should move more in that direction.
A lot of what I've been trying to do and what I've been writing about has been this era of climate uncertainty, and that landscape architecture can't just continue as before. We really need to be inspired by the actual physical changes in the environment. I've been very focused on the word "loss" lately because I feel like there's this whole narrative around our climate is changing. But I'm also trying very hard to describe loss—species loss, loss of ecosystems, loss of salt marsh ecosystems.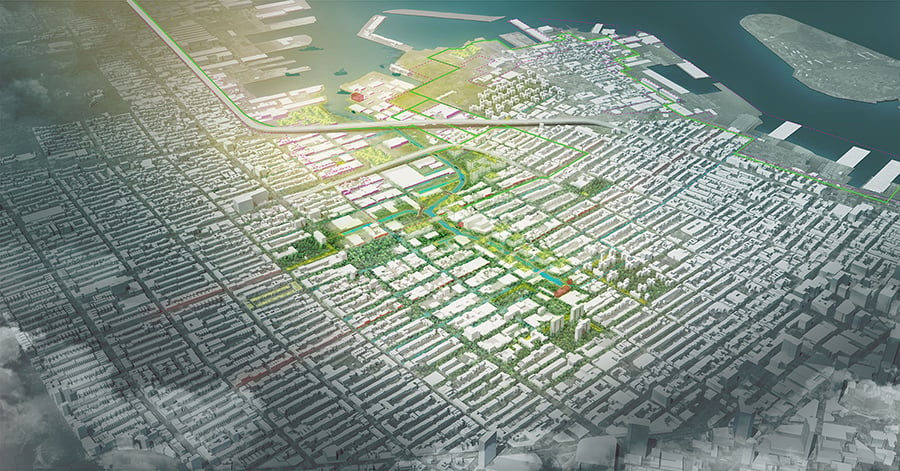 It's sometimes hard to address environmental issues because we don't have the language to comprehend the scale of climate change. Saskia Sassen, among others, has said that the term "climate change," can sound kind of nice—change can be good and the climate is simply changing. How do some of your projects seek to get people more aware of environmental issues?
I would say on a project-scale, right now, we're working with the Gowanus Canal Conservancy to do this massive framework plan for anticipating changes in water level rising, land use, and densification around the canal. We're looking at how we can make edges stepped, so that can get people closer to the water after the Superfund cleanup.
In anticipating this future condition, we are also trying to advocate in a very strong way for connectivity along the canal edge itself. There's no contiguous access. So, the project is trying to anticipate a different social context, but one that is more just and that connects to people from surrounding lower income areas to make sure that they can get to the canal.
In other ways, we're looking broadly at ecosystem loss. One thing that I've been focusing on is charting and referencing salt marsh loss in Jamaica Bay. The marshlands in Jamaica Bay are slated to disappear very rapidly, because of sea level rise, a lack of sediment, and excess nitrogen.
We're also doing a Living Breakwaters project in Raritan Bay off Staten Island, which helps rebuild the landscape through a rocky breakwater structure. And we're looking very systematically at San Francisco Bay right now, which is faced with extreme bay lands loss, because of lack of sediment and potentially very rapid sea level rise. We're trying to look at these systems very broadly, but then propose very specific policy changes, regulatory changes, and physical landscapes and infrastructures.
You're doing more than just designing something. You're advocating to local climate-related authorities. Do you think that your toolbox is different than other landscape architects?
I definitely feel that we see every project as a chance for some kind of catalytic change of another process. Through some aggressive visualization projects, and through very intense science-driven perspectives that we have, we're able to have the tough conversations with regulators, with decision-makers, and with agencies. If you do a one-off project that doesn't have an impact on some broader decision-making context, or that doesn't unlock a situation for the right project to happen down the line, then it's not really a systematic change. It's aesthetic. So, we've always tried to tie our work back to the decision-making context and the administrative matrix that is behind our built environment.
In Town Branch, our park in Lexington, Kentucky, we have this three-mile corridor that we're working on. A main goal has been to engage the transportation cabinet about some of these issues, and see if we can use Town Branch as a pilot for ideas that aren't really part of the playbook.
Everyone says they like to "engage the public," but you're also trying to unlock or remove some of the secrecy that surrounds processes that constitute the city and to have people think about the city a little bit more than just accepting what is given to them and saying, "Oh well! This is the city that we have!"
In a big way, I feel like we need to proactively build constituencies for the projects that we want to do. And those constituencies don't exist in many cases. In the Breakwaters example, we brought the Fisherman's Conservation Society and the pilot association and schoolteachers, and there was this broad-based coalition that formed around the idea. It formed through the lens of the project, which was about people who love the shoreline. In the Town Branch project, we did city lectures in an art space downtown that was open to the public. We wanted to solicit feedback, and explain the significance of their underground water system and what that could mean for the future of the city in terms of its livability, access through bike lanes and walking paths, improved water quality, and better habitat connectivity. We're trying to build this coalition of engaged eco-citizens who are going to advocate for a project and help us envision a project together.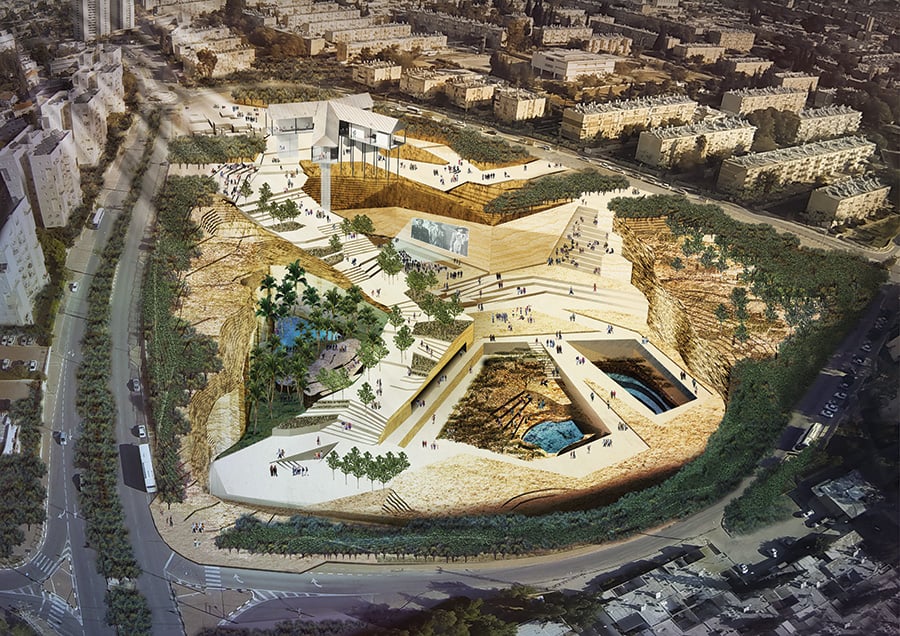 You have an interesting project in Be'er Sheva, in the middle of the desert in Israel, that has a big educational and training component, as I understand it. It also functions as a kind of open-air natural history museum of the region.
In Be'er Sheva, we've been designing a quarry park that is highly attuned to the sort of choppy sandstone and the limestone of the quarry itself, and we're doing operations on that stone to make it an accessible park. It's very based on the texture of the rock that is physically underlying the city.
What's fascinating about the Be'er Sheva project is that, literally, this quarry helped build the historic downtown. You can go up to the quarry and look at a certain kind of rock, and then you can go to a station and see that same rock on the wall.
Another goal of the quarry is skills training, because there's a lot of disempowerment in the city due to its immigrant history. The idea of the quarry was also to do skills training and job training for construction and for tooling, because there's a huge job market for skilled artisans in terms of stonework. We're trying to build a big shed on the quarry that can serve as a workspace for these kinds of training programs.
What are you really excited about and looking forward to right now?
I'm extremely focused on this issue of disappearing bay lands and salt marshes. I'm trying to highlight in our Venice Biennale installation these issues of disappearing salt marshes worldwide. In Venice alone, there has been about 75 percent salt marsh loss since 1900. Part of our project is actually going to be working in another space in the lagoon and bringing that basic concept into our room at the U.S. Pavilion. So, our Venice installation is this kind of activist ecosystem maker project. I'm very excited about that because I feel like it's a way of bringing our approach and ideas to this broader global audience.
You may also enjoy "The RPA's Fourth Regional Plan Charts New York City's Future."