March 24, 2021
Los Angeles's Standard Plan Program for ADUs Takes Aim at the Housing Crisis
In response to the growing popularity of ADUs as a way to boost affordability, the city's plan includes 20 pre-approved designs contributed by 14 firms.
Ever since the state of California legislatively eased the path to allowing accessory dwelling units on private property in 2016, the appeal of the ADU continues apace. Expectations are now even higher in Los Angeles, where the city officially launched the ADU Standard Plan Program on March 5. Following a year of planning and a 7-month pilot phase, a series of pre-approved designs are intended to streamline permitting and lower costs while aiming to encourage innovative architectural practices and tackle the housing crisis. It's a tall order.
"This is a kind of gateway drug to architecture," Christopher Hawthorne, chief design officer for the City of Los Angeles, says about backyard structures. "It's the first construction that a lot of people take on, and for a lot of homeowners it's the only construction project they embark on. We're trying to demystify that process and introduce them to architecture, and it's a way to support design culture in the city." The demand is strong, since ADU construction accounts for 22 percent of permits for new housing filed with the L.A. Department of Building and Safety (LADBS). The pandemic has only amplified the need and utility value.
Fourteen firms—ten of which are based in Los Angeles—are part of the pilot phase. Thus far, 20 ADU designs are approved with seven more currently awaiting the green light. The program is open to design, building and engineering professionals who meet the requirements. The initiative includes work by Abodu, Amunátegui Valdés, Connect Homes, Design, Bitches, Escher GuneWardena Architecture, First Office, Fung + Blatt, Jennifer Bonner/MALL, LA Más, sekou cooke STUDIO, SO–IL, Taalman Architecture, Welcome Projects, and wHY Architecture.
As a professional exercise, Hawthorne describes the brief in part as "designing into this vacuum," given the absence of a specific client and site. The Mayor's Office shared typical non-hillside lot conditions in L.A. and helped provide technical assistance about Title 24 energy standards. (The latter was especially needed for non-local firms.) The first round of plans "played into the strength of L.A. architecture and its history of innovation" and also required "an entrepreneurial approach among the architects," Hawthorne says. Designers retain intellectual property right to their own work, and potential clients contact them directly. Many firms will need to develop their own internal capacity and processes to vet clients and sites—a resource-intensive proposition.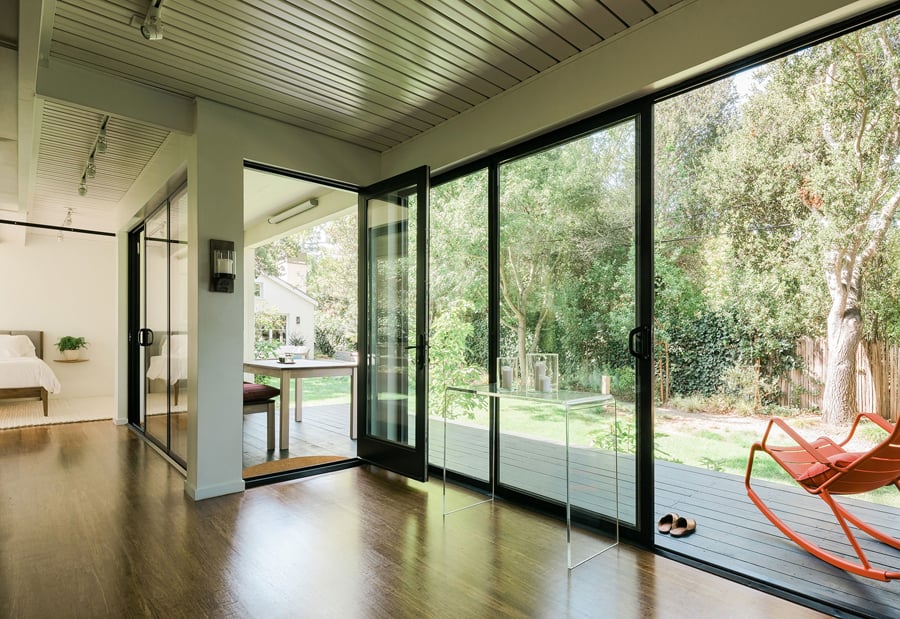 "Rather than relying on developers and projects that are not the right scale, this keeps and respects the existing neighborhoods," architect Frank Escher observes. He and partner Ravi GuneWardena of their Silver Lake–based firm offer plans in two sized footprints, with both schemes attuned to indoor-outdoor spatial relationships. It's a contemporary blank canvas of sorts that can be further customized and detailed as per the owners' budget, needs, and sensibility. "We designed it with an eye towards cost and build-ability, in terms of technique," GuneWardena says, noting the Type V wood frame construction is a method "that any contractor can build."
Elizabeth Timme, co-executive director of architecture and urban design non-profit organization LA Más, says that her team's years of research tied to its own affordable ADU development work revealed that homeowners wanted to see designs that "represented their community and their identity." LA Más has three approved designs in the LADBS system, including one that includes a partnership with 3D-printing company Mighty Buildings.
While the design possibilities are undoubtedly exciting, financial accessibility remains far trickier. This question applies to both homeowners and potential renters. Hawthorne describes the program as "a vehicle for affordable housing," given that the ADU is "the cheapest type to build on a per unit basis," he claims, and data revealed that over half are rented below market rate. The effort also complements the city's 2019 ADU Accelerator Program. Nonetheless, constructing an ADU requires significant capital. "This is addressing some barriers, but it's not eliminating all barriers," GuneWardena notes.
"The ADU can be a part of the menu of options for affordability," says Timme. With its programs including the Backyard Homes Project, LA Más has been at the forefront of advocating for developing ADUs that help residents stay in their communities of origin. Its expertise in understanding how and where these complex issues converge means Timme sees some philosophical and practical limitations of the ADU Standard Plan Program. (Support for homeowner landlords to rent to Section 8 voucher holders is incorporated into the LA Más Standard Plan Program proposals.)
"You're doing a development project in a standalone way, and building individual capacity rather than collective," she says. "Shifting into a collective conversation that is community-focused" and providing more resources to community development corporations to build housing in communities of color and in lower to middle-income areas is essential in order to equitably relieve L.A.'s housing crisis.
The ADU Standard Plan Program is a work in progress that builds on certain precedents while making significant adjustments and departures. "There was a logic and structure for this approach in the department," Hawthorne explains about the existing standard plans for elements including swimming pools and stairwells within LADBS. So, the bureaucratic framework can ideally evolve to better meet urgent demand and even encourage multifamily residential building, for example. "We see real potential to expand to affordability programs and scale," Hawthorne says.
You may also enjoy "3D-Printing Is Speeding Up the Automation of Construction"
Would you like to comment on this article? Send your thoughts to: [email protected]
---
Register here for Metropolis's Think Tank Thursdays and hear what leading firms across North America are thinking and working on today.