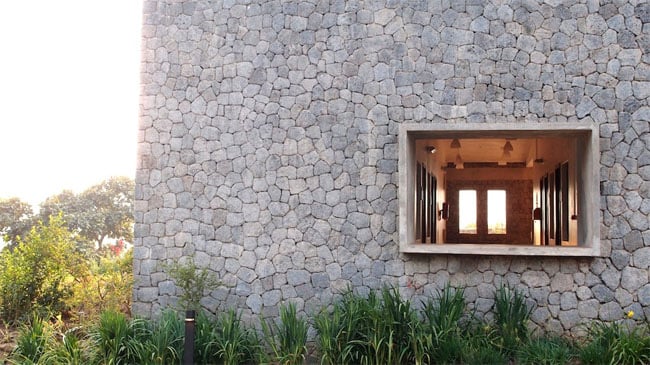 October 30, 2014
Let the Sunshine In: Access to Nature is Vital to Our Health-Care System
Access to nature is vital to our health-care system.
The Butaro Hospital in northern Rwanda
Courtesy MASS Design Group
It's one of those shimmering August mornings that makes me happy to be alive. From the balcony where I stand, I survey the lower Manhattan cityscape, spying a massive solar array, slim church steeples reaching for the sky, and a collection of old and new buildings that create the urban fabric here.
I'm here to look at another type of fabric—the colorful soft goods that make rooms warm and pleasing are spread out on tables, their patterns and hues brought to life by the early morning sunshine. I'm at a presentation to learn about Designtex's new collection of textiles made specifically for hospitals—with their notoriously germ-infested interiors.
The superbugs that reside in our healthcare institutions increasingly require superstrong cleaning agents aggressively applied to every surface, including textiles. To stand up to this growing assault of caustic chemicals, fabric fibers and weaves must be reengineered and finishes strengthened. That's the innovation story Designtex is delivering this morning. But such expensive efforts by furnishings manufacturers can address only a thin veneer of a massive problem that lurks behind every "advance" in hospital design.
It's the way buildings are sited, built, furnished, heated, and cooled that may be causing the problems that no conscientious fabric designer or manufacturer can solve. Once more, I'm talking about the necessity for a whole system of solutions, not just nibbling at the edges of a complex problem. To give the argument some heft, I search the Committee to Reduce Infection Deaths's website: It reports an annual loss of 103,000 lives to hospital infections, which add more than $30 billion to the nation's health tab in added hospital costs alone.
As the sun shines on me while I listen to the Designtex technicians explain what they did to make their new products stand up to today's cleaning fluids, I think about the hospital MASS Design Group built in Rwanda. That team opened up the building to sunshine, fresh air, and views. This simple, elegant move—one of necessity in a poor country without mechanical cooling systems—offers up an important lesson to U.S. hospital builders: Access to nature is vital to our healthcare system.
It also brings attention to our over-reliance on tech fixes and mechanical everything at the expense of the natural systems that support every living thing. The sealed buildings we've created have run their course to a point where they now endanger human life. Let's start changing this old-fashioned way of building, and the defensive product design it fosters, by paying close attention to that living building in Rwanda, as well as by studying the Australian version of natural integration. Let's always think about letting sunshine and air into the rooms we occupy.