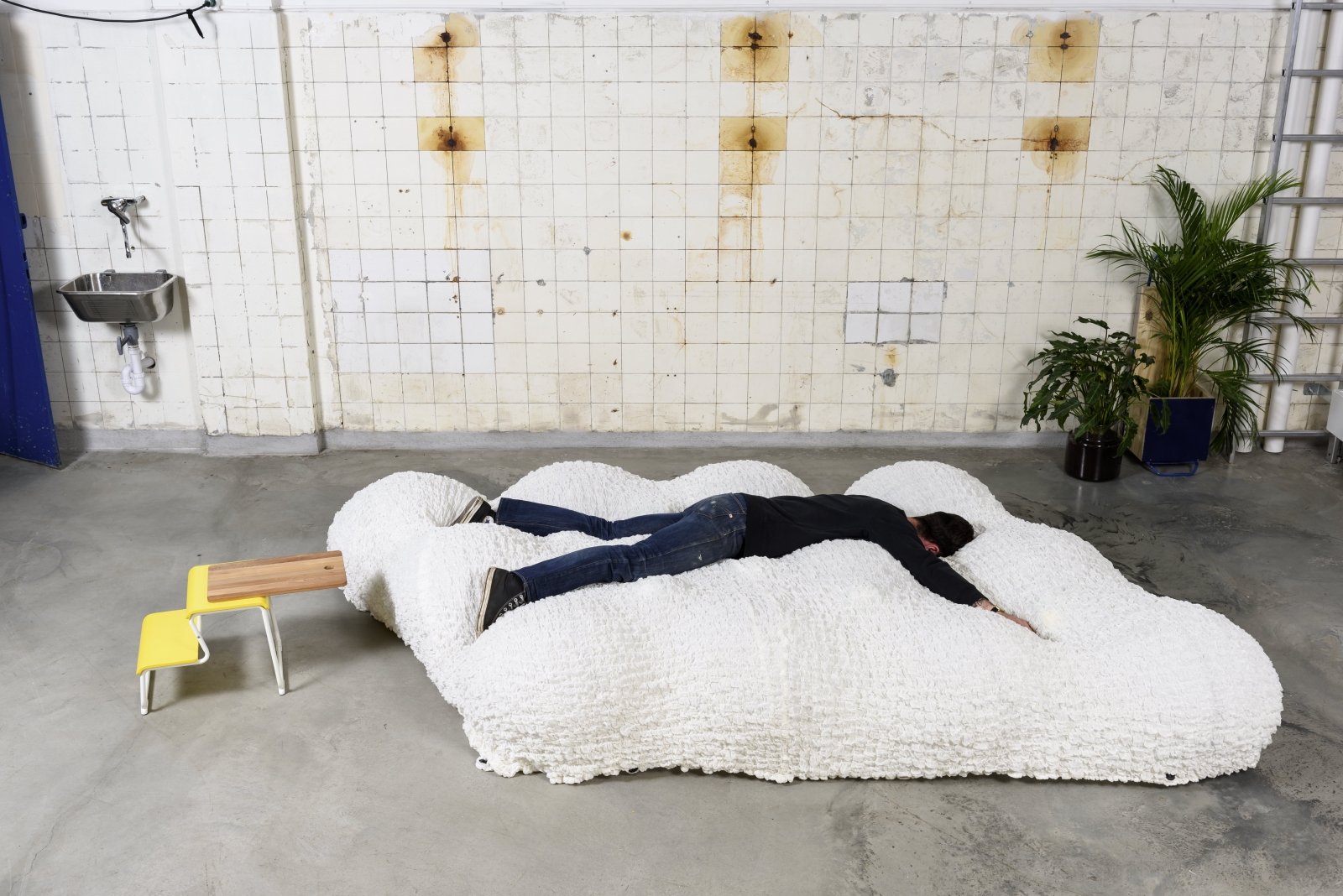 March 7, 2016
In Lieu of Storefronts, Top Retailers Toy With Design Labs
Brands are turning to the experimental in search of an edge in the retail market.
Designed by Danish studio spacon & X, Space10 is a venue for workshops and the staging of "hacks," which often incorporate IKEA flatpacks.
Courtesy IKEA
---
Fans of IKEA's Swedish meatballs might not think they need tweaking. The creative team at Space10, the furniture giant's new innovation lab, thought otherwise, using those delectable morsels as a way to imagine the ways food might change in the next few decades. In another thought experiment, the same tinkerers wondered how your lawn might signal that it's thirsty for a sprinkling and workshopped several prototypes.
If calling these science projects "Ikea hacks" is a stretch, that's exactly the point. Launched in November and independently run out of Copenhagen's meatpacking district, Space10 leverages IKEA's dominance in the domestic sphere in service of a broader mission: to act as a place where "bright minds can gather and co-create future solutions for a better, more sustainable living," says CEO and founder Carla Cammilla Hjort.
Naturally, the notion of a laboratory might come off as a rather grandiose characterization of what is essentially a satellite retail space, but the metaphor nicely evokes a certain attitude toward an inventive use of space and programming sensibility. Today, it isn't very far-fetched for a brand to adopt a semi-scientific method, at least in terms of experimenting with alternative models of immersive environmental design. Spectacular window displays—which have their origins in the 19th century—are no longer going to cut it: The rise of e-commerce has sparked a renewed focus on physical emporiums.
In Seattle, Starbucks has enjoyed a positive response to its blockbuster incubator in the city's Capitol Hill neighborhood. The Starbucks Reserve Roastery & Tasting Room opened just over a year ago and represents founder Howard Schultz's vision of a veritable temple of coffee. Frequently likened to Willy Wonka's chocolate factory, the roastery puts an educational spin on a public production facility, showcasing the process behind the product on the scale of silo and cuppa alike.
Reebok's FitHubs seem just as natural a development as flatpack hacks and café-fueled spectacle were for IKEA and Starbucks, respectively. Developed in collaboration with design consultancy Ziba, the first FitHub opened in New York City in 2012, and the store-cum-CrossFit gym has since expanded to 400 locations worldwide. As a spatial manifestation of Reebok's longtime commitment to promoting personal fitness, the FitHub strives for longevity, simultaneously harking back to the sneaker brand's '80s–'90s heyday and offering plenty of potential for future incarnations. Says Reebok global environmental designer Charles Gates, "the concept of pairing activities—in this case, personal fitness—with retail has proven to drive sales and additional footsteps through the door."
This is precisely why these retail labs are more than just inhabitable billboards (that being just one of their roles)—they're venues for testing hypotheses, as opposed to users or even sole products. "We believe it is very important to make innovation open and inclusive," says Space10's Hjort of the potential of similar retail platforms. "Way too often, innovation is something that happens behind closed doors, but if we really want to make the world a better place, we need to work together."
Space10
Last November, IKEA opened Space10, an autonomous innovation lab, in Copenhagen's meatpacking district.
Courtesy IKEA
The aftermath of a Space10 workshop brainstorming session.
Courtesy IKEA
The interiors are divided into zones that can be closed off by sliding partition walls.
Courtesy IKEA
The "rollerboy" is an example of the kind of hacking activity that Space10 encourages. The mobile cart, made up of various furniture components, frames a vibrant arrangement of plants to create a DIY air-filtering system.
Courtesy IKEA
Starbucks Reserve Roastery & Tasting Room
Opened in December 2014, the roastery represents Starbucks founder Howard Schultz's decade-long vision of a temple of coffee.
Courtesy Starbucks
The 15,000-square-foot cafe is located on Pike Street in Seattle's Capitol Hill neighborhood, just a stones throw away from Starbucks' first shop.
Courtesy Starbucks
The facility is dedicated to roasting the precious beans that make up Starbucks's Reserve Brand and which happens within view of patrons.
Courtesy Starbucks
Reebok FitHub
FitHub is the felicitous combination of tennis shoe giant Reebok and fitness program CrossFit. The first location, near New York's Union Square Park, was opened in 2012.
Courtesy Reebok
Based on a retail concept by Ziba, FitHub is both shoe store and gym. The retail floor incorporates gym-like elements and mobile displays that can make way for various activities, including yoga class (pictured).
Courtesy Reebok
Courtesy Reebok