May 2, 2018
Can Designers Combat Light Pollution by Embracing Darkness?
In our over-lit cities, lighting designers are fighting back on behalf of darkness and night—not to mention public space and urban vitality.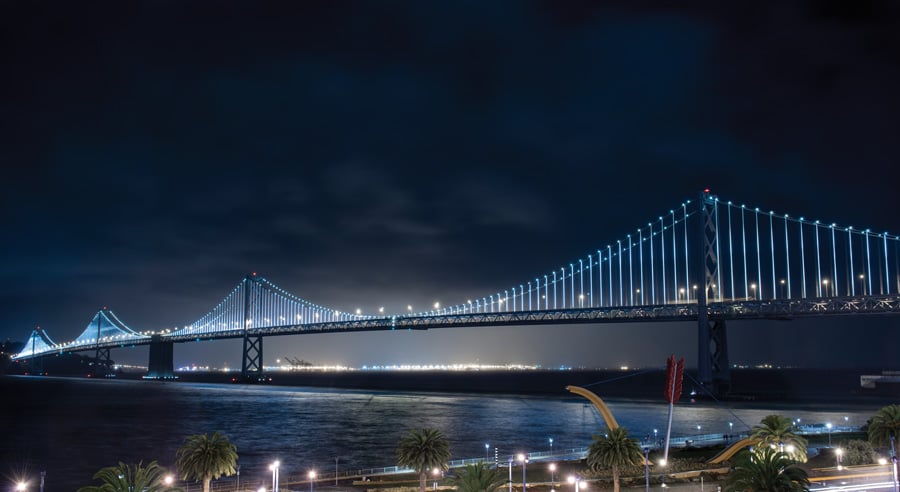 ---
Good outdoor lighting has an undeniable role in fostering public space and facilitating the emergence of civic culture. Well-lit intersections are statistically linked with a reduction in pedestrian–automobile accidents. With newfound sensitivity to the omnipresent and global issue of violence against women, as well as stoked anxieties about attacks in public spaces, lighting claims an important part in ensuring both individual and public safety. And from a cultural and economic perspective, sensitively illuminated urban areas effectively enhance the public sphere by allowing people to live, work, and play outside of daylight hours.
"Lighting is an essential and ubiquitous part of the urban landscape," says Susanne Seitinger, an expert on smart cities who leads public-sector marketing for Philips Lighting. "Public lighting, from iconic bridges and buildings to streets and intersections, can contribute to the socioeconomic and cultural prosperity of a region."
Yet given this critical—even increasingly so—function of nighttime lighting in the social (and economic) well-being of urban inhabitants, why are lighting designers and experts nearly unified in their belief that outdoor lighting in past years has been excessive? Part of the answer may lie in traditional suspicions of the night as hosting illicit activities and shady characters, which continue to negatively shape people's views of darkness.
The historian A. Roger Ekirch's 2005 book At Day's Close: Night in Times Past elucidates how nearly every civilization throughout history has associated darkness with evil. This attitude persists, although the majority of violent crimes are committed during the day, even in cities experiencing historically low crime rates. The natural instinct in combatting antisocial behavior has been to overwhelm it with light—streetlights, headlights, flashlights, floodlights. As a result, according to a broad consensus, our cities have been consistently over-illuminated, driven by a misguided assumption that when it comes to lighting, more is necessarily better.
"A common misconception is that areas with higher light levels are safer," says Dean Dal Ponte of the South Carolina–based manufacturer Hubbell Lighting. But, he cautions, this impulse "to add more light to increase safety may actually have the opposite effect." Kirt Martin, VP of design and marketing at outdoor furniture and lighting firm Landscape Forms in Michigan, concurs, pointing out that excessive lighting "can actually reduce pedestrian confidence." Suzan Tillotson, whose high-profile collaborations with world-renowned architects have cemented her lighting-superstar status, calls America's ever-brightening public spaces "horrible" and a major issue facing the profession, criticizing the "more and more light" crowd as overzealous. A 2016 long-form article by Amanda Petrusich in the Guardian plainly stated that recent streetlight design, which increasingly employs brighter LED fixtures, is "almost universally described as unpleasant."
---
The arguments of the "less is more" wing of the lighting profession are bolstered by environmental concerns about light pollution and disruption to ecosystems, as well as the accelerated discourse within design around accommodating (rather than resisting) humanity's basic need to connect with nature. "If you live in a major American city, it is now virtually impossible to spend any time at all outside and in the dark," the Guardian piece warned. Landscape Forms' Martin observes that one of the most talked-about objectives today is adapting lighting design to circadian rhythms, noting that contemporary LED lights preclude our ability to respond to light as our ancestors did for thousands of years.
So what's the remedy for the systematically overlit cities? Tillotson, for her part, points to the International Dark-Sky Association, the first and largest organization of the dark-sky movement, which seeks to combat light pollution and protect the nighttime environment. "Warm light is better for wildlife and for humans," Tillotson says. "It's natural that light should get warmer at night and prepare you for sleep. Lights should go down, not up."
After years of overlighting, designers, professionals, observers, and others are taking a more holistic view of outdoor illumination, examining diverse sources and gradations of light, and advocating more thoughtfully conceived lighting systems that work with, rather than in opposition to, nighttime darkness. Perhaps what makes us feel comfortable in public spaces at night is not so much lighting coverage or sheer brightness, but rather a gently suffusing uniformity of light emanating from a diversity of sources. "Successful lighting design is as much about choreographing darkness as it is about delivering light," Philips' Seitinger says.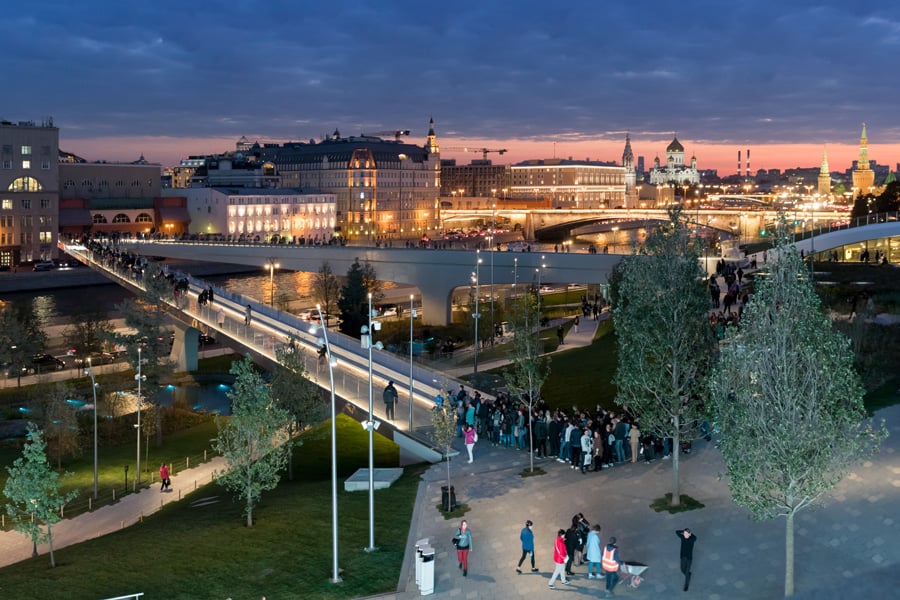 ---
Designers, manufacturers, installation artists, and others are taking note. Lighting consultant Leni Schwendinger contributed to the Diller Scofidio + Renfro–designed Zaryadye Park in Moscow—one of Russia's largest and most publicized architectural projects since the fall of the Soviet Union—taking into account light sources from passing cars and nearby buildings: "Illumination concepts parallel the landscape and architectural principles," she says, adding that the lighting is intended to create "webs" of warm, starry light. On the city scale, design firm Santa & Cole has long made its mark throughout Barcelona's dense landscape with airy, ephemeral lighting fixtures (as well as public furniture) that allow different orientations, gradations, and directions of light to permeate—and complement—the cityscape. "It's not about the amount of light but how it is projected to generate a good perception of space and, therefore, increase its value and quality for users," says Claudia Roselló, the firm's urban editor. She points to what she calls "human-centric lighting," which foregrounds analysis of human behavior and context; functionality and dynamism of light; and characteristics of lighting products, like flexibility or adaptability.
As if in anticipation of California's updated Title 24 regulations, which set forth efficiency and performance requirements for both commercial and residential lighting, Hubbell has long developed energy-efficient outdoor lighting with integral controls and experimented with fixtures that automatically respond to occupancy, movement, and preexisting light—a function many, including Tillotson, have advocated. Meanwhile, Santa & Cole and its North American carrier, Landscape Forms, have advanced waist-level public lighting fixtures, demonstrating that the best light is place-sensitive and need not come from above. Kirt Martin of the latter company stresses his opposition to the one-size-fits-all approach. "Appropriate light fixtures and light levels for an urban area may not be the same for a rural area, both in physical appearance and performance," he says. "Appropriate light is always better."
Yet for some, beyond this solutionism lurks a fundamental economic and cultural problem that casts into doubt the very basis of nighttime illumination. Nick Dunn's 2016 book Dark Matters: A Manifesto for the Nocturnal City (Zero Books) draws a discursive parallel between the gradual lighting of cities and the ascent of the consumptive city under contemporary neoliberal capitalism. "More threatening to the nocturnal city are the continued attempts to pervade it with the same strategies that make it open for business, a mere extension of the day," Dunn writes. "Rather than being a time and place for dormancy, reflection, and consideration, it is rapidly becoming engulfed in the market."
For Dunn, the historical illumination of cities has aligned with states' claiming greater power over people's private lives (a condition French philosopher Michel Foucault termed "biopolitics"), reconfiguring the relationship between state and subject. With the lighting of cities, officials could—quite literally—shed ever more light on the social and political minutiae of citizens' lives, restricting certain uses of public space and gradually eroding the public sphere.
Good outdoor lighting necessarily functions to expand the civic realm, augmenting the opportunity and possibility for nighttime activities in public space. Yet it is critical that our contemporary nocturnal placemaking not detract from the essential qualities that differentiate it from daytime uses of public space and that our awareness of lighting's central role allow a balanced and sensitive approach to night lighting. Perhaps our efforts are best spent—for our social, economic, and physical well-being—in service of the clear-as-day notion that we ought to let night be night.
You might also like, "Lighting Designer Suzan Tillotson on the Challenges of LEDs, Urban Lighting, and More."