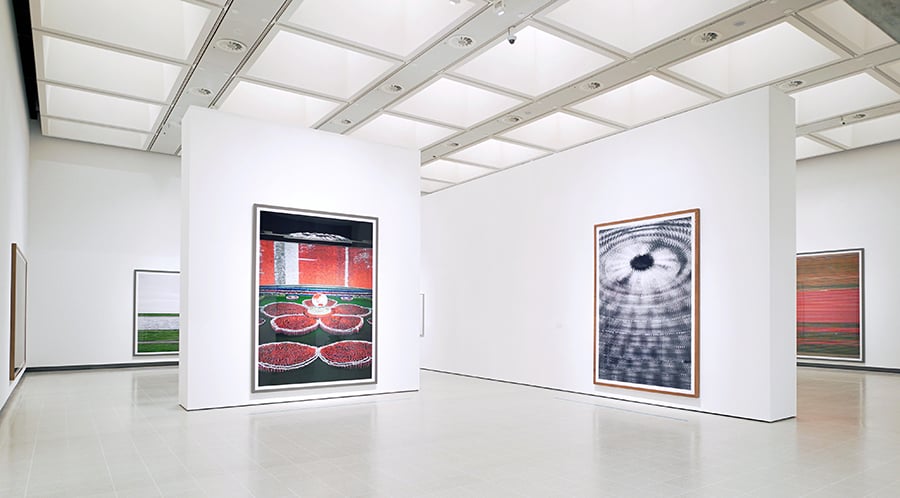 February 7, 2018
London's Hayward Gallery Caps Off Renovation with Striking Andreas Gursky Retrospective
After an extensive two-year renovation, the Modernist landmark has been restored to its original Brutalist glory.
London's Hayward Gallery, which has just reopened after two years of maintenance work, is named after Sir Isaac Hayward. Hayward was a miner, a lifelong trade unionist, an active member of the Labor party, and the last leader of the now-defunct London County Council (LCC). A Guggenheim or a Getty he was not. When the gallery opened in 1968 the LCC had been recently disbanded, but the impact of his commitment to the arts launched a renaissance. Today the capital-S Southbank is an indispensable part of London's cultural life with the Festival Hall, Lasdun's National Theatre, and the Hayward forming a Modernist holy trinity.
Two years may not seem long for a major gallery to undergo a refurb (we're looking at you, Neue Nationalgalerie), but the Hayward has certainly been missed, owing to its prominent location and highly-conspicuous presence; it doesn't get much more F— Yeah Brutalism than the Hayward Gallery.
Approaching the building, it is hard to gauge exactly what Feilden Clegg Bradley Studios has been doing for two years: the entrance is still near-impossible to find and the exterior board-formed concrete remains delightfully stained with 40 years of British drizzle. But it is the roof which has received the primary attention. Here, 66 glass pyramids form a spiky silhouette atop the lumpen mass of the gallery building.
Originally proposed by sculptor Henry Moore, an early trustee of the gallery, the pyramids were intended to allow natural light into the gallery space. Poor maintenance and thermal performance left them virtually redundant, so a drop ceiling and artificial lights were installed for the upper galleries. Today the pyramids have been replaced, thanks to a fundraising campaign whereby patrons could "buy" a pyramid.
The result is a triumph. Where the lower floors of the gallery retain the moody atmosphere reflected off the interior concrete surfaces (cleaned as part of the refurb), the upper floor positively glows, even on the dullest of January days. As Ralph Rugoff, director of the gallery, explains, "the drop ceiling cut out light and cut the grandeur of the gallery. Now the real proportion of the spaces is revealed."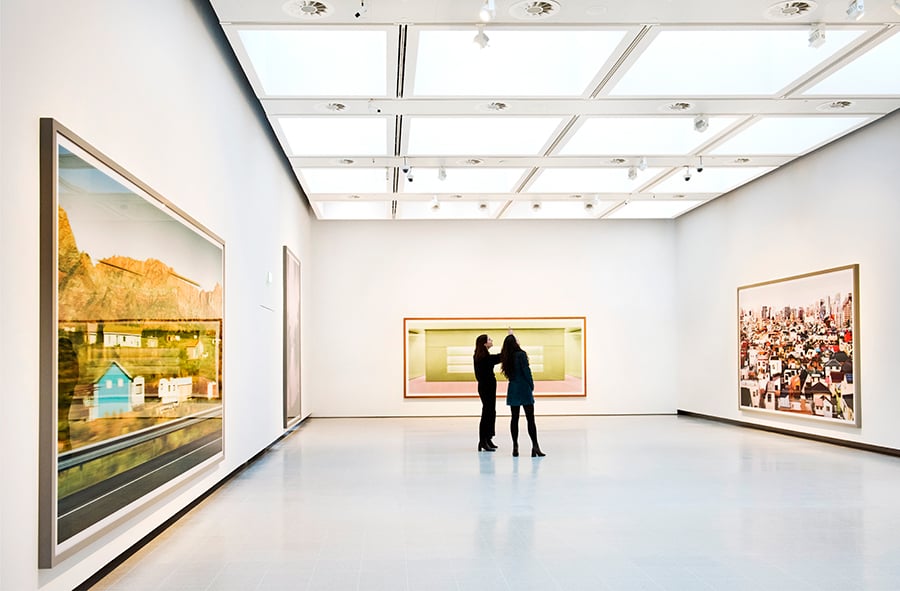 "But having a great building only gets you so far," he continues, before introducing artist Andreas Gursky and the retrospective which opens the revamped gallery's new season.
"As you can see in the images," says the 63-year-old German photographer, "I have a close interest in architecture itself." 
Of course, the same could be said for the plethora of topics and themes which appear through Gursky's work—labor, consumption, energy, infrastructure, landscapes, performance, partying, and patterns of human existence and movement. The retrospective, which is hung chronologically, but can be traversed more loosely thanks to the relatively open exhibition design, comprises four decades of consistently captivating work.
Gursky is best known for his large format images depicting human systems at a non-human scale. An early classic overlooks the Port of Salerno in Italy and takes the eye through a gradient of elements, scales, infrastructures, and architectures, from a sea of cars, to shipping containers to, eventually, distant mountains.
Thanks to the size of these images in the gallery, as well as Gursky's eye, the exhibited images progress in a similar way. They reveal gradually more information, even a narrative, as one spends more time with them. One highlight is the loose conversation between May Day IV (2000/2014), which depicts hundreds of German street ravers at a May Day party, and Chicago, Board of Trade II (1999), which looks inside the city's stock exchange. In both cases, what appears at first glance as a chaotic melee of bodies evolves into a glorious tableau; a bizarre sculpture park of figures frozen in ecstasy induced varyingly by capital and, well, Ecstasy.
Images such as these are composed via Gursky's technique of digitally stitching together multiple photographs into one enormous canvas so that no single point is in focus—a photographic equivalent of Pollock's all-over painting. In Rhine II (1999, remastered 2015), a whole power station is erased to create an abstract landscape where grass, water, sky, and road can be hazy bands of color (perhaps more Rothko than Pollock). Gursky's manipulations add a curious air of irony to the work.
Despite their apparent similarities in scale and subject, Gursky avoids the puritanical grandeur of someone like photographer Sebastião Salgado. Instead, human activities often appear ridiculous through Gursky's lens: a cable car disappears into the white sky of the Dolomites or a boat approaches the Niagara Falls; in both cases the scale is so massive that the human presence is comically miniscule. "What on earth are we doing?" he seems to wonder with a wry smile, as we dance in the streets and cover our landscapes in solar panels and plastic bags.
There is also a lesser-known, more intimate end of Gursky's work which contributes to a broader understanding of his oeuvre. Some early images of a carpet at Dusseldorf airport or the ceiling pattern of an assembly room in Brasilia reveal a fundamental fascination with textures and abstracted patterns. Similarly, the final room (under the Hayward's pyramidal skylights) reveals a more experimental, but not entirely convincing, strand of recent photographic work: a fictional exhibition space houses iconic sculptures in a glass cube, and a romance between Iron Man and Pepper Potts unfolds beneath towering palms and an uncanny red sky. Thus, while show-stopper shots such as Amazon (2016) may imply a desire to capture late-capitalism in its most chaotic forms, Gursky seems reluctant to assume the "chronicler of our age" title bestowed on him by the media. Instead, he is just focused on making, and not just taking, pictures.
You may also enjoy "MoMA Announces Major Exhibition Dedicated to Yugoslavia's Daring, but Overlooked, Architecture."